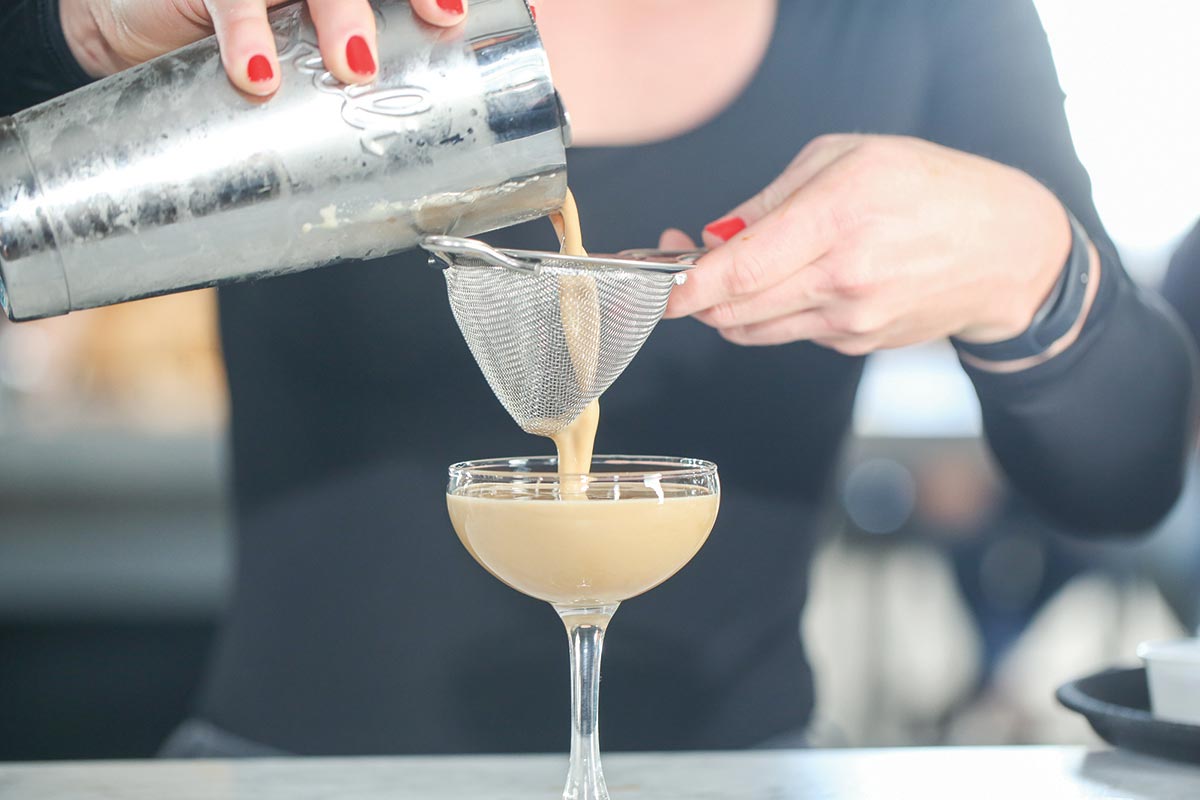 What may 2023 bring? A range of voices weighs in.
By Sara Capozzi
It's that time of year again. Turn the page on 2022 and look forward to the brand-new year. The industry has seen its twists and turns for the past few years, with the pandemic, supply chain and labor issues creating challenges and opportunities. Meanwhile, consumers adapted to new habits and ways of spending their time and money. Still, tastemakers and sellers see all of that reflected in a variety of trends. We asked a few local industry experts about their predictions on what 2023 will bring in cocktails, wine and more. Here's the statewide snapshot.
Alcohol-Free Gains Ground
"A trend I've been seeing lately that I think is going to continue to expand in the new year is alcohol-free spirits and mocktails," said Bridget Hurley, El Santo Tequila & Mezcal. "I've noticed a lot of restaurants and bars have even been adding full mocktail lists to their beverage menus, which I think is a really cool thing for people who want the cocktail experience without the alcohol."
"Alcohol-free is simply its own category," said Khalid Williams, The Barrel Age. "We may see a day where bars have a 'cocktails with booze' section instead of a 'virgin' or 'lo-no' section. The word 'virgin' really needs to go, by the way."
Victoria Tenzyk, The Mariner, also sees the low- and no-alcohol movement continuing to trend. "It's okay to not drink," she said. "I think this entire mindset is still trending, and will continue to trend, and I'm here for it. Cocktails are delicious, but so are mocktails. And, these days, mocktails aren't just a glass of juice or a soda, they're elaborate concoctions of fresh juices, syrups, shrubs and cordials. They're garnished beautifully and with the same attention to detail as cocktails. If you don't have at least one on your menu, do it. Cost is low, profit is high and, most importantly, inclusivity is on point."
Consumers Crave Creative Cocktails
Bartender Andres Santiago Monroy of 1928 Cocktail Club, Viron Rondo Osteria and Babel Drinkery & Debauchery said, "What I find very interesting is that young adults, ages 27 to 35, are starting to be adventurous and tasting new flavors, spirits like pisco, sotol, mezcal and rum." Monroy predicts that with evolving tastes in Connecticut cocktail culture, bartenders will seek to "excite the customers and educate them with familiar cocktails in this new 1990s-inspired cocktail renaissance … with amazing spirits by putting a twist on a Midori sour with vermouth and gin or making a tequila sunrise with sotol, mezcal and Campari."
Anthony DeSerio, Dr. Booze LLC and Assistant Beverage Manager, Foxwoods, expects both "old and modern classic" cocktails to reign supreme on-premise, like "Old Fashioned variations, Manhattans and Espresso martinis," he said. "I think this year also the ready-to-drink (RTD) margins will rise in the off-premise. In my high-volume 14-plus bar operation, I'm seeing a rise in not only gin but 'botanicals' and low-ABV spirits."
Bartender Alfredo Gonzales Barrera, also of 1928 Cocktail Club and Babel Drinkery & Debauchery, sees the old-is-new-again trend with a twist, as well as "more molecular cocktails, including [using] clarified juices in drinks," he said. Barrera said he expects the skill sets of his fellow mixologists to continue to grow. "From my side, I have to say that finally Connecticut has done a 360 lap during the last four years in the cocktail industry." He said bartenders should continue to elevate their craft and share ideas, techniques and recommendations with each other via social media channels.
Spirited Selections Run the Range
In spirits, Williams said he also sees a resurgence of the popularity of vodka. "There has been a revolution that's rescued vodka from the craft bartender trash heap and skilled hands are using it in refined martini renditions that go from elegantly simple to luxuriously expansive."
Tenzyk said, "Tequila and rum. I think we are going to see a continued rise in consumption of these spirits. It has become easier to convince a bourbon drinker to try a rum cocktail, especially a build they're familiar with such as an Old Fashioned. Guests are looking to learn and try new things. They're coming out, not just for an experience, but for the education to build their own bars and skills at home."
"I think gin will be taking a well-deserved step forward. This will also be the year 'real' unadulterated rums begin their category like the past five or so years with the bourbon boom. As for craft beer, I think the dust has just about settled. And those who made it through will be established brands with promising futures," DeSerio added.
Williams also predicts "cheese as an ingredient [in cocktails], not just in olives," which "has produced some lovely gin-driven beverages."
Sustainable Choices in Wine
Kathleen Standridge, Sommelier and Wine Director, The Shipwright's Daughter, said she thinks that consumers will make more environmentally conscious choices in wines. "With the increasing environmental challenges that we're facing in our world today, I'm finding that many of our guests are gravitating more toward biodynamic, organic, sustainable and natural wines," she said. "They're not only interested in amazing flavors, but they're getting more curious about how a wine is made, the producers and how the grapes are grown."
Williams said, "Young drinkers have been asking for Chardonnay-something that I would have told you in 2019 would never happen. The younger demo favors lean, steel-aged, Chablis-style choices." He continued, "I may get banished for this but … RTDs seem to be slowing down in the volume bars I have worked in. At the same time, at upscale outdoor patios, the clientele was happy to drink quality wine from cans."
Casino Service Sees Spirits Rise
In the casino space, Christopher Greaney, Director of Fine Dining for Mohegan Sun, sees spirits trumping beer in popularity. "Our team at Mohegan Sun has seen a dramatic shift from 'other than beer' taking over taps, as well as the resurgence of tequila and mezcal," he said. "We have focused on experiential offerings for our resort guests with a long series of single-barrel spirits, beers and a soon-to-be-released cigar. We have worked with brands such as Patrón, Knob Creek, Angel's Envy, Bulleit, Cruzan and Breckenridge to provide a private barrel cocktail experience that they can only get while at Mohegan Sun."
Greaney also predicts guests will continue to crave twists on traditional cocktails. "TikTok has certainly been trendy in this space, especially with the 'negroni sbagliato with prosecco,'" he said. "A tequila negroni or, a recent favorite of mine, the Mai Tai with whiskey, preferably our single-barrel Angel's Envy, gives the consumer a second look at the list and influences them to try something just a little different and delicious. It's fun for the guests and enriching for the bartenders to produce a new take on a cocktail. I certainly hope that the trend takes off in a big way."
Caterers Entertain with Interactive Experiences
"Catered events in 2023 are going to be all about interactive food and elements," said Kristin Ferrarese, Creative Director and Executive Chef, Fortuna's Catering. "For too long, people have been held back from truly enjoying large gatherings and [now] it's all about fun and whimsy: chef-manned stations, 'build your own' stations with assorted toppings, cocktail and food pairings with experts on-site. There will be a heavy emphasis on nostalgic foods, think root beer floats or milkshakes served in new ways, and locally sourced items. We're looking forward to bringing our clients many fun food events this coming year."
We reached out to dozens of industry professionals and understand not every sector is represented. What do you see in the future? Time will tell and we look forward to hearing from you too.