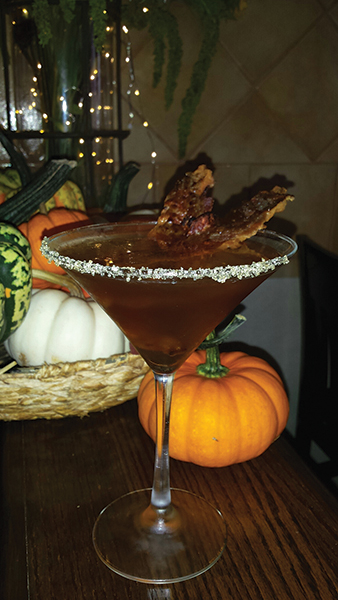 Trattoria da Lepri
89 West Road #4, Ellington, CT
The fine-dining establishment owned by Deb Lepri specializes in traditional and authentic Italian and French cuisine, locally sourced whenever possible — including organic vegetables from its own garden. They also build creative and unique seasonal cocktails, such as the Maple Bacon Bourbon Manhattan.
This is "the perfect cocktail to mix up while you're watching the leaves fall," said Bar Manager Laurel Green-Barber. "The bacon-infused bourbon's smoky flavor is delicious on its own, but really comes to life with the addition of the naturally sweet maple syrup."
Bar Manager: Laurel Green-Barber
Cocktail: Maple Bacon Bourbon Manhattan
Recipe:
Fill shaker with ice and add:
2 oz. bacon-infused Jim Beam bourbon*
3/4 oz. natural maple syrup, dash Angostura bitters
Shake gently for 12 seconds or just enough to break up the maple syrup. Strain into a martini glass rimmed with raw sugar. Garnish with a piece of candied bacon.
Infusion: Place 3 strips of very crispy bacon in 1 liter of Jim Beam Bourbon. Let sit for 24 hours. Remove bacon and, using a strainer, remove any large pieces of fat. Put infused bourbon in freezer for 24 hours (the remaining fat will congeal, then use a strainer to remove the remaining fats. Filter the infused bourbon through a coffee filter to remove any tiny particles.