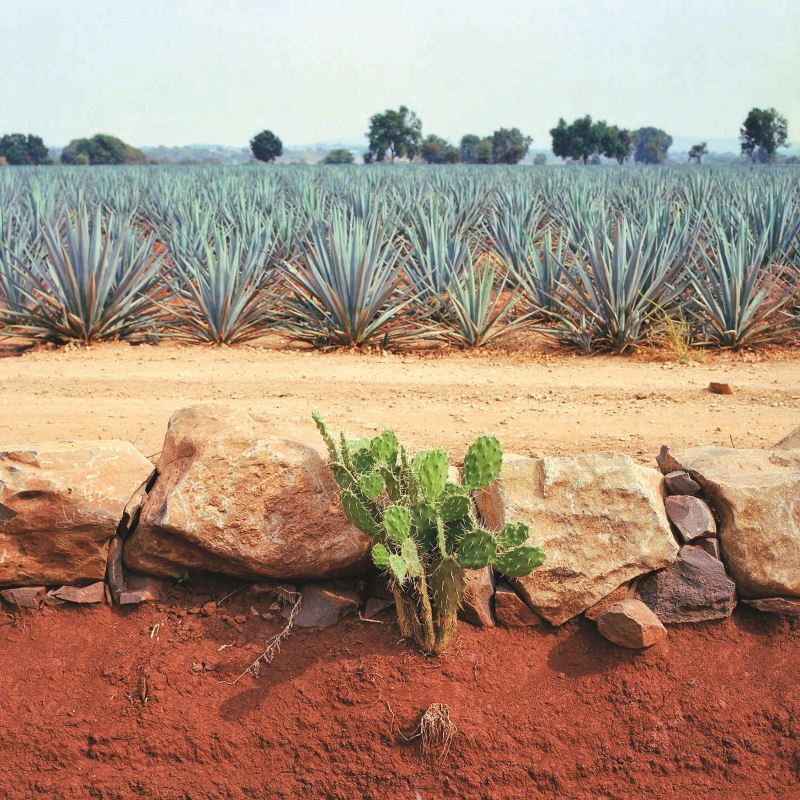 Tequila Producers Embrace Sustainability as Demand Threatens Supply of Blue Weber Agave
By Amanda Schuster
Margaritas aside, it's safe to say that in 2018, the status of tequila has never been better. While some establishments still assume that it's illegal to serve a glass of tequila that is not in proximity to salt and lime wedges, far better consumer understanding exists about the category than it did even a decade ago.
Brands such as Patrón and Don Julio spread the notion of tequila as a top-shelf sipping spirit, equating it with Cognac or whiskey and opening up a broad new realm of usage. Others such as Avión, Casa Dragones and Casamigos revel in tequila-ness as its own unique phenomenon, and have given the category bankable celebrity cachet. Imbibers added blue weber agave to their spirits vocabulary; the plant became the calling card of high-quality tequila.
So now, cruising along toward 2020, tequila is everywhere. The trouble is, that's not true of blue weber agave, the necessary core ingredient of the spirit. Coinciding with finding a much-needed sense of validity, there are also growing concerns soon there won't be enough tequila to go around. At least the tequila most people are accustomed to.
Plant Limits
While Mexico's other star agave spirit, mezcal, can be produced from a variety of agave (a.k.a. maguey) species, tequila can only be distilled from the blue weber, Agave Tequilana Weber Azul, species grown in Jalisco, Mexico and a few surrounding areas.
As with grapes to make wine, there are producers (tequileros) who grow their own agave on private estates, but most purchase agave from farmers in cooperatives (agaveros), and there is a constant struggle to obtain agave at the best price. In some instances, farmers are struggling for supply cost equity, and in others, fields are depleting at too rapid a pace.
Considering the best tequilas are made from agave that are at least 5-7 years old at harvest, sustainability is a major concern. Prices for premium 100% agave tequila are inevitably rising as the cost of agave agriculture increases.
Farming With Care
Tequila Tromba is a brand that's been widely embraced by the cocktail community for its quality, as well as its cocktail menu-friendly price points and a refreshingly honwest brand story. Co-founder Eric Bass explains that trustful relationships with agave suppliers are crucial to maintaining its tequila business relationships. "Agave supply is a lot more limited these days. This makes us even more cognizant as to who to buy our agave from," says Bass. "We buy our agave from the same three agaveros that have had long standing relationships with our Master Distiller Marco Cedano. Sustainability is extremely important to him and to Tromba. We are directly involved in how our agaves are grown."
Tequila Astral was co-founded by Master Sommelier Richard Betts, who sought to create a tequila with a sense of terroir. Organic agave is harvested from specific highland estates to achieve desired flavor profiles.
Taking the notion of terroir-driven tequila a step even further is Tequila Ocho, one of the pioneers of private estate-grown tequila. While most tequila expressions are distinguished by age only—blanco, reposado, añejo, etc.—every release of Ocho is defined by the single estate where the agave was grown and vintage year of harvest, much like fine wine.
They recently began a pilot bat-friendly estate program. For use in tequila, agave must be harvested before it reaches the flowering stage. This deprives bats of necessary food sources and shifts migratory patterns away from the tequila region, thus severely compromising the genetic diversity of blue agave and the regional ecosystem. "Bats are an unloved animal," explains Master Distiller Carlos Camarena, "but it is amazing how opinions change when we realize their natural connection to our most beloved export, tequila. We are in a unique position as farmers and tequila makers to monitor these eco-friendly practices firsthand."
Also produced at La Alteña distillery by Camarena is El Tesoro ("the treasure"). The tequila differs from Ocho in that the manually harvested agave is sourced from a variety of fields in the Jalisco highlands, and is produced from agave plants which are monitored to ripen longer than is typical, resulting in richer flavors in the spirit. In order to sustain soil quality in the fields, two to three rotations of other crops, like corn, are planted between agave plantings.
Situated above the town of Tequila is Fortaleza (meaning "fortitude"), produced in a tiny hilltop distillery that once operated within the Sauza family (the larger Sauza distillery is in the center of town). Fortaleza closed in the late 1960s, but was successfully revived in the early 2000s by 4th-generation Guillermo Erickson Sauza, who sought to honor the old family traditions, including crushing roasted agave piñas by tahona.
He implements similar sustainable practices as Ocho and El Tesoro, including bat-friendly initiatives, through contract farming. Guillermo's son, Billy Erickson, explains that the family makes conscious efforts to ensure goodwill among the agaveros: "We're buying from small farmers and will begin implementing a program for contracting a equitable price with them so if the agave price does come down in the long run, the farmers are still getting a return on their investment."
There is still plenty of tequila to go around for now, but what's changed in recent years is more consumer savvy, equating quality with beneficial agricultural practices. Mayahuel, the ancient Aztec goddess, is believed to be divine protector of agave. She'll need more assistance from her human counterparts in the coming years.