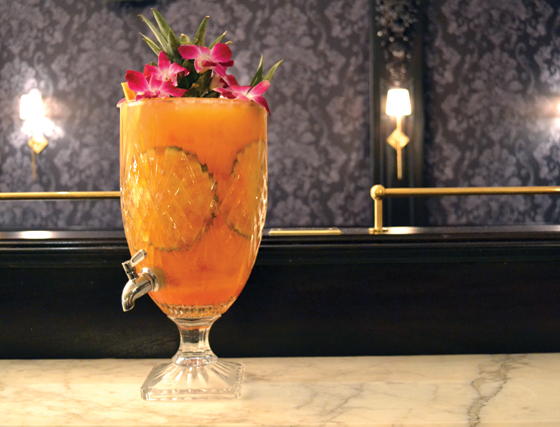 Black, green, white, red or herbal — bartenders are turning more to tea in cocktails
By Jack Robertiello
Relentless in their never-ending search for impactful ingredients, bartenders are increasingly turning to one of humanity's oldest beverages: tea.
Tea is stronger than ever in the U.S.—currently the world's third largest importer and the only western country to be growing both imports and consumption, according to the Tea Association of the United States. Between 2010 and 2015, tea saw a 16% increase in menu appearances, according to the research firm Technomic, and represents almost $11 billion at food service.
So it can't be a surprise that tea has migrated to the bartender's toolkit. Consider, for example, the Drunken Earl at San Francisco's Presidio Social Club, made with Wild Turkey Rye, Drambuie and Earl Grey. At ROKU in West Hollywood, Charity Johnston offers the Matcha Mule—green tea-infused vodka, ginger, lemon and honey. In Dallas at CBD Provisions, Bar Manager Eric Brooks's signature summer drink is the Sweet Texas Tea; it's housemade black tea syrup, bourbon, lemon, bitters and mint.
At Cindy's atop the Chicago Athletic Association Hotel, Nandini Khaund employs tea in drinks like the violet-hued Grey Garden (Ketel One, Dolin blanc vermouth, crème de violette, and emperor's jasmine pearl tea) among other drinks. "Teas are a truly unique, interesting component that add incredible amounts of complexity to cocktails," Khaund says. "Teas can impart an essence of terroir—you can actually get a taste of where the leaves were grown, the soil, and sun. Beyond that, teas also add an interesting florality as well as antioxidant health benefits."
At Yvonne's in Boston, Bar Manager Nicole Lebedevitch employs tea whenever she can—in Pumpkin Chai Spiced Mule; the Long Thailand Iced Tea (dark rums, tequila, sweet Thai iced tea, coconut, oranges and cinnamon); and Lulu Lemondrop, a vodka-based punch with apple, maple, lemon, cayenne and rooibos tea. "I use tea as a way to get different flavors into cocktails without necessarily adding more sugar or alcohol," she says. "There are so many different styles and flavors of tea that can add a different mouthfeel and a touch of tannin and even bitterness naturally, and that makes it easy for the guest to get a great, full-flavored cocktail."
Jim Kearns is one of the proprietors at Manhattan's Slowly Shirley, where bartenders use teas often in new drinks. "Teas can provide a specific flavor that you may not be able to get from a bottle. However, you need to make sure that you get those flavors reliably reproducible," he notes. Kearns and others prefer the cold brew process to guard against excessive extraction of tannin and a chalky mouthfeel.
The trend has even permeated the commercial tea world—Jennie Ripps of Owl's Brew produces four tea-based cocktail mixers, a tea line (Brew Lab) for restaurants and a new line of tea radlers. She's seeing steady growth, and has even had calls to develop teas to resemble spirits: Campari for NYC's Santina, an amaro for NYC's Quality Italian.
"Owl's Brew mixes are for the bar that wants to do something special but not so mixology-focused. For the most part the application is much better at accounts that wants craft cocktail program and use really good ingredients but may not have a mixologist," she says.
Laura Bellucci of New Orleans' SoBou credits her tea and whiskey experiments for her bartending career, and uses teas as a base for the many punches SoBou offers, like Ella's Starlight Soiree Punch – gin, green tea, lemon juice, strawberry puree, honey simple syrup, rhubarb and celery bitters. Tea shows up in her Chaturanga Fizz (Novo Fogo cachaça, lemon juice, cucumber, honey syrup and carbonated jasmine green tea).
Some combos work better than others—Bellucci says lapsang souchong gives bourbons a "beguiling Scotch quality. The bolder teas work better with whiskies. Earl Grey and bourbon is my favorite combination." And her Hot Toddy with darjeeling and Hendricks gin was a hit last winter.
Most important is that contemporary customers are interested in the flavors of tea. "Customers understand the value of the teas we use," says Khaund at Cindy's in Chicago. "People understand the thoughtful use of tea."