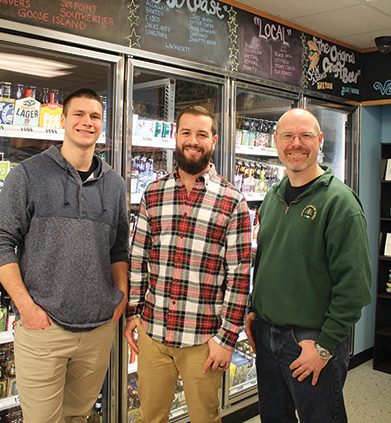 Dick's World of Wines
137 Main Street
Westerly, RI
Square footage: Approx. 9,000
Years in operation: 15 (under current ownership)
By Savannah Mul
The façade of Dick's World of Wines in Westerly is a familiar landmark. The store itself has served the town and summer tourism traffic for many decades. When the Vuono family purchased the property in 2002, they took on the store's mission to serve the daily community, and seasonal tourists, with high quality customer service.
"Everybody can buy and sell something, but you can't buy customer service," said Ryan Hellert, Store Manager. Dan Vuono, who co-owns the store with his father, Bob, said, "It's the hardest thing to acquire and we make sure our employees help you out. We see our customers daily and know them by name."
Friendly greetings, assistance with product selections, special orders and carrying items out to a customer's car are all part of that service equation,  on top of its diverse product inventory.
Dick's World of Wines features "at least" 2,000 SKUs of wines, approximately 1,200 SKUs of beer and nearly 750 SKUs of spirits. Store Managers Hellert and Paula LaBarre work together, adjusting the selections to "keep up" with consumer demand and current interests.
Vuono said they were also able to increase their product selection about three years ago, after the business went through an eight-month renovation process. "It was a lot of long hours," said store employee Jeff Routhier.
The store stayed open for business during the makeover, which added 13 cooler doors specifically for craft beers and chilled wines, new lighting, wooden storage racks for the wine room and a coat of fresh paint, as well as other cosmetic and operational improvements.
"We were able to space out product displays, and re-did the shelves so customers can view products from across the store, and added more shelves for liquor," said Vuono.
Dick's World of Wines also features a temperature-controlled wine room for its finer selections of wine, which Vuono said  are "particularly popular" around the holidays and for gift purchases. The store also features a large selection of premium cigars.
The team uses social media to post new products, pairing ideas and store information. They also partner with liquor service delivery platform Drizly. These added amenities all aid in their ability to serve their local customers, said Vuono.
"We get to work with some great people, I like [that] aspect of retail," Vuono said. "Everyone wants to know the new beer or just talk about wines."