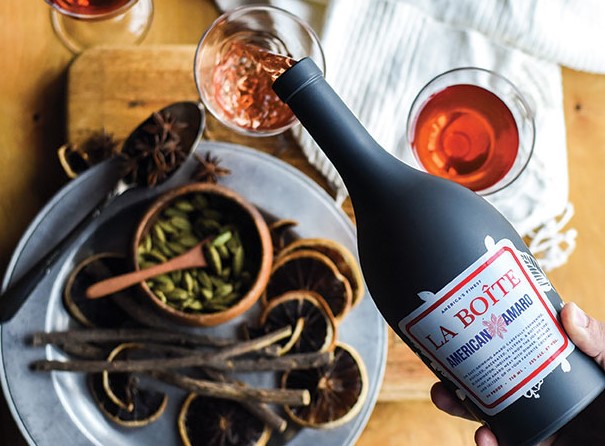 Exotic by Nature and Swept Along in a Bitter Wave, Vermouth is Gaining Traction
By Jack Robertiello
---
It is not unusual to find a fine-dining Italian restaurant, especially in one of the half-dozen Eatalys in the U.S., with an extensive wine list. But it's a sign of current restaurant trends that almost an entire page of the menu at NYC's Manzo is given over to a detailed list of almost 40 vermouths and bitter amaros.
Vermouths, once the neglected orphan in the bar well, have made a major comeback, at least at the premium end, as classic cocktails like the Manhattan and the Negroni calling for various types of the fortified wine have been dusted off and brought back to popularity.
That cocktail renaissance has not only resurrected vermouths that have subsisted on small but loyal consumer bases, but has also opened space for a broader flavor spectrum crafted by domestic and international producers. It's also created a larger market for amaros with a broad variety of flavor profiles. As many long-standing, mostly Italian brands continue to find their way here, American-made versions of amaro are blazing a path as well.
Behind the bar, vermouths and amaros have benefited mightily from the Spritz, which has proved a windfall for Campari and Aperol while pushing open the door to bitterness that Americans can wrap their palate around. Broadly speaking, it's a sweet time to be bitter.
"Nobody could deny that cocktails are the driver of the growth of vermouth and amaro here, but they are both consumed so much differently in Europe that there is still room for them to grow even more," says Joe Swanson, National Brand Director for Vision Wine and Spirits, which imports Del Professore, a brand of vermouths and bitters resulting from a collaboration between the Jerry Thomas Project cocktail bar in Rome and the Antica Distilleria Quaglia in Piedmont. "Cocktail renaissance meets aperitivo hour is what's happening today," he says.
The attitude of importer Oliver McCrum has paralleled that of the wine and spirits business in general in the U.S., and he has gone from a skeptic to fan. McCrum, whose eponymous company now imports Italian Bordiga and Macchia vermouths and an amaro from Sicily called Amara, compares the change in quality and attitude to that which evolved in coffee—from mass-market coffee evolved more intensely characterful brands like Starbucks and Peet's, and now cities typically have numerous artisanal roasters catering to the java-driven. "These vermouths are like that—more distinctive, not industrial and made in small quantities and much more interesting drinking. Seems to me there's now a huge difference in quality and intensity of flavor in many of these."
Re-Education Situation
Daniel Warrilow, Brand Ambassador for Cinzano 1757 Torino, the producer's new premium vermouth, says there is still a disconnect for many bartenders understanding vermouth as an ingredient: "I spend a lot of time doing educational seminars and when I explain to bartenders it is a wine, so many say, 'We had no idea, we just kept it on the back bar like anything else.'"
The need for education is amplified by the organic blossoming of the vermouth market. Now, classic brands are joined behind the bar by French Dolin, Italian Cocchi, and newcomers like the Gallo-owned Lo-Fi range. NYC already has a crafty contender in Atsby; on the West Coast, Quady Winery's Vya has gone nationwide.
Perhaps most telling is how Europe's most established brands have expanded their expressions. For Noilly Prat, their Extra Dry, Original Dry, Rouge and Ambré are now sold in the U.S. Martini & Rossi now offers, in addition to the classic Bianco and Rosso, the higher-end Gran Lusso as well as two new styles of Vermouth di Torino: Riserva Speciale Ambrato and Rubino. Like the Martini & Rossi additions, Cinzano's 1757 expressions—Rosso and Extra Dry, released in 2018—are part of the recent movement to certify Vermouth di Torino.
Amaro…Today
As how and what Americans drink changes, so too have many of the products, and the latest wave of vermouths as well as amaros have fed that.
There are few if any rules with amaro, which traditionally have medicinal origins and were extremely local until recently. Among the new, American-made amaros are the bracingly bitter Amaro Tonico Ferro-Kina from Don Ciccio et Figli in Washington, DC; the light and grassy California Fernet made by Northern California's Geijer Glogg; and lighter styles like the just-released La Boîte Amaro from a partnership between Bloomington, IN-based Cardinal Spirits and New York City's La Boîte spicery owner Lior Lev Sercarz.
Their idea was to craft an amaro that resembled a Barolo Chinato, says Cardinal co-founder Adam Quirk: "Something lighter and drinkable that could be paired with food at dinner." Sercarz chose a blend of 15 botanicals, featuring star anise, licorice, orange and green cardamom. And unusually, the marketing target is sommeliers and fine dining operations, although inevitably bartenders will find a way to include it in drinks.
The same of course is occurring with vermouths, especially those with interesting flavor profiles, like the new rosé Spanish vermouth made by famed Sherry producer Lustau. "In the past, we would craft vermouths using Sherry as a wine base. Four years ago, we decided to bring this tradition back and resurrect old recipes and botanical infusion techniques to produce a brand new red vermouth," explains Myrna Santos Mayor, Director, North America House of Lustau. Now with red and white in the portfolio, Lustau went for pink. Lustau Rosé Vermut is a blend of Fino sherry, sweet Moscatel and Tintilla de Rota; it gets its tang from a mix of wormwood, cardamom, chamomile, vanilla and nutmeg.
Another important vermouth revival from Spain is Gonzalez Byass's La Copa, based on recipes and label designs recovered from the firm's historical archives. The Extra Seco is based on Fino Sherry, and is aged an average three years in a solera system.
Red fruits were added to the Extra Dry to enhance the balsamic notes and lengthen the finish. The sweeter and more intense La Copa Rojo is based on Oloroso and Pedro Ximenez soleras that are more than eight years old.
Authentic + Lighter = Popular
Not to be minimized in the conversation about vermouth is its exotic flavor profile—the use of botanicals makes vermouth malleable by nature. And while specific ingredients vary, these aromatized and fortified wines pack a wallop of flavor—a slightly funky but bright collision of herbal and fruity and bitter and sweet—and all at ABV less than half that of most spirits and not much higher than today's stronger red wines. In turn, vermouths and amaros offer great appeal to mixologists, both to tweak their Manhattans, Negronis and Boulevardiers and to create new flavorful drinks in the trendy lower-alcohol vein.
Swanson contrasts the trend for cask-strength and whiskies higher than 40% ABV with the surge among these lower-alcohol items: "It's ironic but in both cases people are looking for super authentic products, and actually the more the first drink is strong, the more the second and third need to be lower in alcohol."
Whenever the time of day, those lighter drinks with robust herbal and spice flavors are certainly gaining favor says McCrum: "It's not something people did in the past but it seems to me to be that is changing. People are drinking things like white vermouth with sparkling water before dinner and enjoying it hugely."