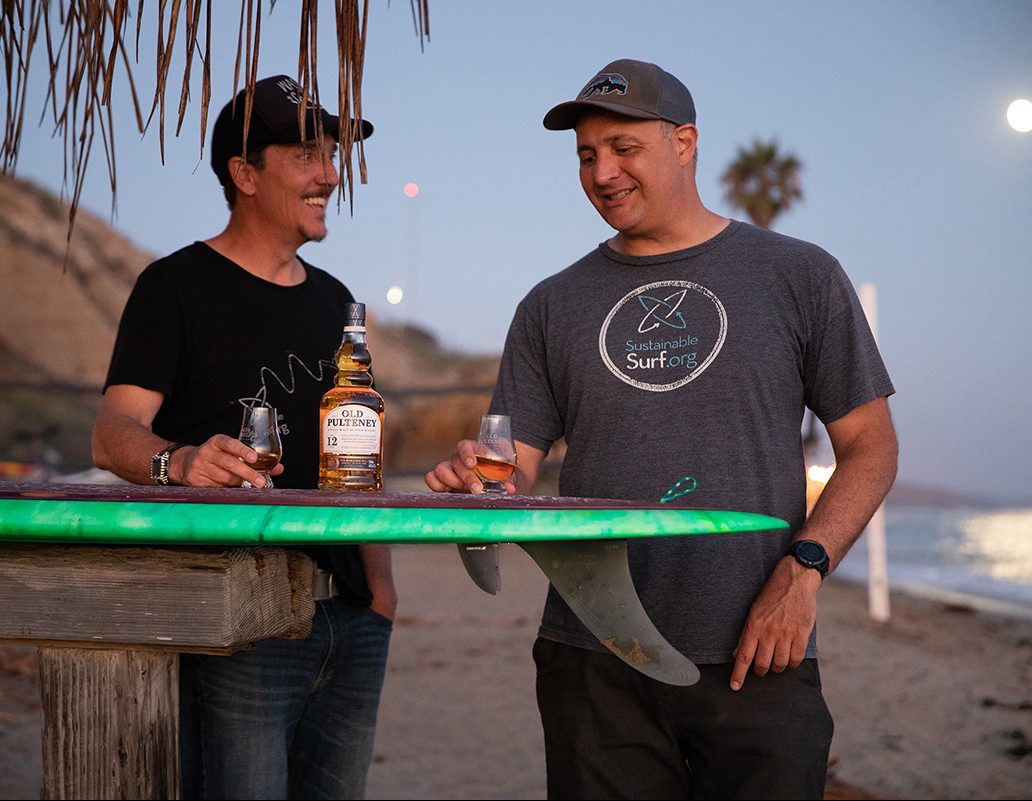 Looking Back, Looking Ahead, Extremes Seem to be the New Normal
By W. R. Tish
Well, we all thought 2018 was a shocker. Somehow 2019 has managed to outdo it. The beverage alcohol industry was sideswiped by the unexpected—from hard seltzers to tariffs to a new breed of teetotalers.
Some 2019 themes bore tread marks from 2018. Californians again found themselved fighting and fleeing erratic fires; this year the fires were even worse, despite mandated (and disruptive) blackouts. Rosé and red blends continued to roll; botanicals continued to mutually delight consumers and trade; and the sound of aluminum clanking in recycling bins got much louder this year as canned RTDs seemed to materialize overnight. Not to be left out, distillers (and/or their marketing departments) somehow kept coming up with more new whiskies than you could shake a stave at. Glenlivet even served up a dose of future-shock: whisky cocktails in seaweed-membrane pods.
In some respects, 2019 has been a galvanizing year. The Distilled Spirits Council of the United States (DISCUS), the American Distilling Institute (ADI) and the training agency TIPS got together to create "Spirits United," a grassroots-ish project whose first target is mobilizing to make excise tax relief permanent. Meanwhile, the year also saw Metro NY retailers mobilize decisively to push back a big-box disruption of the established single-license landscape.
Looking back and looking ahead, here are some topics and trends to watch as we surge toward 2020.
Bigger, Better Picture of the Whole Pie
Knowledge is king, and the data feeding the wine and spirits industry took a quantum leap in 2019. SipSource, a set of tools launched this year by WSWA, includes real depletion data from distributor partners, including Southern Glazer's Wine & Spirits, Republic National Distributing Co., Breakthru Beverage Group, Young's Market and Lipman Brothers—plus statistical and analytical contributions from Nielsen and others. Wine sales data has never been more voluminous or well-analyzed.
So, what's happening? "We're observing a consistent decline in wine growth trends over the last five quarterly reporting periods. Almost all traditional table wine varietals are trending down, and rosé growth is half of what it was last summer," said SipSource analyst Dale Stratton. "This appears to be driven by consumers choosing cocktails and RTDs over wine both on and off-premise."
"Shifts driven by consumer demand are causing a significant reshuffling both in [wine] and within Beverage Alcohol generally," noted Danny Brager, Senior Vice President of Nielsen's Beverage Alcohol Practice. "For example, wine in a can just passed 1% market share with rapid growth of +70% year over year while sparkling wines now account for over 10% of the category on dollars in the latest year, buoyed in particular by double-digit Prosecco and Sparkling Rosé gains."
SipSource analysts identified the leading growth segments as Cognac, +8.9%; Tequila, +8.8%; and pre-mixed cocktails +5.6%. (Within that last segment, cans are a major force, representing over 20% of the ready-to-drink segment today.) They also are seeing balanced growth between on-premise (+2.7%) and off-premise (+2.2%). And Stratton confirms that legalized cannabis is not impacting alcohol sales, yet.
How 'Low/No' Should You Go? 
The crescendo of buzz about the new no-alcohol movement has sent ripples up and down the three-tier system. For bars, should they be carving out cocktail-menu space for non-alcoholic offerings? Beer sellers: do you stock/list the Heineken 0.0 with the other Heinekens? For retailers, depending on state laws, what non-alcoholic products can they carry, let alone want to carry?
One certainty: suppliers are not ignoring the wave of  "Low/No" alcohol awareness. Some are embracing the sentiment. Crown Royal recently had former NFL star Chris Long stop by a Philadelphia bar during a Sunday afternoon of football-watching to stage a "Crown Royal Water Break"—drawing attention to drinking responsibly and hydrating between cocktails.
Is Fruit the Next Fruit of the Vine?
With all sorts of fruit combos being concocted in hard seltzer labs, wine suppliers appear ready to jump in. Barefoot just introduced three new fruit-flavored iterations of Moscato, namely Apple, Peach and Strawberry. Also staking out this seemingly logical yet edgy space is Vintage Wine Estates. Their new Gaze was unveiled in sleek aluminum glory to enthusiastic wine lovers at the 2019 Food and Wine Classic in Aspen. Self-dubbed as "wine cocktails," the lower-calorie and lightly effervescent Gaze comes in Blueberry-Pomegranate-Moscato and Coconut Water-Chardonnay-Moscato, both 4.5% ABV. In terms of usage, they are targeting poolside and the beach; post-yoga, -spa or -workout; on hikes and bike rides; and/or at social gatherings.
Whither Ro$É?
In mid October, the U.S. government levied a set of new 25% tariffs on Scotch whisky and French, Spanish and German wines. Much of the Q4 inventory was already stateside, so it may take a while for impact to be felt. Generally speaking, retailers, distributors and importers expect customers to pivot toward countries whose products aren't being taxed. Analyst eyes are squarely focused on Provence rosé, which has famously led the dry pink trend and has done a remarkable job of commanding a higher price than other rosés. But will consumers flinch if their Provence bottlings are suddenly cracking $20?  Stay tuned.
Ready to feel Good?
Cause marketing keeps evolving. The industry of course has a history of specific brands and causes—Absolut, Sutter Home, J. Lohr, OneHope, Chloe, Amarula, Mionetto and Folonari are a few brands that have sustained programs over years. Expect such efforts to keep increasing in this era of social media cross-pollination, as brands big and small are finding fresh and facile ways to collaborate and promote charitable projects. Generating a feel-good vibe appears to be one way brands are trying to gain attention, especially among Millennials, in a post-Parker-points market. Fertile areas for attention include the environment, health and wellness, LGBTQ rights, education, even social justice.
Small scale is not a barrier. Old Pulteney Single Malt Scotch, to highlight the brand's identity as "The Maritime Malt," is teaming with Sustainable Surf, a non-profit that protects and restores ocean health by shifting people to a low-carbon, "Deep Blue" lifestyle. Pacific Northwest producer Upsidedown Wine pairs each of their wines with a distinct cause, such as the Humane Society and A21 which fights human trafficking. The "Give Back" concept and charities are featured prominently on back labels.
Bigger brands, bigger projects—and the cause is not always a traditional charity. For example, Bombay Sapphire Gin's #FindYourCanvas campaign aims to "reawaken our inner-creativity." The brand kicked off this ongoing initiative with a large-scale public art installation in Los Angeles, "Painted by Everyone," created via robotic technology.
Natural Mainstream?
So, is mainstream wine finally embracing "natural" wine? In Argentina, the Catena family's new La Marchigiana range of Criolla Chica, Chardonnay and Bonarda is entirely fermented and aged in tinajas, or traditional clay pots. Such vessels were actually used by winery founder Nicola Catena upon arriving from Italy in the late 1800s, according to Dr. Laura Catena. Similarly, in France, Gérard Bertrand continues to be a leader in high-profile organic and Biodynamic wine. His latest is Naturae.
From Pop-Ups to Pitches
Seasonal bars, holiday shops, kiosks—all are part of the current commercial fabric—and they are increasingly featuring wine. Rosé Mansion—a pop-up on a grand scale, befitting the rosé trend itself—was back for a second summer in Manhattan. Eataly recently teamed up with Ca dei Frati Italian wines to stage pop-ups in Chicago, New York and LA. Spain's Rías Baixas region has scheduled a series of in-store tastings in several Florida cities, purposely designed to be pop-ups within retail stores. In New York, the bar BlackTail created an pop-up, The Terrace, out of shipping containers.
And don't be shocked to see more out-there pitches for wines and spirits. The Bordeaux Wine School recently lured press and trade to seminars featuring wine and chocolate and (separately) wine and yoga. Of course it can be tricky promoting wines from lesser-known regions—which is why, at Vinexpo New York, Miss New York, was a welcome assistant in promoting Castle Rock wines, which hail from her native Kosovo. And why not? Doesn't a smile from Miss New York beat any critic's 90 points?
Unconventional promotion seems to part of the New Normal. Smirnoff turned few heads when they unveiled TV ads starring actress and LGBTQIA+ advocate Laverne Cox. And was anyone surprised when Bulleit followed up their 3D Printed Bar with 3D Printed Sneakers?
Two Tales from France
Quietly, growing seven-fold by volume over the past six years, wines designated as simple Vin de France have staked a solid claim in the U.S. wine market. From July 2018 through June 2019, U.S. imports of Vin de France designated wines grew 9% by volume and 11% by value to total 1.7 million 9-liter cases. Sales total $57 million, making the U.S. the second largest export market by value for these well-made, well-priced wines that declare their grapes and often look like they could be from anywhere. Let's see what happens with the tariffs….
Meanwhile, for the fifth consecutive year, Cognac exports in the 2018-2019 period reached their highest levels in both volume and value, and the U.S. remains their prime market. With Cognac escaping the tariff slap, and the region itself securing the addition of 24,710 acres of vineyards over the next three years, the future of classic French brandy seems bright. By extension, will the appeal extend to other world brandies as Scotland's whisky leadership lifted the genre in other nations?
On the UPswing…
Vinho Verde: Fresh, crisp, fruity and light in both the ABV and wallet department, Vinho Verde may be primed to win share among Pinot Grigio fans.
As Red Blends are still searching for identities, expect more to try to make a statement. Bonny Doon's Randall Grahm is doing his part, having purposefully re-formulated his flagship Cigare Volant red blend (swapping out Mourvedre in favor of Cinsault) to be easier-drinking and less expensive, while still Rhône-like.
Massive love for coffee is not going away; the success of products like Van Gogh Double Espresso, FrappaChata, Mr. Black Liqueur and Jägermeister Cold Brew Coffee will likely attract even more new entries.
'AR' Down & Out?
Augmented Reality, aka "AR," once the stuff of science fiction, is now another arrow in the marketer's quiver. But has this app-based novelty worn off? Treasury Wine's 19 Crimes hit the AR jackpot in 2018; attempts since have failed to catch fire.
Where will it Finish?
Barrel finishes in whiskey alone demand a spreadsheet to keep track of. Add in the sub-genre of wines finished in spirits casks (e.g., red blends in whiskey barrels, Sauvignon Blanc in tequila barrels), and it appears we will see many more crossover marriages of liquid and wood. Will the trend extend to other genres as well? 2020 may tell.