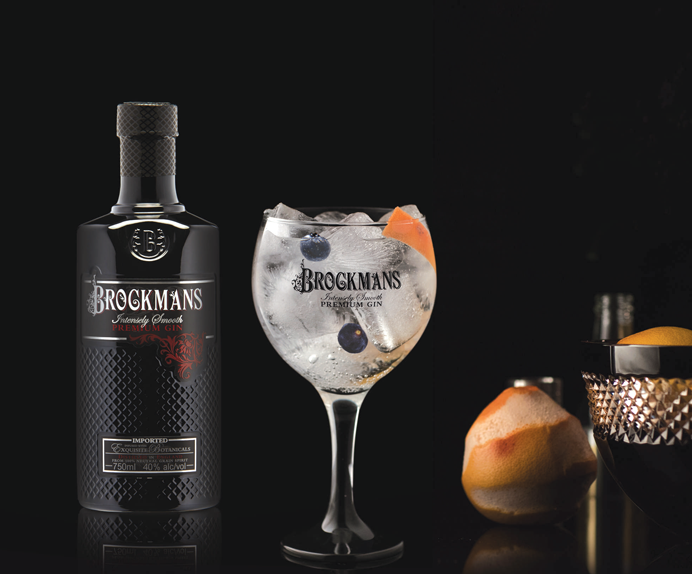 U.S. Embraces Botanicals, Brockmans Excels 
By Amanda Schuster
There's no doubt that Americans are falling back in love with gin," says Brockmans Gin co-founder and CEO Neil Everitt. Since the early 2000s, the gin category has exploded in Europe, with gin representing the largest category presence at bar shows like Bar Convent Berlin for several years running. Gin still has yet to catch up to vodka in the states, but it's getting closer; according to DISCUS, 2018 saw nearly 10 million 9L cases of gin sold in the U.S., generating $891 million in revenue for distillers.
Much of gin's success here is cocktail-driven, drawing from recipes both old and contemporary. "Let's not forget that in the golden age of American cocktails, gin played a pivotal role, from simple Martinis to more exotic concoctions," explains Everitt. "When you add gin's newer drinking styles such as the classic gin and tonic, it's easy to see why ultra-premium gin grew by 25% in 2018 in the U.S."
Fast Start, Heady Progress
Bottled and distilled in Lancashire, UK and using 11 botanicals sourced from around the world, Brockmans premium gin originally launched there in 2008. It launched in Spain (where the "Gin Tonic" is king) in 2010, and in the U.S. in 2014. In 2018, Brockmans was the second-largest super-premium gin sold in the UK, and sixth largest worldwide, according to Nielsen and IWSR industry data.
Brockmans' style is what would be considered a modern, or as Everitt puts it, "new style" gin—one that's not super dry and junipery like a classic London Dry, or overtly citrusy like many other dry style gins, but it carries a subtle, not-too-fruity-or-sweet berry note in its flavor profile. Through a carefully curated botanical selection, the creators aimed for a gin that could easily be sipped neat or enjoyed over ice—as one would a whiskey—while adding something new to the category.
"We believe that we need to remain in the vanguard of 'new style' gins. As one of the movement's pioneers, we want more Americans to be able to fully appreciate that not all gin is juniper-forward, and our smoother, more accessible flavor profile is stirring up consumer interest coast to coast," says Everitt.
The brand's main U.S. presence has been in the NY/NJ/CT tri-state area and New England, but seven states were added in 2019 and plans are to be national by the end of 2021. Everitt hopes the upscale Gin & Tonic craze will propel the brand's success with its signature Perfect Serve which includes garnishes of pink grapefruit zest and two blueberries, served with premium tonic.
Brockman's recently announced that former Diageo executive Paul Walsh has joined the team in what Everitt describes as an advisory role, "Paul will bring to Brockmans his significant industry experience and insights, with inputs into the company's strategy and business development around the world."
The brand has been quite active on the cocktail competition circuit, including an invitation for bars around the world to enter their best Brockmans gin cocktails to find "the best Brocktail on the planet" to coincide with World Gin Day in June. "We continue to be humbled by the enthusiasm of the global bartending community, and the inventiveness which Brockmans seems to unleash in them," says Everitt. Many of the cocktails submitted have lived on as official brand recipes.
For those who prefer a less junipery flavor profile, or are simply looking to expand their gin selection, Brockmans falls in a sweet spot, but without actual sweetness. "We are a more 'authentic' gin, for people with a good palate who appreciate subtle complexity," says Everitt. In other words, because it's purposely crafted to be different, Brockmans hopes to provide good ginspiration for a variety of serves.