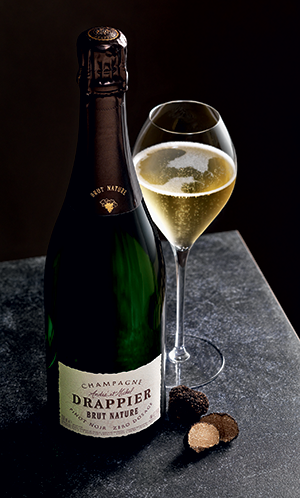 Trendspotting: The Zero-Dosage Trend—in Champagne & Beyond—Gains Favor and Footing
By Jim Clarke
Is Champagne drying up? Not in volume, but in terms of added sugar, the answer seems to be yes. Exports of Champagne were up 9.1% in 2017, according to the Comité Champagne, but exports of Extra Brut and Brut Nature—the very driest of Champagne types, based on sugar level—grew much faster, clocking in at 35.4% by volume. Despite our reputation for drinking sweet, much of that ultra-dry bubbly is coming to the U.S., Champagne's number one market in value terms. Whether it's labeled Brut Nature, non-dosé, or zero-dosage, dry sparkling wine is having a moment.
Laurent-Perrier was the first House to produce the style, debuting the wine at the Eiffel Tower in 1889 in response to the English market's demand for drier Champagne. Michelle DeFeo, President of Champagne Laurent-Perrier USA, has seen sales of their Ultra Brut in the U.S. triple in the past five years.
Increasing numbers of grower-producers have joined them, and even some of the other big houses have gotten in on the act. Roederer, for example, introduced its first Brut Nature in collaboration with artist Philippe Starck in 2014. And late last year Champagne Bruno Paillard introduced "Dosage: Zéro" a multi-vintage blend that marks the first addition to the house's focused portfolio in over a decade.
Dry Roots in the '70s
Bernard de Nonancourt of Laurent-Perrier lobbied for an official Brut Nature designation in the 1970s. DeFeo says Nonancourt intended the term to indicate sugar wasn't added at any point during production—no chaptalization, juice or juice concentrate for the second fermentation, and no dosage—but the term today, not just in Champagne but for traditional-method bubblies throughout the EU, indicates only a very low amount of sugar in the final product: 0-3 grams per liter.
Laurent-Perrier and some other producers such as Domaine de la Taille aux Loups in the Loire, with their "Triple Zero" Montlouis Petillant, hold to Nonancourt's stricter definition. "Non dosé" is a perhaps more explicit indication that no sugar was added after riddling, albeit reserved for back labels in most cases.
In Italy, the Prosecco DOC doesn't yet permit the Brut Nature designation on labels, but Luca Giavi, President of the Prosecco DOC Consortium, expects that to change. "This is an increasingly growing trend for our Denomination, led by male consumers that are drinking more Prosecco DOC than ever."
Selling Dry Goods
Mary Catherine Edmondson, Beverage Director at San Francisco's The Riddler, says many guests are looking for a drier wine, but they don't necessarily ask for Brut Nature by name; it's a hand-sell based on their expressed preference. Notes Edmondson: "I think that people who are into non-dosé wines fit into that broader category of guests who are interested in where their wine came from and how it was made."
Author Peter Liem believes, "Fans of so-called 'natural wine' generally embrace non-dosé Champagne as much for philosophical reasons as anything else. Since it's sugar, it's often seen as an unwanted or artificial additive."
It's likely that the growth of zero dosage wines isn't driven purely by market factors.
"A big factor in Champagne right now is that they're able to get riper grapes as a combination of climatic changes but also tremendous viticultural advances," says Doug Polaner of importer Polaner Selections, whose portfolio includes Larmandier-Bernier, Pascal Agrapart and several other Champagne producers making zero dosage wines. He says Thierry Laherte of Laherte Frères told him that in the 1980s "you had to add 12 grams of sugar, otherwise it would be completely unpalatable. That whole dynamic has changed."
Other regions have always had this advantage. Carlo Moser has been producing a zero dosage sparkling wine since 2011 at his family's Moser winery in northern Italy. "The Trentodoc area is marked by limestone soils and a temperate climate which are key to good ripening of our grapes compared to higher latitudes. We can get structure and smoothness naturally, so higher dosages are not as necessary as in other sparkling wine areas."
A growing number of his neighbors are adding the zero dosage wine to their range—there are now 25 labels. "This style allows the minerality to shine through without interference, and the flavors from lees-aging are also enhanced," Moser describes.
Trentodoc is only one example. Polaner points out that non-dosé is happening elsewhere in France, too. Chidaine, for one, makes a Brut Nature traditional method bubbly in the south of France.
Teachability Factor
On the positive side, the geographic multiplicity resulting from Brut Nature being used across the EU presents teachable moments, says Edmondson: "These Brut Nature wines are opportunities for people who might not like Cava or Prosecco or Franciacorta because of a bad experience in the past to taste a dry, refined version and realize, 'Wow, I didn't know Cava could taste this way.'" Similarly, Edmondson says zero dosage rosé sparkling wines often offer guests "a more vinous, mineral-driven experience without sacrificing those red fruit characteristics and beautiful pink color."
Like rosé wine more generally, zero dosage could become a victim of its own popularity, with quality suffering as demand grows. DeFeo says some producers are making non-dosé Champagnes merely to satisfy the trend, often using the same cuvée for both a Brut and Brut Nature version, which leads to a lot of mediocre examples.
Liem agrees: "The best non-dosé wines are usually made from blends created specifically for that purpose." Not every bubbly should, or could, be as good with no dosage. "Frankly, I think that the good non-dosé Champagnes, the ones really worth drinking, are drunk because they're good wines, not because they're non-dosé," he reasons.