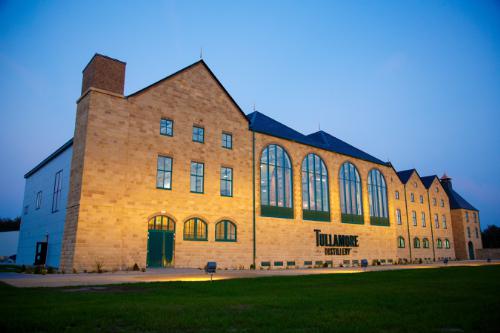 William Grant & Sons celebrated the opening of Tullamore D.E.W.'s new $50 million distillery in its hometown of Tullamore in the Irish midlands.
As the first spirit flowed from the stills, to the cheers of hundreds of invited guests, the milestone marked the return of whiskey production to the town; 60 years after the original distillery closed its doors. The new distillery marks a "particularly exciting moment" for the U.S. market as Irish whiskey continues to be the fastest growing spirit domestically with over 18% growth in the past three years, according got the news release. Under the guidance of the independent family-owned distiller William Grant & Sons, Tullamore D.E.W. grew over 20.6% in 2013 alone.
Stateside, the brand will be celebrating the opening with a commemorative event in New York City, complete with a barrel signing led by Patrick Williams, great-grandson of Tullamore D.E.W. founder, Daniel E. Williams. The adorned barrel will be shipped back to Tullamore where it will then be filled and laid to rest to age in the new distillery alongside a similar barrel signed at the Tullamore celebration.
The Tullamore Distillery features four hand crafted copper stills, designed to resemble the original stills from the old distillery; six brew house fermenters each with a 34,000 liter capacity; and warehouse storage for 100,000 casks.