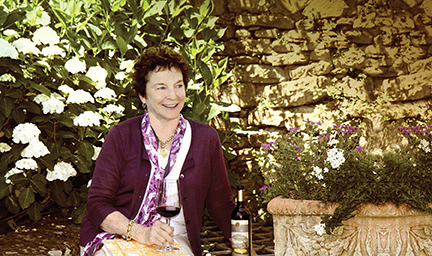 NYT best-selling author brings new wines to state
By Lauren Daley
To say Frances Mayes loves Tuscany is an understatement. The writer, cook, and now, wine maven lives and breathes Tuscany. Mayes loves the region so much that she wants to bottle up and savor it. Literally. Her memoir Under the Tuscan Sun (1996) became a New York Times bestseller, topping the charts for two years. It was adapted to the 2003 film of the same name, with Diane Lane playing Mayes — a role that earned Lane a Golden Globe nod.
The author of 14 books, including cookbooks and poetry volumes, Mayes has now ventured into another key area of Italian life — besides art and food, there's wine. And she's bringing her line of Tuscan Sun Wines to Connecticut. The wines — four reds and a white — were created in partnership with Curious Cork Imports and will be distributed in Connecticut by Cellar Fine Wines in Essex.
"These wines bring to life a sense of wonder through the simple joys that my life in Italy has given me," said Mayes. "I hope that by sharing them with the world, others can also attain a bit of the enjoyment I've gained from my experience here, if only for a moment."
Each Tuscan Sun wine has an Italian name and an English translation:
• Pensiero ("A little gift") 100% Pinot Grigio
• Permesso ("May I come in?") 100% Cabernet Sauvignon
• Tondo Tondo ("Just perfect") 100% Sangiovese
• Sentiero alla casa ("Path to the house") 60% Sangiovese, 20% Montepulciano, 20% Ciliegiolo
• Auguri ("My best to you") 80% Sangiovese, 10% Cabernet Sauvignon, 10% Merlot
"The reds are lusty and full of verve. The white is subtle and quite quaffable," Mayes said. "Tondo Tondo comes practically from my back door, so it's our house wine. I associate it with the hearty bisteccas and wild boar pasta sauces and ragù so popular in our area."
Janeen Carabetta of Cellar Fine Wines said, "We are thrilled to be working with someone who so embodies Tuscan life. For us, the mark of a good wine is that it transports you, and the Tuscan Sun Wines have a very strong sense of place."
Born and raised in Georgia, Mayes graduated from Randolph Macon Woman's College in Virginia and the University of Florida before moving to California. There, she taught creative writing at San Francisco State University until moving to Tuscany 20 years ago.
Today, she and her husband Ed divide their time between two homes: one in Hillsborough, N.C., "a charming old town full of writers and artists," as Mayes called it, and their Italian estate, Bramasole, in Cortona. "I've always loved wine, but when we bought Bramasole, which had been abandoned for 30 years, we found that it once had been a vineyard. The old grape stones for training the vines out over the terraces still stand. They look like ancient sculptures. We began to try to revive the vines and that's when my husband and I became interested in wine in a more fundamental way — from source to bottle," she said.
Mayes selected the wines for her Tuscan Sun line by tasting "many, many wines blindly… one of the wines we sourced is from a Cortona restaurant I've been going to for 20 years. Each wine we chose was a clear standout for its type. We had to love it. Our wines are meant to be paired with food, as are most Tuscan wines, so that was important," she said. "Our wine is daily wine. Drink-Me-Now wine. Wine for tonight. One of them will go so well with whatever you're cooking today."
Cooking and wine pairing have long been passions for Mayes. "I learned to cook in my Southern family home, where food was a number one topic. After years of cooking in Italy, I published 'The Tuscan Sun Cookbook,' a gathering of all my favorite recipes, along with suggestions for wine parings," she said.
Mayes will be in Connecticut May 29-30 appearing at bottle signings at Twisted Vine in Fairfield and Worldwide Wine & Spirits in Southington, a wine dinner at L'Orcio in New Haven, and a screening of Under the Tuscan Sun at the Katharine Hepburn Cultural Arts Center in Old Saybrook. Visit www.Cellar-Fine-Wines.com/Frances for more details.