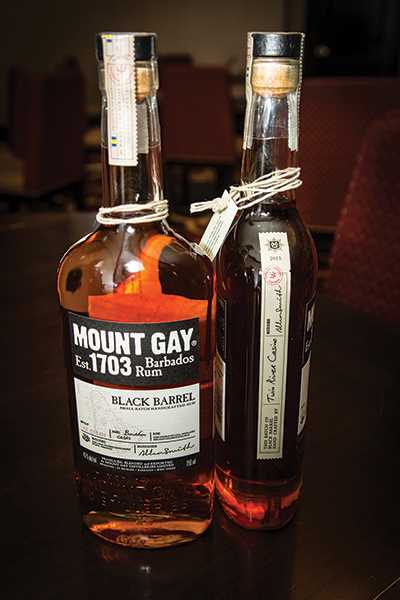 Twin River VIP 100 Club was the site for the United States Bartenders Guild Rhode Island (USBG RI) Chapter meeting, where a brand education session with Mount Gay Rum's National Brand Ambassador, Scott Fitzgerald, took place. Fitzgerald presented a tasting of the Mount Gay Rum line along with the company's history, which began in 1703 in Barbados, making it the world's oldest rum producer. The session was part of the chapter's monthly gathering held on January 19, 2016. The USBG RI board members also discussed meetings with chapter members after the session.
Mount Gay Rum. Chapter members tasted different varieties of the rum, learned about the characteristics of each, and the distilling process.
Laura Kanzler, Origin Beverage; Ben Terry, New Harvest; Patrick Cull, USBG RI Treasurer; Alex Thibault, Brand Activation Manager, Mount Gay; Scott Fitzgerald, Mount Gay Rum's National Brand Ambassador; Katie Masterson, Boom Box/Magdalena Room; Ian Magiros, On-Premise Key Account Specialist, M.S. Walker; Frank Martucci, Director of Beverage Operations, Twin River Casino; Joaquin Meza, El Rancho Grande; Jonathan Pogash; Anthony Guaetta, Twin River Bartender; Liz Sawtelle, Secretary, USBG RI.
Photos by Chris Almeida.