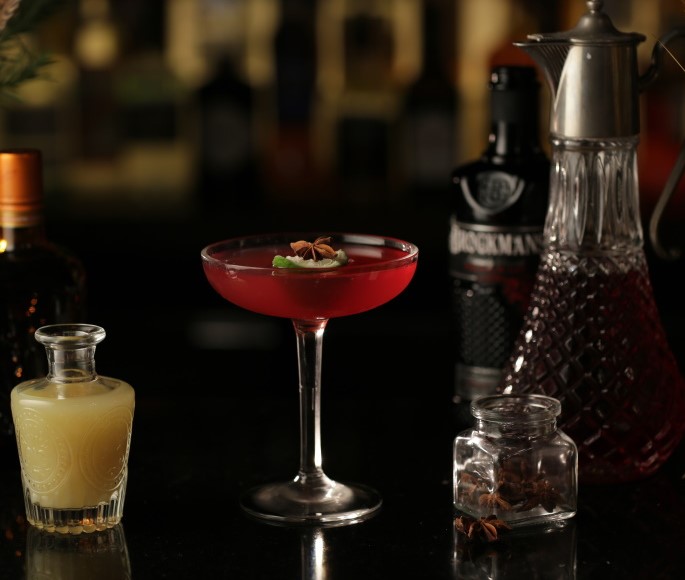 With love in the air and sweet treats to delight in, let cocktails play a role in setting the ambiance table side, too. Some inspirational ideas await.
---
Brockmans Cosmopolitan 
1 ¼ oz. Brockmans Gin
½ oz. Orange liqueur
½ oz. Fresh lime juice
1 oz. Cranberry juice
Lime twist and star anise garnish
Method:ombine Brockmans, Orange liqueur, fresh lime juice, cranberry juice and a handful of ice in a shaker.
Shake and strain into a chilled stemmed glass and serve with a lime twist and star anise.
---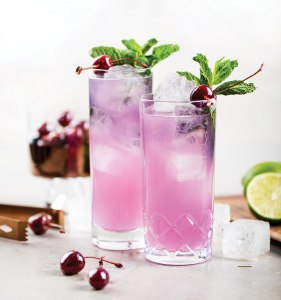 Southside Kiss
2 oz .Empress 1908 Gin
¾ oz. Fresh Lime Juice
¾ oz. Simple Syrup
Mint Leaves
Cherry and Mint leaves(for garnish)
Method: Muddle, shake on ice and strain into a chilled glass.
Garnish with a mint leaf and a premium cherry.
---
Ruby Fizz
1½ oz. Old Forester 86 Proof
½ oz. Ginger Syrup
2 oz. Raspberry Lambic
2 oz. Club Soda
2 droppers Old Forester Hummingbird Bitters
Method: Old Forester and warm ginger harmonize as a grounding base for this juicy, refreshing raspberry lambic fizz cocktail. The bitters accent with citrus and cardamom.
Combine all ingredients in Collins glass filled with ice. Garnish with lemon peel.
---

Red Velvet Cake
1 oz Amarula Cream Liqueur
⅔ oz Red Berry Vodka
⅔ oz Beetroot Juice
⅔ oz. White Chocolate Syrup
⅓ oz Grenadine
Method: "Roll" ingredients (pour back and forth between mixing glasses).
Fine strain into martini glass. Garnish with vanilla foam.
---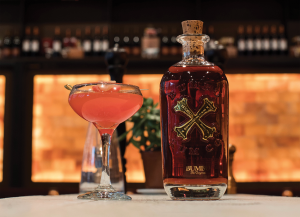 Love In Vain
2 oz. Bumbu Rum
1 oz. Grenadine
1 oz. Fresh Lemon Juice
1 oz.  Ginger Syrup
Candied Ginger (for garnish)
Method: In a mixing glass add all ingredients and shake vigorously.
Double strain into a chilled coupe and garnish with a heart-shaped candied ginger piece.
---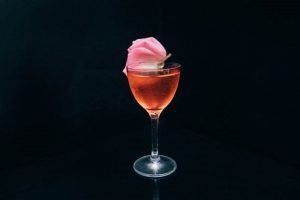 A Martini by Any Other Name
2 oz. Hendrick's Gin
75 oz. Lillet Rose
25 oz. Italicus
2 dashes Peychaud's bitters
3 muddled rose petals
Serve: Stirred, Nick & Nora glass, garnish with a rose petal fan.
Recipe and photo from The New York EDITION.
---