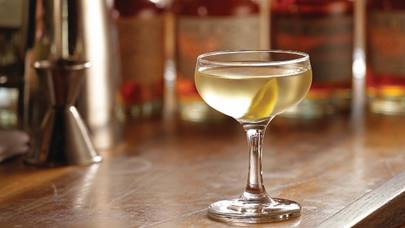 Red wine and Champagne highlights Valentine's Day favorite picks, But consumers can also get into the spirit while shopping or dining out, as crafting cocktails is an equally romantic option. This list offers sweet and savory options with timely recipes:
The Storm
1.5 parts D'USSÉ™ VSOP Cognac
.5 part triple sec
.5 part grenadine
1 part cranberry juice
1 part ginger beer (or ginger ale)
Serve: Build first four ingredients with ice in a rocks glass and top with ginger beer.
Lorraine 75 
   1.5 parts D'USSÉ™ VSOP Cognac
   .5 part BENEDICTINE® Liqueur
   .5 part freshly squeezed lemon   juice
   .5 part grenadine
   Top with MARTINI® Prosecco
Gently shake the first four ingredients and pour into a champagne flute. To make grenadine, use equal parts sugar and pomegranate juice. Top with Martini Prosecco and garnish drink with lemon spiral.
Reyka Vodka's Cupid's Hope
1 ½ parts Reyka Vodka
1 part Lemon juice
¾ part rosemary syrup*
2 parts Pear juice
Build all ingredients into Hurricane glass over crushed ice and swizzle & garnish with stalk Rosemary or dried pear.
*Rosemary syrup: Combine equal parts water and sugar. Let cool. Blanch the rosemary for about 30 seconds. Pat dry and remove the leaves. Place the sugar, water and blanched rosemary leave into a blender. Blend to a consist texture. Fine strain and bottle.
Hudson's White Manhattan
2 parts Hudson NY Corn Whiskey
1 part Lillet Blanc
3 dashes orange bitters
Stir ingredients 50 times with chunk ice to chill and dilute properly. Strain into a chilled cocktail glass. Garnish with a lemon peel.
Sailor Jerry Cherry
1 part Sailor Jerry Spiced Rum
3 parts lemon-lime soda
Grenadine or Cherry Heering floater
Garnish with a Jerry Cherry*
Jerry's Cherries: Drain a 10 ounce jar of Maraschino Cherries of their liquid. Fill with Sailor Jerry Spiced Rum. Return the lid and refrigerate for at least 1 week.
Montelobos' Amigos Con Derechos
1 ½ parts Montelobos Mezcal
¾ part Cynar
¼ part St. Germain
2 Dashes of Grapefruit bitters
Stir in a mixing glass with ice. Strain and serve up in a Nick & Nora glass. Garnish with grapefruit zest.