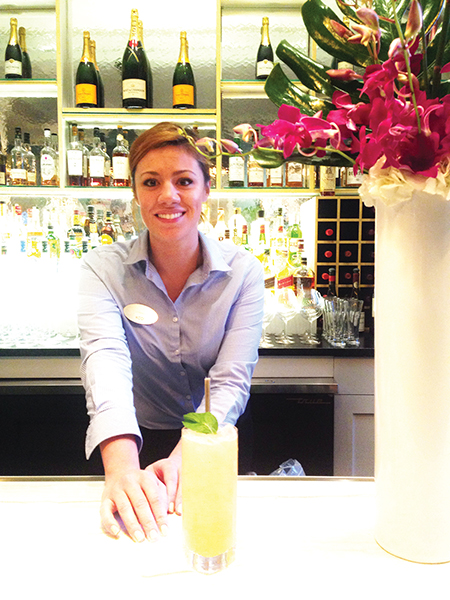 The Vanderbilt Grace, 41 Mary St., Newport
Built in 1909 by a scion of the wealthy Vanderbilt family, the vintage mansion is now a luxury boutique hotel in historic waterfront Newport. The Bar offers unique cocktails, with fine dining from its signature restaurant Muse, and terrace, The Conservatory.
Bartender: Kodi Keith
Drink Name: The Grace Cocktail
Recipe:
3 centimeters of lemon grass
2/3 oz. lemon juice
1 2/3 oz. pear puree
1 2/3 apple juice
1 2/3 oz. Grey Goose pear vodka
Dash of Monin honey syrup
4 to 5 mint leaves
Cut lemon grass into four or five pieces. Crush in mixer base using muddler. Squeeze lemon and add to crushed lemon grass. Add pear puree and apple juice first, then honey syrup and vodka. Add 4 to 5 leaves of fresh mint.  Shake vigorously in shaker.
Trim lemon grass straw so that it's just shorter than a plastic drinking straw. Insert plastic straw into lemon grass straw. Pour over glass of crushed ice using a single strainer in the shaker base. Garnish with sprig of mint and lemon grass straw.
It's "light and refreshing, striking the perfect balance of fruit without being too sweet," said Keith.