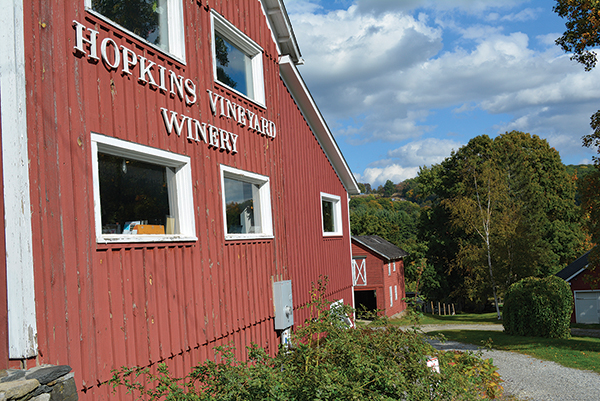 Hopkins Vineyard Has a Rich and Storied History as the Oldest, Continuously Operating Winery
By Nancy Kirsch
Two hundred twenty-eight years: That's how long the Hopkins family has owned the 100-acre property that is home to Hopkins Vineyard, LLC. Located on the scenic shores of Lake Waramaug, the property is a National Bicentennial farm and has Connecticut's oldest continuously owned winery.
"There's a real sense of obligation and purpose," said Hilary Hopkins Criollo, president of Hopkins Vineyard. "It's quite an accomplishment. So few farms are able to … stay within the family; I'm pretty proud of it."
More than 30 years ago, the property served as a dairy farm, where Criollo's parents, Bill and Judith Hopkins, milked 200 head of cattle. Concerns about lake pollution from animal waste and flat dairy profits motivated the Hopkins to transition to winemaking. "My parents were pioneers starting this business. They supported the Connecticut Farm Winery Act in 1978, which allowed us to grow grapes, make wine and sell it in our Wine Bar, and [supported] the Alcohol and Tobacco Tax and Trade Bureau's approval of the Western Connecticut Highlands appellation, which applies to a few Connecticut vineyards, including Hopkins."
Bill, the original vintner and grape grower, took winemaking courses at Cornell University and the University of California, Davis. The vineyard's current vintner, Jim Baker, has worked with, and learned from, the family for 23 years, said Criollo.
Thirty acres of the property is devoted to grapes. "Great wines begin in the vineyard," said Criollo, who has worked for Hopkins Vineyard for 20 years, the last 10 as president. "By growing [grapes] ourselves, we have a better chance of accomplishing what we want." Most of their 15 wines, made with estate-grown grapes, bear the Western Connecticut Highlands appellation. Their fruit wines are made from apples and peaches from a local orchard, and Sachem's Picnic, a semi-sweet red, is made from New York grapes. Hopkins also sells grapes to other Connecticut wineries.
Hopkins Vineyard's 2013 Estate Bottled Ice Wine boasts a number of awards, including a Double Gold Medal at the 2015 Tasters Guild International Wine Competition, Double Gold Medal and Best Connecticut Wine at the 2015 Big E Wine Competition, Gold Medal at the 2015 Finger Lakes International Wine Competition, and First Place at the Connecticut Specialty Food Product Awards.
This year's very dry growing season resulted in "a lower yield but higher quality; the grapes were so nice and juicy," said Criollo, who knows of no other Connecticut winery on an inland lake, which provides a temperature-moderating factor that helps ward off early frosts. Although the vineyard's annual grape yield varies, Hopkins Vineyard produces some 5,000 to 6,000 cases of wine each year. Of the 17 people employed during peak season, about half work year-round. Grapes are harvested by a mechanical harvester and handpicking, given the vineyard's expansive size.
Hopkins Vineyard hosts tours and special events, including painting classes and a fall festival. The majority of their wine is sold onsite, though individuals can purchase wines online (subject to state-specific restrictions) and at many of the larger liquor stores in the state; many restaurants in Connecticut also serve their wines. Guests also enjoy the Wine Bar – located in the barn's original hayloft – to have a glass of wine, sample some chutneys, olives and local cheeses, and peruse the gift shop.
Given Criollo's passion for family and land, the odds are good that the property will remain in the family. Her grown children, Alessandro, Paloma, Staecy, Jorge and Anju, all love helping at the winery, said Criollo. "My goal is to get more family members involved," said Criollo. "Staecy is having her second child any day now, so maybe we'll have grandchildren to help out, too."
Hopkins Vineyard is located on 25 Hopkins Road in Warren, Connecticut.