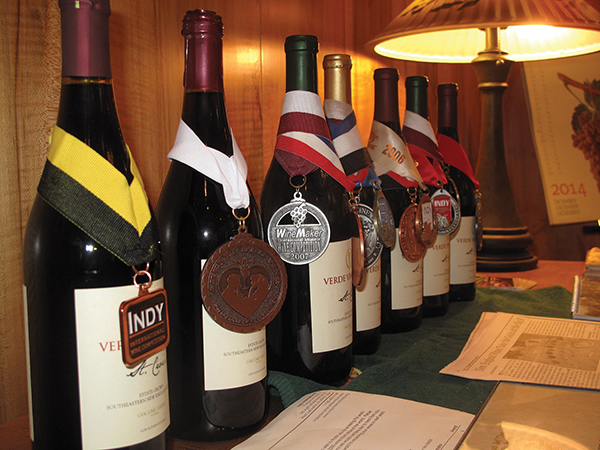 All Roads Lead to Green: Verde Vineyards grows from its owner's hobby
By Nancy Kirsch
Some 60 decades of exposure to winemaking – and a visit to a vineyard – led Giacomo (Jim) Verde to open Verde Vineyards in Johnston, Rhode Island, in 2013. "It's one thing to make wine, it's another thing to grow grapes," explained Verde, whose immigrant grandparents and other relatives routinely made wine each fall, using grapes purchased from California.
"About 12 years ago, I got cuttings from Sharpe Hill Vineyards in Pomfret, Connecticut; they were very gracious," recalled Verde. The evolution from making wine to making and selling wine occurred because, quite simply, Verde planted too many grapes. "I was obsessed with new varieties and planting new grapes; I realized I had to sell some of them. I also began to win awards, so I was encouraged by that," he said.
Verde, whose name means "green" in Italian, never set out to have a vineyard; it just evolved, says Verde, who learned gardening from his grandmother. "Everything's green in my life, I make all my own electricity with two separate photovoltaic [systems] for the home and the winery. With geothermic heating and cooling, my heating bill is really zero. I'm really proud of that."
Verde came to grape growing and wine making after decades as a community college biology professor. Asked whether Verde Vineyards is a business or a hobby, Verde describes himself oenologically: "I myself am a hybrid; I'm between a hobbyist and a business."
From some 1,000 vines on two acres, Verde Vineyards produces award-winning wines. One red, a St. Croix, is a French American hybrid. Another red, a blend of St. Croix and viniferous, is called Surveyor, named to honor Verde's late father, Nicholas, who had been a land surveyor.
With no staff, Verde Vineyards relies on volunteers, including some 60 or so who help harvest and crush grapes. "The pickers get treated to a big Italian lunch and we sit under the oaks on a beautiful September day; they drink the wine from the grapes they picked two years ago," explained Verde. "It's almost like being in Italy." Verde identifies two particularly dedicated volunteers: his cousin's son, Ron Ruggerio, a vineyard regular since childhood, and Dan Gingras, a former student and dear friend. "I can't do this without them."
Does Verde, 76, find the work physically laborious? "No; it's very pleasurable to work and move about," he said. "I love to be in the vineyard at dusk. The day's labor is done, the grapes say 'thank you for taking care of me,' and we're ready for our repose."
Even now, Verde, who peppers his conversation with Latin and Italian phrases, looks to the future: He might plant a new grape varietal and wants to promote Verde Vineyards and other inland wineries to visitors.
Verde Vineyards
50 Hopkins Avenue
Johnston, Rhode Island 02919
Vineyard View will be published quarterly as part of our continuing local focus. Contact dana@thebeveragejournal.com to be featured.