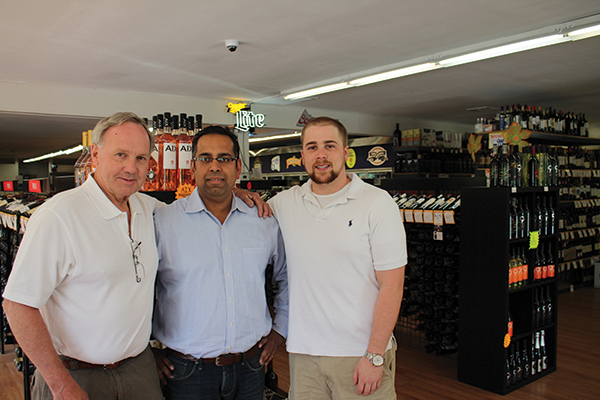 Vino et al Wine & Liquor Superstore
330 Main Street
Southbury, CT
Square footage: 4,800
Years in operation: 1
By Savannah Mul
After only a year in business, Hemant Sujan, owner of Vino et al Wine & Liquor Superstore, has made what was once an empty location on Main Street in Southbury into a successful store. This was also Sujan's first venture in the beverage alcohol retail business. He left his information technology career after 15 years to try something new. "I thought about doing something different," he said. "That's when it all started."
Sujan said he was concerned at first about the location because of existing competition, but, "competition is tough [everywhere]," he said. "I was a little concerned, but we settled into the town very well and with our selection and prices and customer service, people like us. Business-wise, it's growing very well."
To help further grow the business, Sujan hired Ty Nicholson as the wine and spirits director. Nicholson has been in the trade for more than 25 years with experience that spans from owning boutique wine and spirit shops, working at Connecticut Distributors, Inc., and most recently at BevMax. "Give me a shopping cart and I'm dangerous," he said, laughing. When it comes to helping customers pick out products, he usually runs through a series of questions to narrow down each shopper's taste preferences.
When the business opened, Sujan relied on his staff of four, along with sales representatives, to begin stocking inventory. Now, he said, "We've changed a lot of things based on customer feedback and suggestions from Ty and store manager Ryan Hackett. We know what sells and offer inexpensive, mid-range and high-end wines. We appropriately stock for our customers."
Nicholson said products increasing in popularity are "white wines that are aged in stainless steel tanks, there are more calls for those rather than an oaky white [wine], and lots of red blends and French rosés." Nicholson said the store's whiskey sales are "on fire," which confirms national sales trends.
The majority of the store's sales are driven by wine, and Sujan said he sells a lot of Italian Chiantis. Reflecting on his craft beer sales, "it's difficult to keep them in stock." Sujan and his staff engage with the community by hosting in-store product tastings. In the past, they hosted special tastings with musical entertainment on St. Patrick's Day and Independence Day.
"It's a fun business to be in. I've been enjoying the experience," he said. "It's a nice, small town. The people are nice here, and that helps."