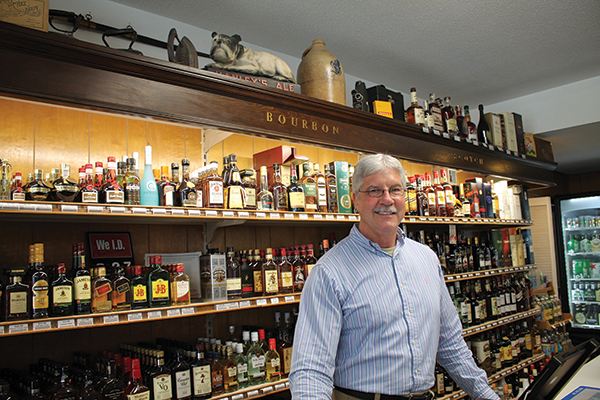 Gleeson's Wine and Spirits
39 Meeting House Lane
Little Compton, RI
Square footage: 2,100
Years in operation: 1½
By Savannah Mul
Gleeson's Wine and Spirits in Little Compton has become a familiar and friendly spot for locals, as well as vacationers in the spring and summer months. Whether locals just pop in for their favorite brew or need food and wine pairing advice for their dinner party, Owner Bill Gleeson is ready to help.
Gleeson brings experience from working in the industry, which began for him in 1979 at his family's package store. In 2011, his family sold the store and Gleeson worked for another beverage retail location until he decided to search for a new location to operate his own business. When he found the location in Little Compton, it was already an operating liquor store, but needed some renovations.
Gleeson purchased a new POS system, new light fixtures, three additional cooler doors, new wine racks to accommodate more products and floor racks to include soft drinks and small snacks. Fitted with a fresh coat of paint, new signage and fresh landscaping, Gleeson welcomed his first summer season over a year ago.
"The challenge was the unknown … and getting through the first season," Gleeson said. "We built the store back up again, overall it was better than we expected." When Gleeson was building up his inventory last year, he said, "it's always a learning curve and learning the demographics of the town, and catering to the summer crowd. It's a matter of [having] some knowledge and fine-tuning it with the customer base we have." Wine controls the majority of the store's sales, followed closely by beer and spirits.
One particular varietal that surprised him last year, and continues to trend, is rosé. "Everyone was asking for [it]," he said. "I was selling cases of it." He said he is readily prepared for the same requests this year and offers a variety of rosé styles to cater to each customer. Gleeson also remarked on craft beer sales. "It's incredible. I have limited space, but we carry just over 3,000 beer SKUs."
Beginning around Memorial Day weekend and extending through the summer season, Gleeson, along with a sales representative from a distributorship, hosts product tastings to introduce new wines or beers to his customer base. "It turns into a social event," Gleeson said. "It gives people the opportunity to taste and people will tend to buy the product they taste."
In an effort to bring part of his family's storied history in the beverage retail business into his own store, Gleeson displays antiques that belonged to his family, including his uncle's liquor permit dating back to post-prohibition.