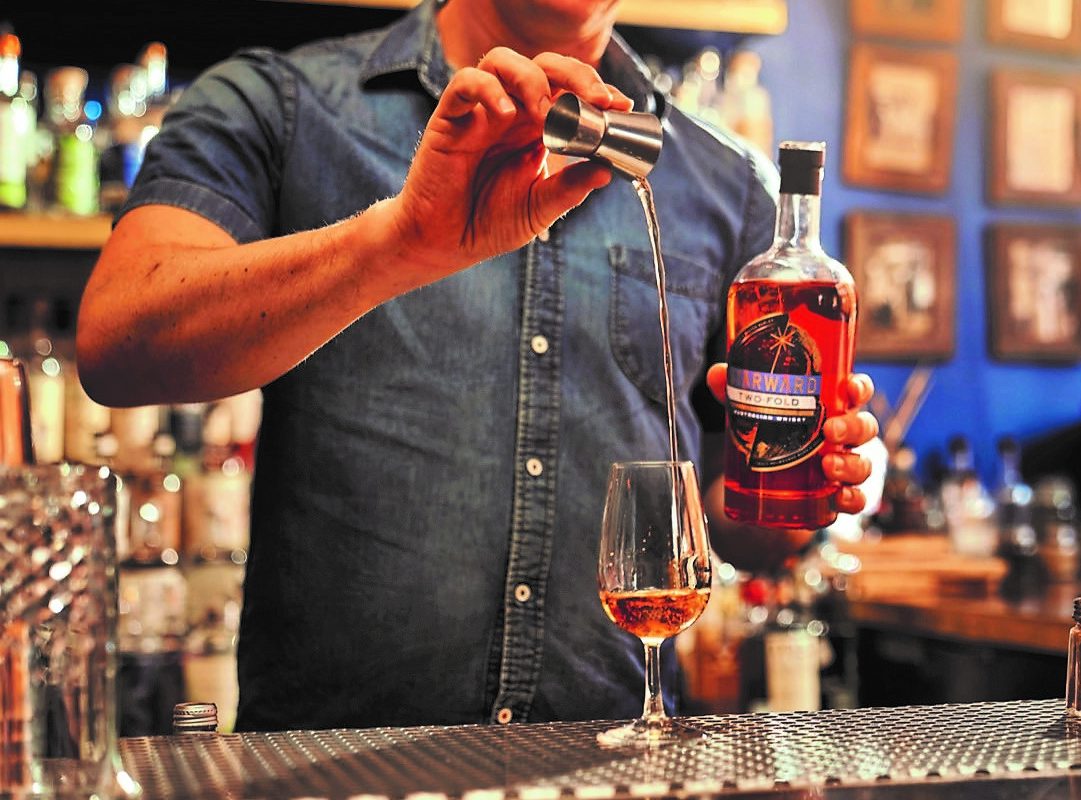 From Japan to India to Mexico, quality whisky is being made in countless new regions and reaching an increasingly open-minded American consumer
By Jack Robertiello
Spin a globe and pick a country; chances are someone there is making whiskey. Good whiskey, too. A market vibrant with brown goods from traditional sources—namely Scotland, Ireland, Canada, and the U.S.—is proving ripe for a new crop of quality whiskeys made farther afield.
New distilleries are popping up in many countries that have little or no history of whisky production, with increasingly impressive results. Taiwan? Australia? Wales? Belgium? Mexico, even? Scandinavian (Sweden's Mackmyra), French (Giraud), and German (Slyrs) versions, too, are finding their way to this whiskey-mad country.
The path cut by Japanese whisky—from overlooked producer to paragon of quality, impressing critics and winning new customers even at luxury price points—is arguably the gold standard. Brands like Nikka, Yamazaki, and Hibiki earned their shelf space and established high standards for Japanese whisky as a sector. Just as important: they fostered open-mindedness about whisky from unexpected sources.
How They Do It
Much like the explosive craft whiskey movement in the U.S., many of these new distilleries are boutique. Some were created with the help of consulting distillers like the late Dr. Jim Swan who shared technical and operational expertise to get them up and running.
Prices vary dramatically, from around $40 retail up to above $200 for limited releases from Taiwanese Kavalan and others. Volumes are generally small: Shipments of Welsh whiskey Penderyn to America, having increased by 50% from 2018 to 2019, may hit 4,000 six-packs in 2020. Mexican corn whiskey Sierra Norte counts as a success story; the 2015 startup is now sold in more than 20 states including at several chains.
Those trying to build these brands agree on a few necessary steps to success: provide a compelling point of differentiation, introduce unique flavor factors, and tell a story that connects.
"We're very proud that were able to bring something that's not mainstream whisky," says Sam Filmus, president of Impex, importer of Penderyn from Wales, and Gouden Carolus from Belgium. "But it's a risk, as people are more focused on Scotch, bourbon, and Japanese whiskies."
Penderyn has been able to develop a base market among single malt connoisseurs, through a connection with the Welsh community and by emphasizing the fact that the distillery is run by three women, he says. Eight expressions in various finishes and styles have encouraged whisky explorers to pick their styles.
The even smaller Gouden Carolus is a single malt distilled from the mash of a Belgium tripel ale coming from a 450-year-old brewery, which results in a whisky with distinctive sweet, hoppy notes. Filmus is doubling down on his international portfolio, recently adding peated and non-peated Israeli kosher malts from the Milk and Honey distillery in Tel Aviv.
Those sorts of stories of provenance and quality help open doors, says Allison Parc, who founded French single malt Brenne in 2012. Another advantage is that rigid ideas about spirits have shifted, she says: "People originally would ask us 'Is it a Scotch or a Cognac?' They looked at me quizzically when I told them it was a French single malt whisky. Now they're not even fazed; the pendulum has completely swung. People just want to taste it for themselves."
"Single malt consumers all around the world are looking for something unique and are far more open to experimentation than ever before," says Sanjeev Banga, president, Radico Khaitan, which brings in three expressions of Rampur Indian single malt. The latest, the non-chill filtered Rampur Double Cask, matures in bourbon barrels for two-thirds of its life and in Oloroso Sherry casks for the remainder.
The vitality of the Indian whisky market cannot be overstated: nearly one in every two bottles of whiskey bought around the world is now sold in India (and seven of the top 10 global whiskey brands are Indian). "The next generation of high-end Indian-made malts are already showing that they are of a sufficient standard to capture an audience in Western markets as well," reflects Alastair Smith, director at IWSR Drinks Market Analysis.
Banga credits the reduction in the faux formality that accrued around high-end brown spirit consumption for making whiskies from India and other nations more easily accepted. Double Cask recently joined Rampur Select and Rampur PX Sherry, all crafted at Rampur's Himalayan distillery, in operation since the 1940s, where the climate hits extreme highs and lows.
Sharp Hooks 

Like single malt Giraud, Brenne is proudly French, and Parc focuses on this heritage as a point of difference. She emphasizes terroir, with all ingredients including barrels coming from the Cognac region. A series of vintage releases has also helped set Brenne apart.
The niche-yet-growing interest in heritage corn whiskies among small U.S. distillers has helped pave the way for Sierra Norte, a collection of multi-hued corn spirits from Mexico's Mezcal capital, Oaxaca, with unexpected and completely original, with flavor profiles that range from buttery and soft to robust and earthy. White, yellow, black, and purple versions are now available, with a red corn whiskey due this year. All are aged in Burgundy or Bordeaux barrels.
"All the corn that we have in the world originated in the Oaxaca-Pueblo region, so these types that are creating buzz are all descended from the original Oaxaca corns," says Barbara Sweetman, sales director for importer Caballeros. "They don't call them any Latin names, they just call them by the color."
For Starward Australian whisky founder David Vitale, expression of place and heritage was critical when he created his Melbourne-based distillery. "The thing I love about whisky generally, old and new world, is that the best of them really channel the place they are made. We're famous for making big Australian red wines, so for us it was a natural extension to mature our whiskies in seasoned wine barrels." He finds this point of difference  gives Starward an advantage when entering markets, too, especially with Americans who still drink a lot of Aussie wine.
"It's not a matter any longer of people saying 'I only drink Scotch' or 'I only drink bourbon,'" says Vitale. "People are generally more open to the understanding that there's a really broad definition of whisky and it comes from all corners of the world. That's the exciting thing, that people are really open-minded and it's our job to meet them where they're at."