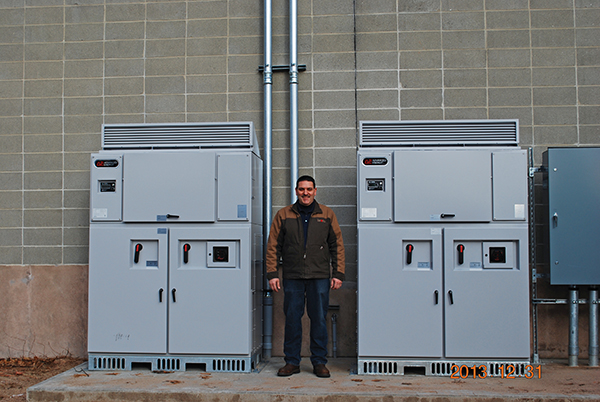 By Lauren Daley
Two Connecticut wholesalers are going green in '14 with mutually beneficial goals of lowering their electric bills and shrinking their carbon footprints through solar power.
Eder Bros., Inc., a family-owned wine and spirits distributor in West Haven, Conn., recently installed a 325 KW solar array, or panel system, on top of their warehouse roof. The 1,302 solar panels, which cover 50,000 square-feet, will cut Eder Bros. electric bill by about 65 percent, said Senior Vice President Cutter Smith.
"The reason we did this is two-fold. One, with the rising price of electricity, it's a good long-term business investment. Two, it's environmentally-friendly," said Smith.
"Solar paneling has come down in price over the years, so it's also a more cost-effective green initiative…It's a way to get yourself less reliant on the grid. If you can 'go green' on a corporate level, it's the right thing to do."
Going green also helps save green in the company's wallet. Dave Heller, president of Allan S. Goodman, Inc., wine and liquor distributors in East Hartford, said the 960-panel solar array recently installed on the warehouse roof will essentially save the company some 80 percent off each electric bill, and pay for itself in five years.
"In exploring potential benefits of solar power, we came to learn that the economic impact was quite beneficial, considering the increasing cost of energy, and 'green' tax incentives," he said.  "There's a 30 percent tax credit from the federal government. There's a bonus depreciation that equals almost another 30 percent tax savings. And on top of that, Connecticut Light & Power will pay us something called a 'ZREC" credit' for going green."
According to Connecticut Light & Power's website, the Zero Emission Renewable Energy Credit (ZREC) Program, is part of "an opportunity to develop renewable generation in Connecticut…CL&P customers who install new, qualifying renewable energy projects — ranging from rooftop solar panels to fuel cells — now have an opportunity to sell the qualified Connecticut Class I renewable energy credits (RECs) created from their projects to CL&P under a long-term, 15-year contract."
The ZREC program creates a market-driven bidding process for projects to competing to obtain a 15-year revenue stream from the sale of RECs to the electric utilities. The bidding happens each April, Heller said.
EnterSolar, the company that installed the 30,000 square-foot solar system for Allan S. Goodman and the 50,000 square foot system for Eder Bros., will help the wholesalers monitor their production of solar energy and consumption of solar "to ensure we get the appropriate credits," Heller said. He added that there's a flat-panel monitor in the office that shows in real-time what energy their system is producing.
With the tax incentives and the credit from the utility company, going solar is a financially-compelling offer. Plus, wholesaler warehouse roofs are usually large and flat, making them prime for panel installations. Benefits of harnessing solar power in the workplace include:
• Reduce strain on the environment
• Save money on electric bill
• Protect against rising electricity costs
"We're keeping our fingers crossed for sunny days," Heller said. "On a sunny day, in theory, your meter can run backwards."
Lauren Daley is a freelance writer. Contact her at ldaley33@gmail.com.