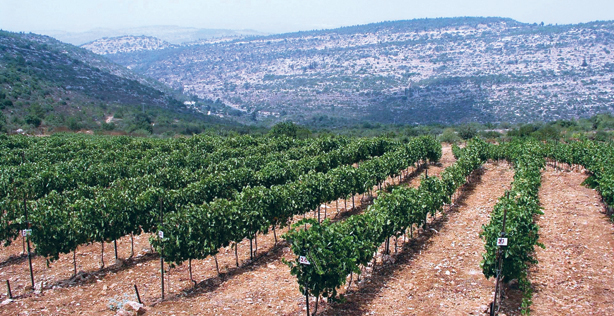 Israel has come into its own by focusing on quality first and kosher second
By Sara Kay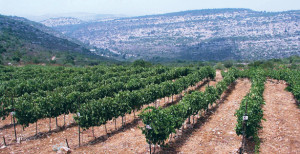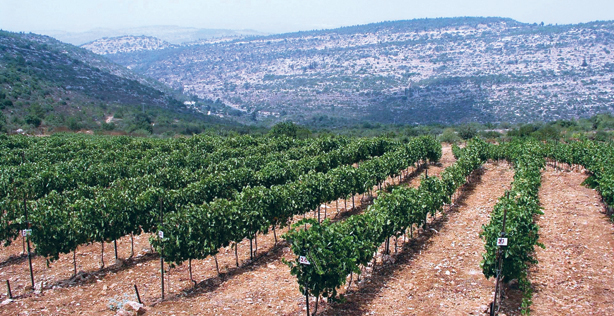 The wine history of Israel dates back about 4,000 years, so it's safe to say that winemaking is in its DNA. However, Israel's fine wine tradition is much younger—dating back only about two decades. Until then, Israeli producers were filling a religious need; sweet sacramental wine represented the bulk of their production. Today, a growing number of boutique producers are focusing their efforts on quality, and the country—the size of New Jersey—is home to 50-60 commercial wineries and 300 smaller ones.
Currently 37 Israeli wineries, both large and small, export to the United States, and that number is growing. Even more encouraging is the way retailers are embracing them. With the increased exposure, Israel's wines could soon shed their reputation as strictly for Jewish holidays and move into the general wine conversation.
A Land of Milk, Honey and Wine
Israel has five distinct wine regions—Galilee, Shomron, Samson, Judean Hills and Negev—each with distinct terroir and climate. The regional diversity is astounding, according to Oded Shoham, CEO of the Israel Wine Experience tour company: "You can drive 45 minutes and be in an entirely different climate with different terroir and sunlight."
The Mediterranean is known for being prime grape-growing territory, and Israel will benefit if people realize it rightly belongs to this region. "You see Greek wines and Croatian wines gaining in popularity, and Israel can play into that," says Hal Cashman, Brand Development Director for Palm Bay International, importer of Recanati. "In the last five years, Israeli wine has seen double-digit growth each year, which is some fairly strong growth for the sector."
Made in the Upper Galilee, wines from Recanati fall somewhere between modern and traditional, explains Cashman: "The wines aren't heavily fruit forward, and that's where the winemaking skills come into play. You'd think in Israel, it's very hot, so you'd have fruit bombs coming out of there, but the winemaker is growing in higher altitudes to get wines that are more balanced and not high in alcohol or fruit extraction."
Other established wineries such as Tabor, Carmel, Binyamina and Or Haganuz also reside in the Upper Galilee, all benefiting from high elevation, warm summer days and cool nights. "Carmel Winery is in the Upper Galilee and they produce a dry Riesling, something you wouldn't expect from such a hot country, and yet, the micro-climates you can find there are simply incredible," says Gabe Geller of Royal Wines.
Micha Vaadia, chief winemaker at Galil Mountain Winery also credits Galilee soil. "With the varying soils of limestone, flint, terra rossa and basalt, we are able to capture the essence of our region and put it in the bottle," says Vaadia. "The wine we're producing suits the temperament of the Middle East. It's floral and elegant."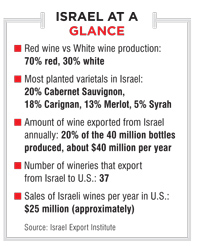 Eran Pick, winemaker at Tzora Vineyards and Israel's first Master of Wine, grows his grapes in the high-elevation Judean Hills. "All of our wines are blends," explains Pick. "We are trying to tell the story of this region, and trying to find the best blend of this region. We are reaching a point where we are finding the typical flavor of the Judean Hills, and that is a unique story."
Varieties like Petite Sirah and Petit Verdot thrive in the Mediterranean climate and are increasingly planted, yet the most prevalent grapes remain Cabernet Sauvignon and Carignan. However, winemakers are starting to experiment with different grapes, such as Chenin Blanc and Chardonnay.
It's the quality potential that lured Jacques Capsouto to move to Israel to make wine three years ago. Known for his Tribeca restaurant Capsouto Frères, Capsouto was one of the first NYC restaurateurs to feature Israeli wines prominently. When his restaurant closed after Hurricane Sandy, Capsouto decided to take his passion to the homeland itself, and today he grows vines on 54 acres in the Upper Galilee, producing about 45,000 bottles. "Israel is getting more recognition in the world," says Capsouto. "A lot of winemakers in Israel went to school in Bordeaux, UC Davis, Italy. They are professionals, and the wines being made here are receiving great responses from Israelis and Americans alike."
Selling: the Kosher Conundrum
Selling Israeli wine can be difficult, considering that Israeli wine is typically perceived by Americans as kosher first. One of the ongoing challenges for retailers is making a "Kosher" section readily accessible, yet at the same time promoting Israeli offerings as high-quality bottles from the Mediterranean. And no matter where kosher wines are shelved, it is important to remember that kosher certification does not affect the quality—it's an extra certification.
Joshua Greenstein, head of the Israel Wine Producers Association (IWPA), notes that while kosher will always be an important factor with wines from Israel, anything that draws people to pay more attention to the wines is positive. "People are willing to experiment with the Israeli category because we are selling Israel as a region, and people want to support the country," says Greenstein. "Once people try these wines, they realize how good they are."
At Gotham Wines & Liquors on Manhattan's Upper West Side, Costas Mouzouras is extremely well-versed in Israeli wine, kosher and non-kosher, as well as the culture of Israeli wine in New York, where it performs better than anywhere else. "I've been in this business a long time and I know most of the producers personally, and it's their story that really sells the bottles," says Mouzouras. "What's in the bottle is good, but if you know the family and their story, it's an interesting way to promote the wine."
Oded Shoham of Israel Wine Experience, who previously was a retailer, notes that regions themselves hold selling points. He urges retailers to promote the unique history of Israel's ancient lands: "When a wine is from the Galilee, it has an impact historically, and has an impact for people who know the terroir of the Galilee. It's a whole picture."
"The U.S. market is interested in real, authentic stories, and we have one," says Victor Schoenfeld, winemaker for Yarden. "There is still the challenge of getting out of the kosher section of the store, but kosher wine is produced all over the world. The linking of Israel and kosher makes less and less sense."
Christopher Barnes, owner of Grape Collective in Manhattan, carries a good selection of wines from big and small Israeli producers, but hasn't separated them completely from kosher yet; signage in the section reads "Israel, Kosher." Shoppers can access in-store iPads to instantly view interviews Barnes conducted with Israeli producers about their wines—as he has done with other vintners (the videos are also online). He is confident that the wines can sell on their own merits. "Israel has a very old wine culture, but at the same time a very modern wine industry," says Barnes. "The new quality estates are making really interesting, terroir-driven wines."
As IWPA's Joshua Greenstein notes, "People are starting to understand that there is so much more to Israel's wine culture than kosher. Israel has been making wine for 4,000 years, and they just got really good at it."
What is Kosher?
For a wine to be considered kosher, Sabbath-observant Jews must supervise and handle the entire winemaking process, from the crushing or"breaking of juice" of the grapes, until the wine is bottled. Any ingredients that are added to the wine during the production process must also be kosher.
Harvesters and winemakers are not required to be observant Jews, or even Jewish. Another designation seen on many kosher wines is "mevushal." Satisfying another aspect of Jewish dietary law, wines labeled "mevushal" (literally "cooked," but in some cases flash pasteurized) are allowed to be served by non-Jews to Jews, leading to frequent use by caterers and restaurants.
As for Passover, which begins at sundown on April 22 this year, requirements concern ingredients. Yeast used to ferment the grapes must not come from grains that are prohibited on Passover, i.e., barley, oats, rye, spelt and wheat. However, the yeast can be derived from various fruits or sugar. Kosher for Passover wines will have a "P" on the label.