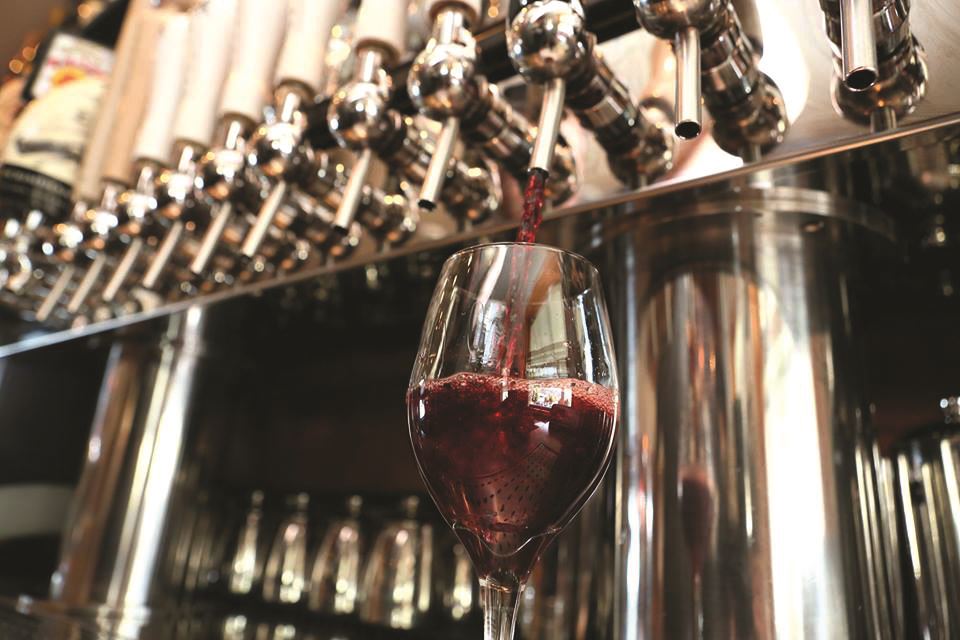 Wine on Tap is Hitting its Stride
By Jeff Siegel
Walter Wilson at the Pie Tap Pizza Workshop + Bar in Dallas's Design District doesn't need any prompting about the advantages of his store's wine on tap system."It's way easier in almost every area," says Wilson, whose location has 15 wines on tap via kegs, as well as conventional bottle service. "No bottles to open, easier to serve. I would strongly recommend it to anyone who is thinking about it."
Wilson is not alone in his enthusiasm for wine on tap, delivered through kegs in a system similar to beer and soft drinks. Says Drew Hendricks, MS, Director of Business Development for Republic National Distributing Company in Houston: "Protecting the wine is the most important part, and that's what wine on tap does—little waste and little spoilage."
In this, keg wine delivered through taps has established itself as a key to success with niche on-premise concepts, including wine bars and upscale casual restaurants like Pie Tap.
"If you see on-premise wine sales as flat, and maybe even in decline, wine on tap is a trend that can help with that," says Scott Nava, customer marketing manager for strategic on-premise national accounts and global hotel partnerships for Treasury Wine Estates. "It's one of the fastest growing parts of on-premise where wine is concerned."
Yet, having said that, kegs and wine on tap are not necessarily for everyone. Many older restaurants don't have room to accommodate the kegs and the necessary equipment; new builds and renovations are often a better fit.
"Today when new restaurants are being planned many owners are already considering wine on tap," notes Bruce Schneider, Managing Partner of Gotham Project, which recently moved to a larger facility in Bayonne, NJ.
"This greatly increases the chances of wine on tap being installed. Once a restaurant opens, it is very difficult to convince owners to consider wine on tap due to equipment requirements."The technology is constantly improving, but there are still some hiccups. And selection is much better than it was a couple of years ago, but some wineries still have reservations.This five-point checklist will help operators decide if kegs and wine on tap could work for them:
 How Does Wine Fit Into Your Concept?
First, wine has to be key to the operation, says Hendricks, pointing to Pie Tap and similar upscale casuals, where wine is clearly central, but the menu and approach to wine are less formal and the atmosphere is more relaxed.
In addition, wine on tap is a commitment, which includes upfront costs, maintenance, and the idea that this is not traditional wine service. "The operator has to understand why they're doing it—the cost savings, the waste reduction, the speed of service and the certainty of service and confidence for the waitstaff," says Nava.
How Do Your Customers Feel About It?
Denver restaurant consultant David Kincheloe acknowledges that customer attitudes matter. "That's the downside," he says, "acceptance from guests. That's starting to change, particularly as wine quality and selection improves. We've even had some restaurateurs who didn't want to accept it."
Hence, kegs lend themselves to upscale casual, where customers aren't as fussy about wine, table service and the like. But that's just one part of customer acceptance.
Hannah Raskin, Food Editor at The Post & Courier newspaper in Charleston, SC, still sees drawbacks. "The biggest of which is it seems like the wines given a permanent spot are pretty boring," she says. "Kegged selections strike me as way more conservative than a bottle-based list."
Gotham Project's Schneider is more optimistic: "The large number of highly regarded restaurants across the country offering wine on tap has reduced consumer resistance. Consumers definitely accept wine on tap as a viable and high-quality method for wine by the glass. This was not the case a few years ago."
Understanding the Supply Chain
When wine on tap started, the kegs were the biggest problem. Who shipped them? Who owned them? What happened when they were empty? It's one thing to gush over the fact that a keg offers 129 precise five-ounce pours or that the system keeps the wine perfectly chilled; it's another to figure out how how to manage the kegs.
Those problems mostly disappeared when Free Flow Wines entered the business in 2009.  Those who deal with wine on tap, from operators to distributors to producers, say Napa-based Free Flow has become the industry leader in managing the keg supply chain."
We don't have to worry about who owns the kegs, who is going to work with the distributors, or who is going to rent the kegs," says Amy Prosenjak, President of A to Z Wineworks in Newberg, OR, which does Pinot Gris, Chardonnay and rosé in kegs through Free Flow.
While Free Flow has helped convince producers that wine on tap can work for them, many are still reluctant. They cite lower margins and more aggravation, as well as the loss of a key marketing tool. "The waiter isn't bringing the bottle to the table," says Prosenjak. "That means there's no label for the customers to see."
It's about the space
Another important reason that upscale casual and newer concepts lend themselves to wine on tap is because the restaurant spaces are often new construction or renovations.
Although the system is similar to beer and soft drinks, the wine kegs must be under the counter and the lines from keg to tap are much shorter, says Clauss. "You may run into some space issues if it's an older restaurant," says Kincheloe, "since the kegs need to be close to the tap, unlike beer."
What about quality? 
The quality of the wines served via kegs, as opposed to bottles, is not necessarily a problem, says Nava, whose company has offered Chateau St. Jean on tap and will expand to their New Zealand Matua label.
Rather, whites and lighter reds seem work better with kegs; plus, the wines sometimes taste differently when they're first out of keg than they do when they're out of the bottle. But the wine does open up.
Sparkling can also be a problem, says Jim Scarfpin of House Wine, a wine bar and retailer in Worthington, Ohio.  It usually uses the Enomatic bottle system, but switched to kegs and wine on tap to serve sparkling last year.
He says the wine seemed flat and their customers weren't happy with the product; they dropped the kegs after the wine was sold.Perhaps the most significant sign of keg wine quality is the sheer breadth of wines now available on tap.
From Pinot Grigio to Rosé to Sangria, from mainstream staples like Constellation's Simi and Treasury's Matua through boutique California wineries and off-the-beaten-path imports, there is hardly a type of wine made today that can not be found in kegs. Wine on tap: it's here, it's happening.