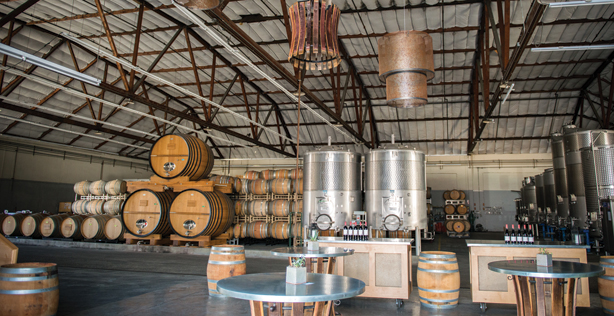 Set amid streets and buildings, Urban Wineries are redefining the meaning of "wine country"
By Jim Clarke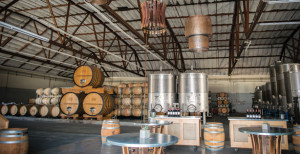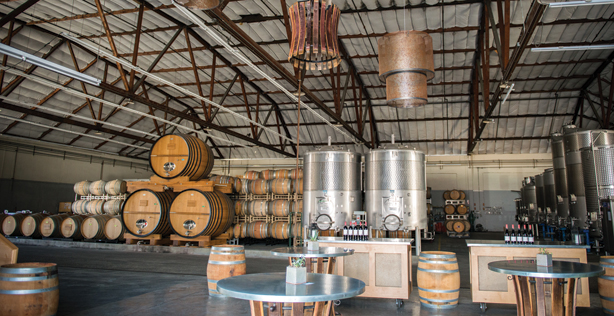 Close your eyes and picture a winery. Maybe you see a stately chateau. Maybe a rustic barn, or perhaps a high-tech marvel nestled in a hillside. And no matter which scenario, you most certainly can picture the winery surrounded by rows of manicured grapevines.
Whatever you imagine, it's almost certain to be different from the set-ups presented by today's urban wineries, set in the bustling heart of some of our most active cities, which are casting aside assumptions of what a winery ought to look like, or where it even needs to be.
Michael Dashe, of Dashe Cellars in Oakland, says the advantages for urban wineries are numerous: "We can bring in grapes from many different places—the Sierra Foothills, Sonoma, Napa, down south to Paso…it's easy to get grapes and bring them to the winery." Dashe was one of the first in Oakland, along with Rosenblum; today the Oakland Urban Wine Trail has 10 winery members.
Michael and his wife Anne didn't set out to be "urban." In 1996, Michael was working for Ridge, and dividing his time between the Montebello location and Ridge's newer vineyard purchase up in Lytton Springs, so they had settled in San Francisco, a convenient midpoint. When it came time to start their own project, "Buying a vineyard really wasn't an option. We were a bootstrap operation. We just put our money into grapes."
Dashe says visitors to the Bay Area are delighted to find wineries to visit a transit ride away, and to find a full 16,000 square feet production facility, not just a tasting room. His location also makes it easy to host winemaker dinners or in-store tastings and otherwise support local retailers and restaurants. The Pacific Northwest has seen a similar scene develop: Portland's PDX Urban Winery Group has 12 members, including Teutonic Wine Company and Boedecker Cellars—as has Seattle.
It's not just on the West Coast. Perhaps the most overtly urban winery, which began in Manhattan and now has outposts in Chicago, Atlanta, Nashville, and Boston, is City Winery—it's in the name, after all. The concept was to be a place for individuals to make their own wines, coupled with a restaurant/wine bar and live music venue. City Winery does make wines under that label, but they are not available in regular distribution channels.
As Local As Wine Gets?
Contrast that with Infinite Monkey Theorem in Denver. CEO and winemaker Ben Parsons says not only do local restaurants stock his wines (often on tap, which is especially convenient when the winery is so close); they also bring their staff to the winery to learn more about the winemaking process. When Parsons started the winery in 2008 he was inspired by the taproom model so common around Denver, where people enjoy beers made on-site. For Parsons, being near the customer was more vital than being near the vines; most of Colorado's vineyards are on the opposite side of the state.
The model, especially selling so much wine on tap or in cans, means they've favored certain styles. "We're trying to make wines that are more accessible, for everyday use, not to age 20 years," says Parsons. "We're making wine to be consumed young. Even the higher end wines only need 3-4 years, maybe."
While the urban model builds on a small, locavore base, that's hardly the limit; Infinite Monkey Theorem now has distribution in 42 states, and this year Parsons even opened a second location in Austin, TX. Similarly, New York-based Brooklyn Oenology, celebrating its tenth year, is available in six states, thanks in part to the recognition of the Brooklyn name. "Brooklyn is a name people recognize anywhere in the world," says founder and winemaker Alie Shaper.
Shaper works with New York State (Finger Lakes and Long Island) grapes, but also collaborates with her neighbors in Williamsburg in terms of artwork for her labels, featuring local oysters in her tasting room, and so forth. "For us, the Brooklyn Terroir concept includes local agriculture and those regions, but it's also expressive of our community." Parsons agrees, noting that the artistry of winemaking benefits from being part of urban life. "People live in cities because they're excited about the art and cultural activities; we're surrounded by other creative people." For Shaper, being an urban winery means the city's creativity becomes part of the terroir.
The Power & Promise of the Can
Ben Parson's downtown Denver location isn't the only unconventional aspect of his winery. His commitment to experimentation and packaging innovation—from edgy labels to wine on tap and in cans—has been the foundation of his business model since he launched Infinite Monkey Theorem (IMT) in 2011.
"Many were skeptical at the beginning, and the cans still get a mixed reaction," Parsons says. "Many people love the convenience of the single serve, but naysayers find any change to traditional packaging hard to fathom." By the end of 2014, he started to see real traction as Whole Foods and Frontier airlines got on board.
IMT produces four California wines in can: Red (Syrah), White (Chardonnay), Rosé (Syrah) and Moscato: all but the red are slightly carbonated. Parsons also produces a dry hopped pear cider in a can with fruit from Oregon's Hood River.
Just two years ago, IMT sold 180,000 units; this year the company is on track to sell 1.5 million across 42 states. But it's still just the beginning, believes Parsons: "Once people recognize the usage occasions that cans allow—concerts, the park, the beach, soccer games—we see the acceptance grow. One could argue that Millennials are leading this charge, but really it's anyone who likes to drink wine at times when a single serve product makes more sense than a bottle."