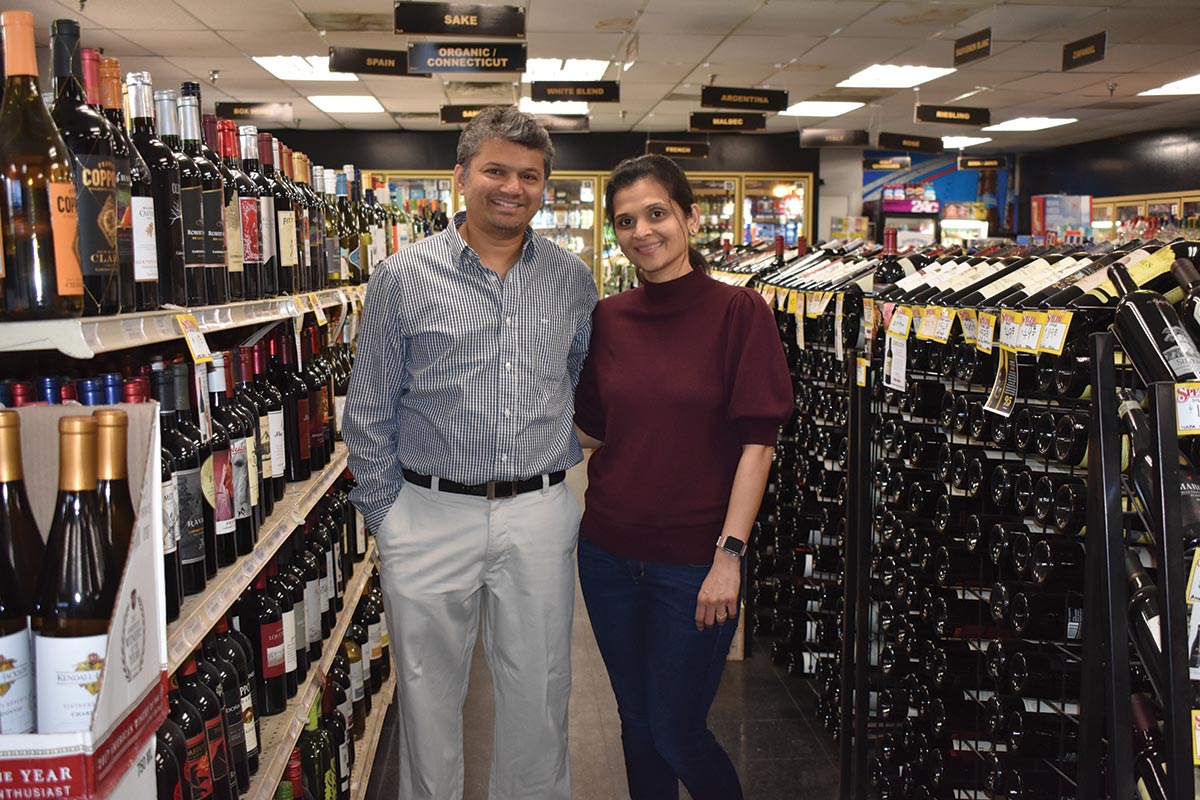 Wine Loft Too
645 Poquonock Avenue
Windsor, CT
Square footage: 3,000
Years in operation: 5
By Sara Capozzi
Husband-and-wife team Rick and Meghna Shah had already been in the retail beer, wine and spirits business, based in Suffield, when a friend of theirs, Krupa Patel, decided to sell her shop in Windsor in 2014. Located in a plaza adjacent to the Price Chopper Shopping Center on Poquonock Avenue, the Shahs saw potential and opportunity.
Within a few months of purchasing the new space, the Shahs had revamped the store, taking its previous 1,100 square feet of retail space to 3,000, allowing for more inventory and an expansion of the walk-in cooler, doubling its eight doors of cold beer and chilled wine to 16.
Rick Shah said he also likes that, "it's a knowledge-based business, it's a challenging business because customers ask for different kinds of wine, the tasting notes, where they come from, what food does it go well with, so you need to have information and knowledge about those things so we like that … a chance to interact with the customers, talk to them."
Plus, the flexibility of being business owners allows them to address their lifestyle needs, with Meghna being able to head home once the couple's children are out of school for the day.
"We liked the hours of a package store," Rick Shah said. "We also owned a gas station, so compared to that, the hours are much [easier] … We grew more experienced out of the [Suffield] store. We wanted something busier and much bigger." The Shahs still own the gas station. And in a turn of events, their Suffield store, which they sold in 2012, was later sold to Patel.
Wine Loft Too's location is another key to its success, said the Shahs. On the main road near several hotels, the store receives a good number of shoppers from the Marriott across the street, as well as locals from neighboring apartments. "Overall, we get a big, mixed crowd," Meghna Shah said.
Sixty to 70% of Wine Loft Too's business is wine-based, with Cabernets a best-seller, said Rick Shah. New bourbons and craft beer, especially IPAs, are also in high demand.
The Shahs also focus on customer service, offering the convenience of home delivery and catering. They fulfill special requests within days and keep a steady influx of new products coming in the door.
"We try to keep updated with a lot of new products," Meghna Shah said. "We bring in new beers every week … new SKUs of wine now and then. If there's anything new in the market, we're pretty experimental with that."