A day of testimony reveals a solution seeking a problem
By Dana Slone
The public hearing for H.B. No. 5918, "AN ACT AUTHORIZING GROCERY STORES TO SELL CIDER AND SMALL WINERY WINES," was held on Feb. 2 by the Connecticut legislature's General Law Committee. The bill seeks to expand the existing grocery store beer permit to include sales of cider and wine manufactured by small wineries; specifying that a grocery store may not sell cider or small winery wine if such a store is located within 1,000 feet of a package store.
The day drew an estimated crowd of more than 1,000 Connecticut package store owners, package store associations, wholesaler association representation, the Teamsters Union and state distillers among those opposing the proposal. Advocates of the bill were represented by the Connecticut Food Association, a selection of Connecticut small wineries and a few consumers via Zoom for a controlled day of testimony.
For anyone who has covered annual proposed changes to state's liquor laws, packed lobbies and overflow rooms signaled a long day into night of testimony ahead. In a change of preplanned formatting, General Assembly Chair Rep. Michael D'Agostino, D-Hamden introduced the panel format of the "best of best" arguments followed by a break, which then allowed those who signed up to offer testimony if the topics were not covered sufficiently or if they felt they had new information to add. The format kept the day ending around 4 p.m., a marked departure from past years.
At stake, opponents say, is an intricate and interconnected system of commerce that supports individual communities with a reliable small business base that keeps the economy in the state's unique landscape of cities and towns—and tax revenue—humming along. The well-regulated liquor industry, based on the federal three-tier system and set in place when Prohibition ended and adapted to state laws, is working to the benefit of the consumer through choice and product availability, local jobs and the offshoot work and services to allied fields, as well as through charitable and community engagement and involvement.
In Connecticut, stores are plentiful with small to large package stores to the tune of 1,250 retailers, spread across geographical locations based on population, as is the permitting system, with many stores already anchoring grocery store plazas. Opponents made their case about delivering a range and variety of brands at all price points, including Connecticut wines, making the state unique. Another focus was the ability for wholesalers to offer more than 50,000 SKUs distributing across them, with many self-distributing wineries and brewers in the mix who also can legally sell from their own tasting rooms. Proponents say people just want to pick up wine to pair with food when they shop for dinner, and in a move to specifically try to aid Connecticut wineries and cideries, the legislation is aimed at only allowing producers who make under 100,000 gallons, as to say anything more explicit would break the federal Commerce Clause requirement.
Testimony kicked off with proponents of the bill, which included their results of a poll commissioned by the grocery industry: The STATS Group found 84% of consumers support wine sales and a report from the University of Connecticut's Zwick Center for Food and Resource Policy found 82% support. However, the Zwick survey also found that 51% of consumers would spend less at package stores. The Tennessee Grocers & Convenience Store Association gave testimony on its laws in comparison to Connecticut.
The next panel included four members from the Connecticut Vineyard and Winery Association. Among them, Hilary Hopkins Criollo, President and Owner of Hopkins Vineyard in Warren, one of the oldest farms and wineries in the state. Hopkins Criollo said she wants the same advantage that Connecticut craft brewers have, which is the ability to be sold in supermarkets as a means to be more widely available.
She said she has been trying to sell her wine in package stores for 30 years but hasn't had a lot of success and that the business has lost over 50% of its revenue in the past 10 years. "We have heard over the years that the Package Stores Association wants to help us and sell our wine," Hopkins Criollo said. "They don't. They've had their chance. We need this additional outlet for sales. I'm tired of going into our local Big Y and seeing stacks of Connecticut beer artfully displayed next to local zucchini. Why can't this be wine too? The Connecticut grocery stores have been promoting locally made and grown products for years and the fact that you can only buy beer means you're being conditioned to only buy beer where you food shop. This is not right. The consumers can't buy a Connecticut-grown wine where they buy their food, but they can buy a beer made with hops that were grown outside of Connecticut. We need parity with the brewers please. With wine sales allowed in grocery stores in over 40 states, the time is now. Eighty-seven percent of Connecticut consumers want wine in grocery stores. Lost market share and COVID has hit us hard, we need this additional outlet to sell wine."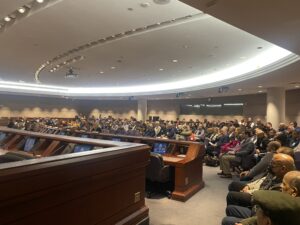 Opponents were ready with their introduction to make their case, beginning with the Connecticut Package Store Association (CPSA). "A "small winery" that you've listed [in the bill] at 100,000 gallons equals 42,000 cases of wine … 90% of all wineries in the country sell under 42,000 cases of wine," said Alan Wilensky, Max's Package Store, who was flanked by CPSA Executive Director Jean Cronin, David Baram, former longtime state legislator and now attorney for CPSA, and Dave Leon, Bloomfield Discount Liquors. Each gave measured testimony and answered legislators' questions when dissecting the bill against the market's current legal landscape and history.
Later, Larry Cafero Jr., Executive Director of the Wines & Spirits Wholesalers of Connecticut, gave testimony from his vantage point from the "middle tier" of the three tier system, and as a former legislator himself addressed newer members of the assembly, saying that he learned to ask, "What is the problem this bill is trying to solve and what are its unintended consequences? … I submit there is no problem."
What became clear through the day of testimony by both sides was a two-pronged question: Was this about helping Connecticut wineries in some way or was this about allowing any or all wine to be sold in supermarkets, paving the way for more categories of alcohol beverage items?
"To sell wine could be a game changer," said Rob Rybick, President and CEO of Geissler's Supermarket, in describing competitive forces that groceries face too. "It would be a game changer and in a way that would siphon away the profit margin of a package store, which needs its wine sales in order to keep operating to sell other products."
Later testimony from Wayne Pesce of the Connecticut Food Association said consumers continue to ask for "choice and convenience." "Anybody who's competing in retail today is on ice and some of us are on slippery ice and that includes grocery stores," Pesce said. "We've lost four stores in the state in the last five years and these are major retailers, not the independents and the independents have one foot close to the door too. So when I hear these businesses come up here and talk about the risks to their businesses, I get that and I respect that, but we're playing on the same field too. We're not fat, dumb and happy as it relates to profits and all those other things. We're looking for outlets and ways to expand and customers tell us they want this product in our stores—that's the impetus for us pushing this forward."
Girish Patel, Owner, Valley Discount Wine & Liquor and Director, Executive Committee, Indian American Package Store Association of Connecticut, who is also a certified sommelier, offered insight into how to help struggling wineries in the state, as well as what he sees as the crux of the argument in keeping the laws as they are. "It is my belief House Bill 5918 allows supermarket operators the ability to circumvent the requirements laid forth and adhered to by traditional retailers of wine. It rewrites the rules in favor of large corporate retail interests under the false pretext of consumer convenience and industry protectionism. If passed, it reallocates the most profitable product in adult beverages away from small businesses and puts it squarely in the hands of large corporations. The biggest loser among us, the Connecticut wine consumer."
And maybe it's not just the consumer that winds up losing as a result of the "unintended consequences" that Cafero referenced. The day revealed that the road to helping Connecticut wineries lies maybe not in this legislation, as H.B. 5819 opens up a potential Pandora's box that might not offer the relief sought.
In the end, what was heard is that the Connecticut farm wine industry is seeking some form of parity with craft brewers and a set of challenges that many seemed willing to work with them on finding an alternative solution. "I completely respect the local wineries who want to grow their businesses," said Nick Conti, Owner, Greens Farms Spirits Shop, which has five locations in the state. "Please continue with the 1,200 package stores and 4,000 restaurants in the state that care about your success. Please list your wine with the Connecticut Beverage Journal and online with Provi, the two product bibles that all package stores and restaurants use to order from. Send a salesperson to our stores. Call us. Send an email from time to time offering your products for purchase. We'd love to hear from you," he said.
Cronin said of the day: "Package store owners and their representatives, wine and spirit wholesalers, and union representatives made a very compelling case against this bill and many General Law Committee members were sympathetic toward their concerns. We heard repeated comments from Connecticut farm wineries that they have not been able to gain a foothold in package stores to sell their products, while package stores countered that they are not receiving any outreach or products from these wineries. Legislators seem interested in helping these farms and our package stores are reaching out to these wineries to see how they can better help them with marketing and promotion, as that seems to be the root of the problem."