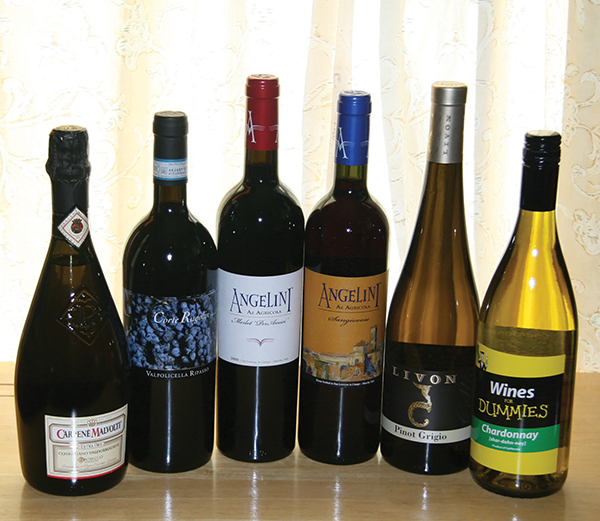 An online lesson in taste
By Dana Slone
There are many lovely ways to spend a lunch hour. A casual, practically private, online wine tasting via Skype with Julius Angelini of Angelini Wines ranks pretty high. The topic was "Wine Tasting for Holiday Entertaining" and pleasantly morphed into a robust educational session of Italian wine making, geography, history, art and insight.
Angelini, co-owner of Angelini Estate Wines of Italy and importer of family-owned boutique wineries through Angelini Wine Imports of Centerbrook Conn., presented six wines: Carpene Malvolti Prosecco, Wines For Dummies Chardonnay, Livon Pinot Grigio, Angelini Estate Sangiovese 2007, Corte Rugolin Ripasso di Valpolicella 2010 and Angelini Estate Merlot "Per Amici." Angelini started us with the whites.
Carpene Malvolti Prosecco
Prosecco is produced in the regions of Veneto and Friuli Venezia Giulia, traditionally mainly around Conegliano and Valdobbiadene, in the hills north of Treviso. This Prosecco is from a 5th generation family, producing since 1800's. This DOCG extra dry, full bodied Prosecco has 11.5% alcohol and counters the myth that bubbles bring headaches.
Wines For Dummies Chardonnay
While not from Italy, this California wine is from the Angelini portfolio. It is geared for the new consumers. With an eye on demystifying wine buying, the new brand is more about how "wine can just be a fun thing," Angelini said. This un-oaked Chardonnay is, as Angelini said, "a nice representation of the grape" and not hidden through toasty or oaky flavors. Crisp and clean.
Livon Pinot Grigio
The wine is as fascinating as its label. A crisp Pinot Grigio made in the harsh north east Collio, Angelini spoke of how "the poor soil makes a good wine because the grape has to suffer. Wine is made in the vineyards and if they talk of the cellar, run away." He said, "Pinot Grigio is thought of as low-end wine but when you have a thing like Livon, you can see what can be done." Indeed. The lovely label is a design by Erte, the late, famous Art Deco master, which had some censorship problems for the brand in the U.S. The story was a PR coup in the end, and if you Google it, there is much to read.
Angelini Estate Sangiovese 2007
This straight Sangiovese comes from Angelini's family farm in Colli Pesaresi, Marche, Italy and is made from hand selected, hand-picked grapes. It is a full-bodied, rustic wine with "cherry accents as the main note and soft. It is very earthy wine," said Angelini, adding that Sangiovese is a light-colored grape and if the wine color is deep, it is not likely 100 percent. The label features a view from his grandmother's balcony in Italy and an artist from Tiverton, R.I. rendered the watercolor from Angelini's photo.
Corte Rugolin Ripasso Di Valpolicella 2010
This was as much a lesson in Amarone, wine made from dried grapes, as of Valpolicella, the viticultural zone of Verona, north of the Adige. This wine comes from a small family winery where the skins are re-fermented for the wine. The wine is a clean, sipping wine, in balance with flavors of raisin, fruit, and almond nutty sweetness.
Angelini Estate Merlot "Per Amici"
Saving the biggest for last, this big Merlot from La Marche grows at 300 meters in elevation with views of the Adriatic Sea. The terroir, "whatever the soil can give you," comes through. It is a big wine or what Angelini called a "meditation wine," at 15 percent alcohol. The wine is aged one year minimum in French oak second and third year barrels.
The tasting provided an excellent chance to bring a little bit of Italy to the office and to share with others.
The wines arrived in advance. Pre-poured, labeled and lined up by the writer alongside the notepad, the disclaimer is this: while not a wine expert by any means, she does get to try a great many under the skilled guidance of others in the name of journalism and education.