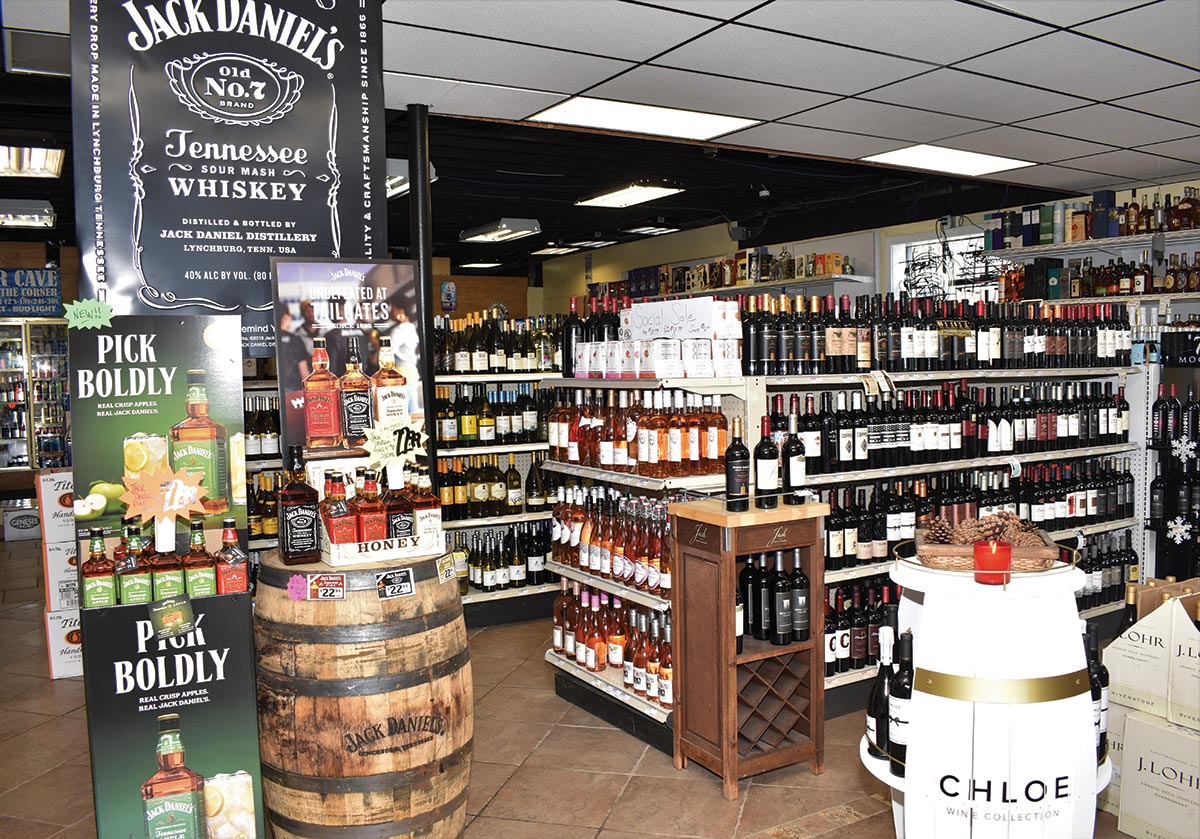 Wolcott Wine & Liquor
701 Wolcott Road
Wolcott, CT
Square footage: 2,000
Years in operation: 1
By Sara Capozzi
Wolcott Wine & Liquor Co-owners James and Cindy Lofgren had owned the town's well-known Harold's Country Store for more than 25 years when their livelihood was thrown into turmoil. The building lease of their convenience store and gift shop was not renewed and the couple was forced out of the business they had owned since 1993.
Their plan after the closure of Harold's was to build one new, larger retail outlet combing properties across the street from their second business – North End Liquor, owned since 1997 – also in Wolcott.
Due to a twist of fate that it turns out was for the better, that vision didn't end up taking shape. "If you want God to laugh, tell him your plans," Cindy said. "We were going to open a bigger liquor store … and we did, it just wasn't where we thought."
Instead of expanding that location, they opened a second store, Wolcott Wine & Liquor, in a separate location farther down Wolcott Road. All in all, they agree, things worked out for the best.
"I've increased my sales in a different way, rather than expanding my other store," James said, which he said has allowed him to attract a new customer base. "From the outset, we were pretty well-received. [Customers] seemed to like what I was offering and the way it was offered, at a good price."
Conveniently located on Wolcott Road in the south end of town, James said customers who don't want to drive up the hill of Route 69 favor this location. The new shop also offers additional square footage, giving the couple a chance to offer an expansive wine selection, which is a mix of both well-known, large-production names and smaller, niche wineries from countries spanning the globe.
Customers will find a variety of fine wine and spirits, with an extensive range of bourbons. Both domestic and craft beer selections are kept well-chilled in the store's walk-in cooler. Even with the coexistence of area breweries, the store still does a fair amount of craft beer business, Lofgren said, although, "spirits are the lion's share of my sales. Beer and wine are neck and neck."
The Lofgrens promote new and in-demand products on social media and offer tastings to attract locals. "If there's something someone wants to try that they haven't, we'll give them a tasting of it," Cindy said. The store's welcoming atmosphere, which the Lofgrens decorate to correspond with the seasons, alongside friendly staff and personalized service, keeps their earned customer base coming back.
"We specialize in what people want," said James. "That's where it's at. We specialize in stuff that moves."