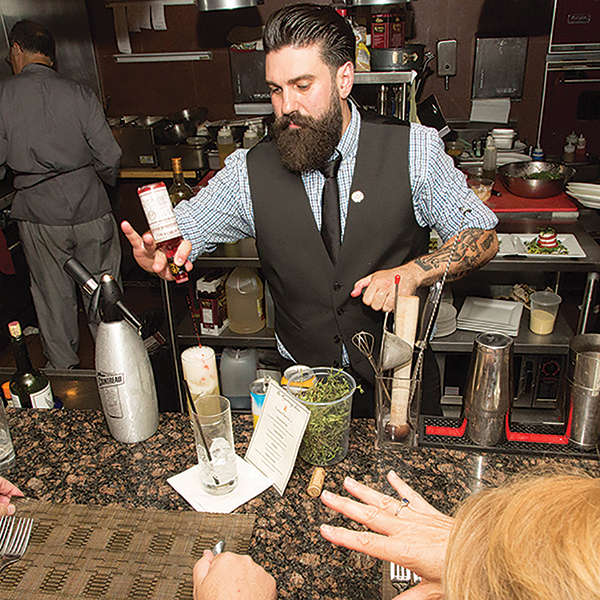 USBG CT's Zahariadis talks continuing education
By Savannah Mul
The Bar Institute at Portland Cocktail Week (PDXCW) ran from October 17 to 23 in Oregon, where industry professionals were able to further their education through a variety of seminars on bartending, beyond-the-bar training, bar ownership, and innovation and development. Bar professionals also participated in activities such as the Bacardi Bar Build, where they had to build a bar from scratch: developing a cocktail menu, building the layout of the bar, and deploying social media use.
United States Bartenders Guild Connecticut (USBG CT) chapter co-president and co-owner of Highland Brass Co. in Waterbury, Dimitrios Zahariadis, attended as a master's student in the PDXCW program. On the master's level track on bar ownership, he was part of the varsity team during PDXCW, which helps organize events. He and David Kaplan, owner of Death & Co. in New York, were among many of the nation's professionals who led discussions on successful bar ownership. The Beverage Journal asked Zahariadis about his experience following his week in Portland.
What did you do to get the most out of PDXCW?
I was accepted in the graduate program on the bar ownership track, where we got more in depth and had longer classes than the undergraduate program. I started planning for this over two months ago. This year, I had the privilege to take part in hosting a seminar about "Family Matters." Pam Wiznitzer, the USBG New York President, contacted me and two other people about hosting a seminar on how to deal with family and children, health insurance and balancing a career. It was the only seminar that doubled up, and we did our seminar twice.
What are some shifts you see in bartending that might change the way you run your bar?
Locally, people are definitely starting to use more seasonal ingredients and local ingredients; we have to get creative
What are some popular flavors on the scene?
Whiskey. I see it amongst the consumer[s] at my bar. Bourbon and Scotch are on the rise.
How many years have you been attending Portland Cocktail Week?
This is my fourth year accepted. Next year, PDXCW will be in motion, going on tour to six cities across the country. They're expanding. It's going to be really awesome; I'm hoping to be involved.
Why do you think having events like PDXCW and Tales of the Cocktail are important to the industry?
It's all about continuing education. When you go to something like PDX, you really are immersed and go head first into education. It's good to have. There is always something to learn. The good thing about this industry is, there is always somebody who wants to teach you. Ten years ago, that wasn't the case. That's why I always emphasize to new bartenders to take advantage of all the educational opportunities, like PDXCW, Camp Runamok, or Tales of the Cocktail. The more things you can apply to … is only going to better your career, and all your guests will only reap the benefits because we're all for in this for hospitality.
After PDXCW, has your go-to cocktail or favorite drink changed? Either way, what is it?
It hasn't changed: the Negroni.