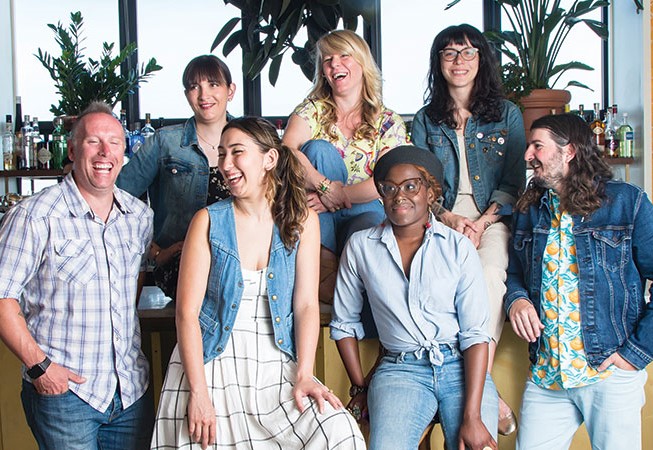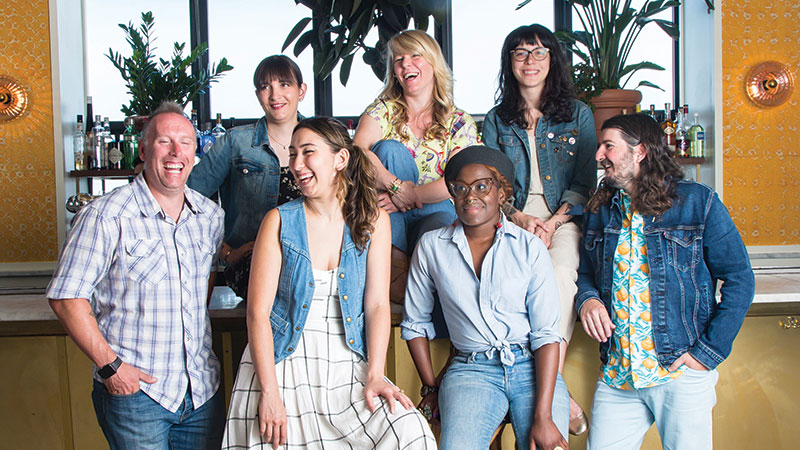 Text by Jack Robertiello, Portraits by Andrew Kist
---
Beverage Media's annual "Bartenders to Watch" issue has charted enormous changes in the bar business since we first started looking for emerging stars in 2008. In those days it was easy to pick out new talent; now, bartenders are being trained and challenged at an unprecedented level, which has created a generation of technically adept, historically schooled and creatively bold bartenders.
Our focus has evolved as well, and this year we decided to check in with seven bar folk with varying levels of experience who have climbed the professional ladder beyond taking shifts at the hottest craft cocktail bar. We did so in order to capture a moment in time of the thinking and concerns of some of the bartenders who have been around a while, who have had a few knocks, discovered that bartending isn't memorizing recipes, and who have a sense of the bar world around them. Folks like these will continue to move bars, cocktails and bartending forward, one way or another.
Brooklyn Bound
This year as well, we focused on the latest of the events designed to serve the bartending and spirits world, Bar Convent Brooklyn (BCB), the two-year old off-shoot of the famous Bar Convent held annually in Berlin, and gathered our honorees from bar pros who were either participating in or attending the two-day event.
Not unlike a new bar that opened and needed time to find itself, BCB dug in, retooled and expanded for the event's second American spin. Same Brooklyn neighborhood and space (Brooklyn Expo center), but the vibe was palpable: square footage of exhibit booths was up 35%; attendance was up 30%. Over 100 new products were launched at BCB 2019—a clear sign that suppliers consider it a breeding ground of gatekeepers. We quizzed them all about some of the most important issues facing the on-premise business today. Specifically:
increasing interest in healthy and low- or no-alcohol drinking in bars and restaurants
the need for a more sustainable approach to drink-making and -serving
health and welfare of workers at all levels in a notoriously arduous and hard-partying field
the explosion of imported, craft and unusual spirits now being created, and
how events like BCB can best serve the industry.
Rooftop Backdrop
We arranged to photograph this year's group of bartenders at Lemon's atop the Wythe Hotel in Williamsburg, Brooklyn. The freshly minted rooftop bar checks a lot of the boxes one would expect of a new cocktail-centric locale, circa 2019—starting with it being a seasonal pop-up.
Opened in May 2019 with beverage gurus Jim Kearns (Happiest Hour, Slowly Shirley) and Christine Kang (Soho House), Lemon's focuses on light, refreshing beverages (many topped with bubbles), tailored to summer and complemented by small plates and snacks. Low-ABV offerings (led by Aperol Spritz on tap) are plentiful. And the drinks are playful, from "boozy popsicles" to the namesake punch (Lemon's Squeeze—Absolut Elyx Vodka or Plymouth Gin, lemon, Luxardo Bitter Bianco, lavender, club soda).
These are some highly skilled, diversely experienced and savvy bar pros, and while they come from different backgrounds, regions and points of view, you'll find that there is a real change from the years when bartenders were often seen as snooty defenders of the correct cocktail and have now often become socially-aware and thoughtful participants in a business that continues to evolve.
In that regard, it certainly made sense to gather the group at Bar Convent Brooklyn. There, amid the dozens of seminars, scores of suppliers and thousands of cocktails being samples, like-minded bar folk found a lot of positive energy. As Kellie Thorne, one of this year's featured bartenders, put it: "The brands really brought their 'A' game and set up really engaging booths." It was a backdrop befitting an industry that thrives on convergence of hospitality and networking.
Here, then, Bartenders to Watch, 2019.
---
Ashtin Berry
Ashtin Berry, cocktail consultant, is expected to soon open her own bar in New Orleans. While working in New York City, she created the beverage programs for two distinct operations—Air's Champagne Parlor and Tokyo Record Bar—both of which focused on low-alcohol drinks. It's an area she knows well.
"Low alcohol and no alcohol have always been a focus of mine. Specifically, low ABV because getting people to drink moderately becomes easier," she says, adding, "It also provides more inclusive options for those who are not heavy drinkers."
Berry challenges the bar business to get serious about the issues that matter to everyday folk rather than simply discuss them: "There are a ton of issues our industry isn't talking about. We've barely even scratched the surface in talking about diversity and inclusion in a non-tokenizing way. Systemic abuse and not just sexual harassment, but also language access, implicit bias in entry-level hiring, media bias, the list goes on." Berry's commitment to change includes a recent venture she co-founded called Radical XChange, a collective that produced a symposium earlier this year about the food and beverage contributions of African-Americans.
Her menus past and future are unaffected by the latest hot fad, she says: "I don't follow trends. What sells at a bar is based on staff knowledge and menu accessibility as well as guest knowledge."
---
Caer Ferguson
Caer Ferguson, Bar Manager at The Eleanor in Austin, Texas, also works at The Roosevelt Room and recently debuted Daijoubu, a pop-up featuring Asian flavors. 
Ferguson is a proud Austinian, especially about bars' diverse outflowing of cultural pride:. "A few months back, some men of color in our community celebrated Black History Month and Tom Bullock [first African-Amercian bartender author]. The next month, Sharon Yeung and I started our pop-up in honor of Chinese New Year. Obviously cultural representation is important in every community, but holding onto cultural identity in a city where that identity is fading away has become a priority."
Ferguson loves the continuing evolution of the bar, citing culinary cocktails, sustainable operations and charitable events: "Food and beverage is a massive industry with a huge social and monetary presence in society. No bar has to be just a bar anymore."
Her optimism, however, is tempered: "I've gone to seminars on the environment, lifestyle issues, racism and sexism…I don't always see decision makers there. If your bar manager attends a seminar, they can try to create a better work environment, but usually owners will be the ones who can make real change."
---
Chris Patino
Chris Patino is a Partner at Raised by Wolves in San Diego. After years on the trade marketing side with Pernod Ricard, Patino teamed up with Erik Castro to launch Raised By Wolves, which quickly developed into a destination drinkery. As someone who spent years representing spirts to the bar world, Patino has some solid insight into trends.
"The spirits business in general is booming,"  he says, "and while we are certainly selling a lot of whisk(e)y these days, and have a stacked deck when it comes to our selected gins and agave spirits, the most important thing that we strive to do at Raised by Wolves is help our guests expand their horizons by experiencing new and exciting flavors, regardless of how a specific category is performing."
He cites famed industrial designer Raymond Loewy who said, "To sell something surprising, make it familiar; and to sell something familiar, make it surprising."  He explains, "We serve up drinks that are approachable and familiar (after all, we are in an outdoor shopping mall!), but at the same time surprising, because we try to incorporate flavors or ingredients that they might not have tried or even heard of before."
---
Claire Sprouse
After stints at some of America's best-known bars, Claire Sprouse recently opened her first solo project, Hunky Dory, a bar and restaurant in Brooklyn focused on sustainability. And she brings her awareness of sustainabilty to bear on every detail, even the water. 
"We take water for granted so much, but it is not a limitless resource; [we should think about] how it's used behind our bars, in distilleries, and the ground around the farms that grow the raw materials that eventually make it into our bottles," she says.
Sprouse is also concerned that "real hospitality, inclusiveness and excellence can only be achieved if we can take an honest look at ourselves and our intentions."
Sprouse has spotted micro-trends like brandy cocktails, and making sure that great wine options are more than an afterthought to a cocktail list. Also spirits "on the periphery of these more well-known categories. New releases are now able to take up space on backbars and keep expanding the conversation of what's in the glass."
Hunky Dory takes pride in creating sophisticated non-alcoholic beverages. "My favorite exploration into this category is through the lens of Tiki," she says. "I find that dialing down the octane can make for complex, food-friendly and temperate alternatives, that retain the recognizable charm of Tiki."
---
Ezra Star
Ezra Star, General Manager of Drink, Boston since 2011, didn't choose hospitality first, but after deciding to leave the medical world she has never looked back from bartending.
From her viewpoint, more attention these days needs to be placed on locality. "Great bars have popped up all across the country and they are concepts that are executed perfectly, but a big issue I see is that the bars are not always addressing concerns in the communities where they  exist."
Trendwise, she sees more guests opting for less alcohol in drinks, plus a move from American whiskies to international styles, and a slow but steady shift from tequila to mezcal. Having seen spirits skyrocket and fall to earth, she looks for specifics when it comes to new products: "We want to know who is making it, why they are making it, and where it fits within the concept we are attempting to offer our guests—and all of this only after it passes taste tests."
She found valuable takeaways from BCB: "It is truly the best time to begin the mentoring process on all levels and it was great to hear people bringing that up." Star also singled out a session on "expanding how we see barbacking."
---
Kellie Thorn
It took a while for industry vet Kellie Thorn to discover classic cocktails, but now the Bar Manager at one of Atlanta's best-known restaurants oversees a cocktail program that has made Empire State South a drinking destination. 
For her, the most important on-premise industry trends center on an understanding of sustainability. Of course, sustainability in the bar world today encompasses minimizing waste in drink making. As Thorne sees it, though, the concept needs to include be nore holistic. "How do we make sure our people are getting paid and educated properly, mentored, receiving proper health care, and still run a profitable business?" she asks.
She also is concerned about creating life-supporting paths in bartending: "It's a career often viewed as impossible to raise a family in and to feel supported in later years. Until we figure out the solution, people will continue to consider hospitality a temporary profession."
Low-ABV drinking is another priority: "The South has a long tradition of day drinking and Atlanta is a driving city, so our community has historically had to offer thoughtful options for guests who are 'taking it easy' or simply abstaining from alcohol."
---
Steve Walton
One of the most popular bars in Utah, High West Saloon in Park City is known for its eponymous whiskey and the skills of Steve Walton, Head of Beverage there.
Walton has a particular insight into low-alcohol cocktails: Utah dropped its blood alcohol DUI level to .05. "Guests are now looking to enjoy lower ABV drinks and not have to worry about the consequences,  he says.
They are also apt to question ingredients, he says: "The on-premise guest is now better informed and has done research in advance," he says. "They want to geek out on mash bills and botanicals." Mezcal is one spirit that in has made significant progess, notes Walton: "It is now being specifically called for and is no longer called 'that smoky tequila.'"
The best way to get a new product on his bar is to interest a member of his bar team. "They love to travel and may come across a product that we do not have. Once you have sold one member of the team and he is working it into a cocktail we will bring it in."
He admires the way events like BCB have evolved. "They have moved in a positive way towards education being the foundation of the event over it being focused on drinking and partying. The industry is taking education very seriously now and spending big money on it."