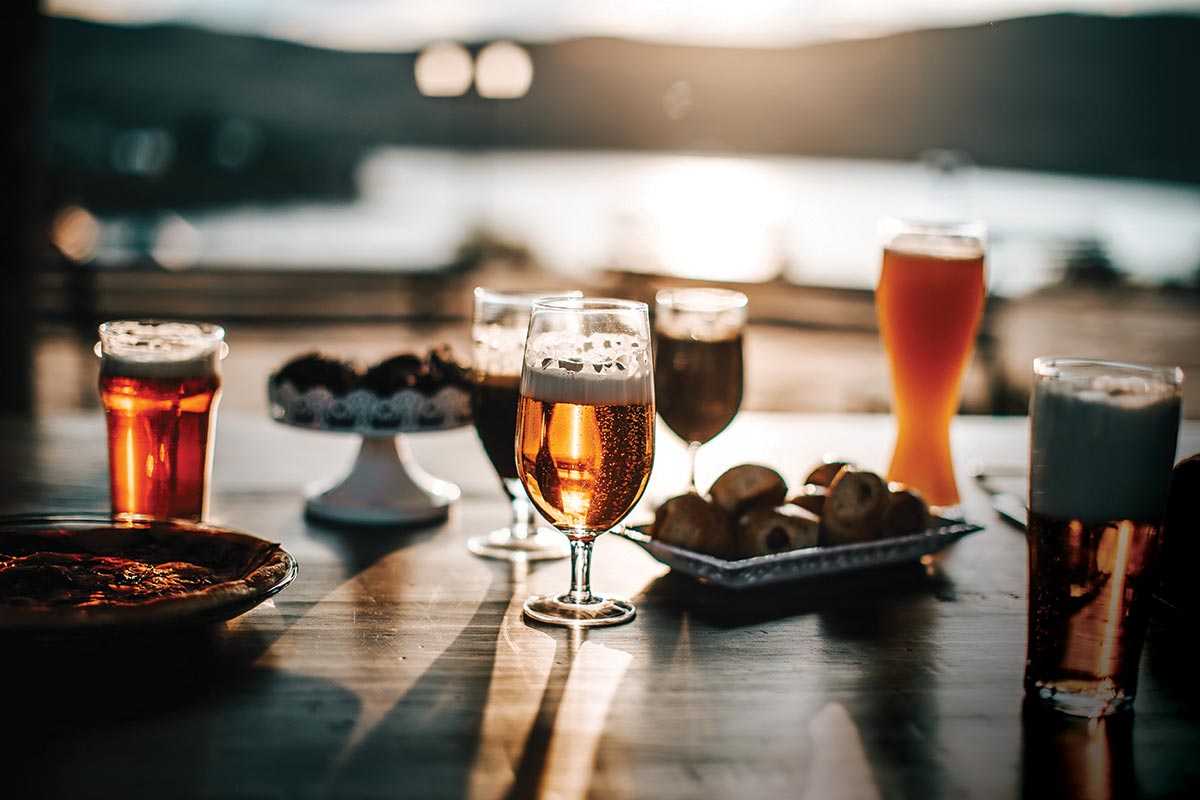 By Jack Kenny
Most brewers of pumpkin beer don't make these ales with fresh pumpkins. You know, pumpkin meat, chopped and roasted from those big round, heavy orange squashes right from the field, shot right into the brew kettle. Most use pumpkin puree, and some use pumpkin concentrate or flavoring.
Also, pumpkin beers don't taste like pumpkin. (Most people don't really know what pumpkin tastes like by itself.) They taste like pumpkin pie. To be precise, they taste like pumpkin pie spices. That's how we experience pumpkin today, in a pie, baked during a short span of time around the end of November, with varying combinations of cinnamon, nutmeg, clove, allspice, ginger. All brewers use spices. They make us feel good.
Rogue Ales, based in Oregon and long available nationwide, grows its own pumpkins. At harvest they are driven 77 miles to the brewery, where they are roasted and added to the boiling brew to make Pumpkin Patch Ale. Troegs creates its Master of Pumpkins ale from 3,000 pounds of local Pennsylvania pumpkins.
Dogfish Head launched its Punkin Ale in 1995, a 7% ABV brown ale made with real pumpkin, brown sugar nutmeg, allspice and cinnamon. The brewer says the spices are freshly crushed.
Your mom's pumpkin pie is probably made using puree, same as mine. Plenty of the fall beer classics make use of puree, and it works well. In a taste test, the differences among purees and concentrates (or no pumpkin at all, just the spices) can be apparent, but I've rarely heard a complaint about any brew in this category.
Retailers and consumers have griped for years about the unseasonable arrival of seasonal beers. The fall collection should have arrived by late August. It's almost disturbing, but that's competition. It does have a downside, though, exemplified by this true story that happened a few years back in a Connecticut package store.
Date: The day before Thanksgiving.
Dramatis personae: Beer salesman; loving family reunited for the holiday.
Patriarch: "We're here to buy some of your pumpkin beers for tomorrow's feast!"
Salesman: "I'm sorry, sir, but we sold the last of them two weeks ago. The winter ales are here now."
Family: Sadly shuffles away.
Life is not all pumpkins and spice. Oktoberfest takes place in late September. The lager beers produced for this Bavarian celebration are crisp but rounded, with a malt character that is eminently satisfying.
The true name of this seasonal beer is märzen, after the month of March. Before refrigeration, beer was brewed during cool months in fall and spring, because making beer in hot weather didn't really work.
Lager requires a consistently cool temperature to develop, and its maturity time is double or longer than that of most ales, so the storage caves and cellars were not as chilly as desired. The beer is made in late spring, usually March, using the fruits of the early spring harvest. A healthy amount of barley and the typical German approach to hops – light – make this a refreshing and somewhat warming beer at the onset of autumn.
Though light lagers dominate beer consumption in our land, sampling a good brown ale or a porter is always enjoyable as the temperature cools and the days shorten. English-style brown ale, the most popular here, gets its color from roasted barley malt. Often the aroma will offer a biscuit or toasty character; hop aroma and flavor is low, as is bitterness; the taste experience can range from dry to sweet maltiness.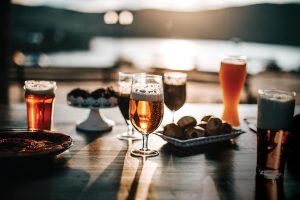 Porter has a somewhat lighter body than its younger sibling, stout, and tends to be dark brown with hints of red. Again, the color comes from roasted grain, baked longer than those used in brown ale. It can have a slightly higher hop profile and a lower toast factor on the palate, with low to medium sweetness along with hints of caramel and chocolate.
Beer lovers with adventurous palates might be attracted to a robust porter. This ale is very dark to black. The Brewers Association's style guide says that "caramel and other malty sweetness is in harmony with a sharp bitterness of black malt without a highly burnt/charcoal flavor."
These ales are perfect companions to a fall evening by the season's first fire, preferably shared with the perfect companion.
Jack Kenny has been writing The Beer Column for The Connecticut Beverage Journal since 1995. Write to him: thebeercolumn@gmail.com.