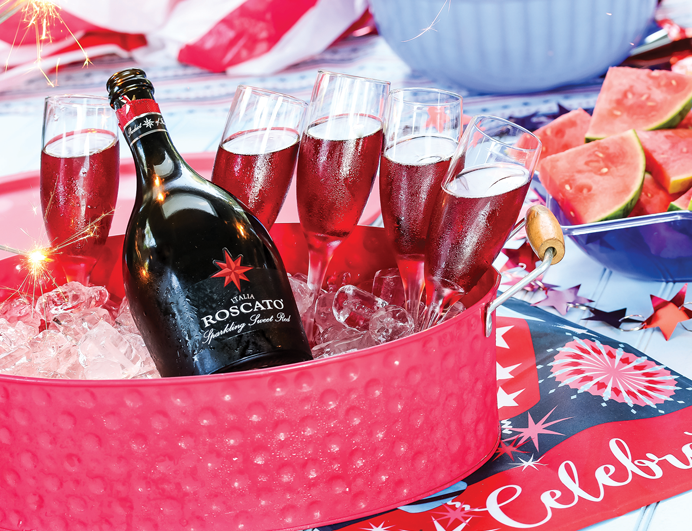 America's Sweet Tooth Hasn't Really Changed, But Acceptance Has
By Jeff Siegel
Bill Oliver's family has been making wine in Indiana since the state made it legal in 1972. He has seen trends come and go. But one thing has remained remarkably consistent in almost 60 years: Sweet red wine.
"The thing we've noticed in all that time is that people who drink sweet red want to be part of wine culture, but they don't necessarily like anything else," says Oliver, whose Concord-based Soft Red has been the best-selling wine SKU in Indiana supermarkets for almost two decades—some two times more than No. 2 Kendall-Jackson Chardonnay. "And when I say 'we,' I mean it collectively. Not just Oliver, but every producer around the country who makes sweet red," he adds.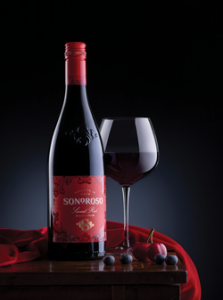 These days, when sweet red wine is pushing retail buttons around the country and shows every sign of doing today what White Zinfandel did in the 1980s and 1990s, it's important to note that sweet red wine is nothing new.
Riunite, the Italian Lambrusco, was the best-selling import in the U.S. some 40 years ago, selling as many as 12 million cases a year. And regional producers like Oliver, North Carolina's Duplin Winery and St. James in Missouri have sold millions of cases of sweet red over the past couple of decades.
So what's different this time? First, say analysts and producers, there's the sense that younger wine drinkers see sweet red differently than their parents and grandparents. They don't care that it's not "serious" wine; they're willing to drink it when more traditional wine drinkers opt for dry. Second, as alcohol category lines blur, sweet reds don't compete with dry wines, but with hard seltzers, bottled cocktails, ciders and other RTDs.
"Wine trends are constantly changing and evolving," says Collin Cooney, the Marketing Director for Franzia, owned by The Wine Group and one of the biggest sweet wine brands in the country. "But some trends cross over from generation to generation, and that's sweet. We had White Zinfandel, and then we had Moscato, and in the early 2010s, we had sweet reds."
Endorsement of the sweet red wave is seen in the roster of suppliers now offering expressions presented as sweet—Gallo Family, Barefoot, Sutter Home, Bronco Wine Co., Yellow Tail, Cavit, Lindeman's, Stella Rosa, Funf, et al.
And perhaps most significant of all, there is the still-burgeoning Red Blend category, whose entries often skew sweet.
Blurred Lines, Soft Wines
What exactly is a sweet red wine? No one is quite sure. Nielsen doesn't track it as such, but does measure what they call a "custom aggregate" for sweet reds. It's a sub-category of red blends and is only published occasionally. Significantly, since sweetness levels are not part of the data for any given UPC, Nielsen manually designates each wine it considers to be "sweet" when measuring the "sweet reds" group.
Further complicating the issue is the diversity of sweetness levels in red blends, from traditional dry blends to sweeter wines like E&J Gallo's Apothic and Cupcake's Red Velvet to fully sweet reds like the Oliver product.
What is certain is that red blends remain one of the hottest categories in wine—Nielsen numbers in 2018 said red blends had a larger market share than Moscato, Pinot Noir, Pinot Grigio and Sauvignon Blanc. And the category was 2½ times bigger than White Zinfandel at the beginning of 2018.
Labels themselves provide no consistency in terms of what to expect—even with more wineries apparently eager to put "Sweet Red" front and center. Technical numbers (if known) are no real help either. Off-dry wines generally start to get perceived as sweet at around 1.2% residual sugar (RS), which is measured in grams per 100ml (in this case 1.2 g/100ml) but can also be presented by wineries as grams per Liter (12 g/L). A normal dry Cabernet Sauvignon might be 0.2% RS, or 0.2 g/100ml. A wine of 3% RS—which is also 3 g/100ml and 30 grams per Liter—is definitely sweet. Very sweet wines (Port, stickies, late harvest, etc.) can reach 5% to 15% RS sugar (RS).
But the numbers don't matter much, because consumers don't pay attention or even know how to pay attention to RS. Not that knowing the residual sugar is going to sharpen the line between what one person calls "jammy" and another calls "sweet."
To wit: Ménage à Trois's original red blend (1.1% RS) was extended into Silk (1.35% RS) and Midnight (.65% RS), among others. Does someone who likes one like them all? Perhaps, but if so it's not just a function of the residual sugar.
"Sweetness is a continuum rather than binary, and depends partly on the taster's perceptions," says Christian Miller of Full Glass Research, which tracks wine data for a variety of clients. "In consumer research, people will often describe 'sweet reds' as smooth and not even mention sugar or sweetness." No coincidence: the word "soft" has become a code word in the trade for sweet; and it has been appearing with greater frequency on front labels.
Still, sweet red drinkers know what they want. "It's all about the flavor profile that they like," says Eric Schisler with Barrel Chest Wine & Beer in Roanoke, VA, whose store sells mostly upmarket sweet reds like German Dornfelders and labels from long-time California stickie specialist Quady.
Andrew Meggitt, the Executive Winemaker at Missouri's St. James Winery, says he sees the lifestyle factor whenever he goes camping. He'll bring some sweet reds with him to share with other campers he meets, assuming anyone is interested. They want to drink wine, he says, and sweet reds make it possible in a way drier wines may not. And the green light to have it chilled is equally welcome.
The Trade-Up Question
Which raises another important question about sweet red wine. Is it the Holy Grail of the wine business, the gateway wine that will lure younger consumers away from craft beer and spirits to wine? It depends on who you ask.
On the one hand, says Cooney, Nielsen numbers supplied to The Wine Group show that 25% of new wine drinkers buy Moscato or sweet reds. "Those statistics absolutely prove it's a gateway wine," he says, "It's more approachable, if nothing else."
Still, the ongoing marketing mystery is not so much the appeal of sweet wine for novice drinkers, but whether those sweet-tooth-satisfying wines lead drinkers to other types. Bill Oliver's take: "People have been asking me that question for 20 years, and I've never seen it. People drink wine they like, and I've never seen them switch from sweet to dry because they suddenly like dry."
Gateway or not, sweet red demographics do seem to skew younger and a little more female, though everyone is quick to say that there are also large number of older sweet red wine drinkers. Still, it's the younger audience that producers like The Wine Group and Oliver see as their target. Bill Oliver is quick to note that his company's marketing has changed dramatically in an attempt to reach those younger consumers, which included hiring younger marketers.
Fifty Shades of Sweet?
The relative power of sweet red becomes even clearer when looking at some successful brands. The Italian Roscato, launched by Palm Bay in 2011, has developed into a veritable franchise. Rosso spawned Bianco (2013), Rosé (2015); a set of sparklers (2016); and last year Dark and Smooth.
Perhaps even more significant: Roscato set the stage for this year's launch of Cavit Sweet Red. Director of Brand Development Hal Cashman says Cavit Sweet Red has exceeded expectations; distributors and retailers are eager to embrace the Cavit entry thanks to Palm Bay's track record with Roscato. Interestingly, Cashman notes that the Cavit Sweet Red fan is more likely to slide over from Roscato than from Cavit Pinot Grigio. He also confirmed that starting this September Roscato will be available in two-packes of 250ml cans—a move inspired by 187ml Rossos being the brand's top SKU.
Jeunesse, by Baron Herzog, is another brand that has enjoyed multiple extensions, most recently a sparkling red. Interestingly, Jeunesse has done so with varietal expressions (not just blends) and by putting style front and center ("semi-dry" and "semi-sweet" label descriptors are supported by a graphic sweetness scale); the wines' kosher identity is secondary.
Jam Jar, a Cape Classics brand from South Africa, was an instant hit when launched in 2009. Executive Vice President Molly Choi credits the wine itself, which has always unapologetically targeted "the legion of people who want to drink sweet," and has proved that Shiraz is a grape that can hit that sweet spot while remaining a well-made, balanced wine. Jam Jar added a Moscato-driven white companion, but otherwise has remained steadfastly true to its simple formula—"sweet shiraz"—in one size. Until now, that is: Jam Jar four-packs of 187mls start shipping this September.
Where are sweet reds headed? Younger crowds, perhaps. Frederick Wildman & Sons, which recently took on sweet-red icon Riunite, has also developed a new brand from scratch—Vipra, a light (7% ABV) fizzy red blend tricked out with snakeskin-printed label, Instagram-friendly marketing and provocative "get bitten" tagline. The thinking behind Vipra: Millennials are ready for their sweet red. "They prefer non-traditional red wine blends and sweeter wines, with sweet and fizzy brands leading the growth," says Derek Blackburn, Senior VP of Marketing. "Vipra, a delicately sweet and slightly fizzy red blend, meant to be served chilled appeals to these tastes."
His point about chilling draws attention to the fact that, along with the stigma of sweet reds wine fading, the idea of how to enjoy them is more flexible than ever. Cans, chilled, with food or without—even in cocktails. And as the popularity of lightly chilled sweet reds continues to rise, who knows—there may also be a pink elephant in the room when it comes to future trends. Could rosé step over to the Sweet Side?
Moving forward, here are some sweet red developments to watch:
New Hybrids & Old Standards. There are many ways for wine to be sweet. The Wine Group's Cooney believes that innovation will continue to blur category lines. That means not just sweet grape wines, but grape wines that include fruit juice to add different flavors to compete with the hard seltzers. Meanwhile, as far as hybrids go, while classic red sangria is typically not labeled as "sweet," sangria's ripe, fruity flavor profile and chillability suggest it can and should be cross-marketed with sweet reds and blends. National brands such as Reál, Opici, Casal Garcia and Beso del Sol are well positioned.
Mixing It Up. Wine cocktails? Why not? Sweet red wine is not so far stylistically from vermouth, a mixologist staple. Fruity mixed drink recipes abound on the websites of sweet red suppliers. Ultra simple cocktails are a key part of the marketing campaign for Vipra, a new brand of sweet red wine from Italy. "Half of Millennials today consume wine cocktails," notes Frederick Wildman's Blackburn. "Vipra is the ideal cocktail ingredient for a night out with friends—it provides the desired sweetness to the libation while keeping the overall alcohol level of your cocktail from being too stiff, so you can enjoy the whole night." Expect more marketers to serve up wine cocktails moving forward.
Cost-Efficient & Battle-Ready? The future is bright for consumers who like it sweet and cheap. Sweet wine is less expensive to produce than many traditional dry wines since the appellation the grapes don't matter as much. In addition, as bigger producers like Gallo get deeper into the sweet red market, they can use their economies of scale to drive prices down even more—better positioning them to compete with the budget-priced hard seltzers and their ilk.