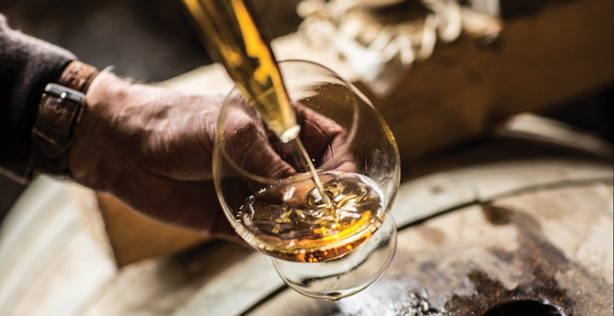 By Jim Clarke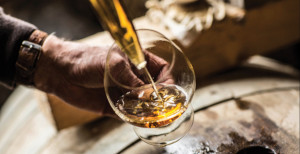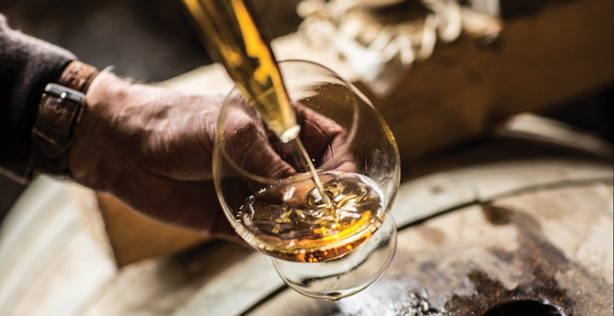 Gers, France: a land of 180,000 people…and 4 million ducks. But scattered among these foie gras-fated flocks in France's southwest are grapevines—12,800 acres—destined for another, less controversial gastronomic delight: Armagnac. The locals say Armagnac is, "not the best-known, but known by the best"—a proverb which increasingly flatters Americans.
Armagnac imports rose 131% from 2009 to 2014, according to the Bureau National Interprofessionel de l'Armagnac (BNIA), and that growth appears to be continuing; Americans are getting to know Armagnac.
"Right now Armagnac has something that's just what consumers are looking for: It doesn't get more craft than Armagnac," says Michael Martensen, co-founder of Madrina, a Dallas restaurant and bar with an expansive brandy list.
The French agree. "In our region," says François Lasportes, Maître de Chai at Château Laubade, "you won't find big brands, as you could find in Cognac, for instance. Instead of tens of big houses disconnected from the terroir, you will find hundreds of small Armagnac producers deeply rooted in our region." Lacking the marketing spend that big brands generate, Armagnac has relied on focused importers and the BNIA's promotional programs such as the Armagnac Academy to spread the word.
Armagnac isn't just Cognac from another region. "Armagnac is to Cognac as Mezcal is to Tequila," says Martensen (appropriately enough, Madrina is a French-Mexican concept). In both cases the first spirit draws on a wider range of raw materials, allows for more diversity in production techniques, and is less strict in terms of labeling requirements. Armagnac permits 10 grape varieties, but four dominate, and one, Baco, is a major differentiator. A hybrid between Folle Blanche and Noah Baco was developed at the end of the 19th century and is the only hybrid permitted in an A.O.P. anywhere in Europe.
"For us, that's the ultimate grape variety for distillation," says Lasportes. "We love it to a point that we are the largest Baco grower in the Armagnac region. He says that while Baco is powerful and fruity when young, it really needs aging to come into its own, when it develops "a wonderful structure" with a long finish and rancio, chocolate, and roasted notes. Of the other major varieties, Lasportes says Ugni Blanc contributes fruit and elegance, Colombard pepper and spice, and Folle Blanche floral characteristics.
Lay of the Land
Armagnac is divided into three regions: Bas Armagnac, Tenareze and Haut Armagnac, but the latter's plantings have dwindled to almost nothing. Bas Armagnac's sandy and loamy soils represent two-thirds of the vineyards, and Tenareze's clay and limestone almost all the rest. Along with the grapes, terroir, small producers and ancient traditions (distillation in Armagnac goes back over 700 years, making it France's oldest eau-du-vie), Armagnac's alembics—copper, continuous stills in almost every case, and sometimes wood-fired—set it apart from Cognac and many other brown spirits as well.
Despite its growth, Armagnac is still a niche product, and the challenges of selling it are nothing new, according to Benoit Hillion, Director at Dartigalongue. Their market research in 1945 said that most Americans were unfamiliar with Armagnac, that Americans prefer to drink spirits as cocktails, and that it's important to focus on premium Armagnacs and higher-end consumers—all points Benoit thinks still hold up.
Christine Cooney of Heavenly Spirits, Dartigalongue's importer, has modified that approach. During much of the 20th century, the focus was on rare, vintage Armagnacs, creating an expensive reputation. "When I started to promote Armagnac in the U.S. 20 years ago, I decided to change that misperception and started to offer more affordable Armagnacs that were six years old and older. Consumers are shocked when I sample them on Dartigalongue Armagnac XO and tell them the price. [Today] Americans can buy an Armagnac for $40 or $50 that will be delicious."
Selling Strategies
Martensen at Madrina in Dallas encourages drinkers to try Armagnac neat or on the rocks, but says that Armagnac brings its own character to cocktails. "In cocktails it's a little more raw, not as refined. A sidecar with Cognac is very elegant and smooth. In the same exact recipe but with Armagnac you find things stick out – maybe nuttiness, maybe more distinctive aromas like nutmeg, or vanilla." Hillion says it can stand in for other brown spirits creating variations on classics like the Manhattan or Old-Fashioned.
When it comes to labeling, we can gratefully drop the comparisons to Cognac…and compare Armagnac to Calvados instead. As in the latter, everything—VS-type designations, Scotch-like years (20 ans, etc.) and vintages—is fair game. Martensen says his guests respond best to years of aging and vintages because they're clearer: "I can sell a 20 year easier than if it's designated XO."
While the minimums are clear—VS, one year in wood; VSOP, 4 years; XO or Napoleon, 6, and Hors d'Age, 10—many producers exceed them. Vintages must be at least 10 years old, and in Armagnacs designated by years aged, no Armagnac under that age can be used in the blend.
Unaged Armagnac is also a possibility. "We have been producing a white eau-de-vie for almost 20 years," says Rémy Grassa, 5th generation co-owner (with his brother, Armin) of Tariquet, the region's largest independent producer, but only after 2005 could it be labeled as Blanche Armagnac. "Our specificity is to produce it only with the Folle Blanche grape, which has almost disappeared in the region. It is difficult to grow but offers unique floral and spicy notes." Blanche Armagnac is in some ways analogous to American whiskey's "white dog," albeit as an eau-du-vie it's more fruit-forward and softer on the palate.
Rémy says that the Blanche goes well with blue cheese, and that younger Armagnacs (VS or VSOP) work as aperitifs, especially lightly chilled—a change from the constant challenge of selling spirits at the end of a meal. Desserts are an obvious pairing, but he says meats like short ribs with a caramelized sauce can also make an intriguing match.
On its own, Tariquet is a great introduction to Armagnac, according to Martensen. "It's very modern; whenever you taste Tariquet, it's delicious. I like to taste it next to Castarrede or Darroze; Castarede's very rustic, so to have those side-by-side is a great gateway for Cognac drinkers, and a great look at the spectrum of what Armagnac can do."