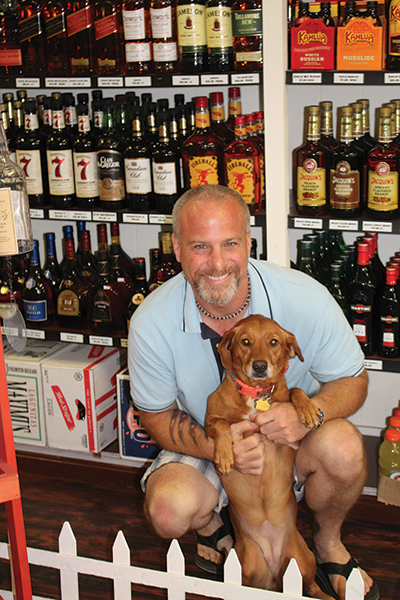 Beach Wine and Liquors
43 Aquidneck Avenue
Middletown, RI
Square footage: 1,400
Years in operation: 4
By Savannah Mul
Eight years ago, the recession left M. Scott Lyons without a job when his employer shut down. Puzzled on his next career move, he began to think of a "recession-proof business" to invest in, he said. In 2012, he went into business with his parents, Tom and Andi Lyons, and purchased a 1,400 square-foot retail liquor store on Aquidneck Avenue.
The new business came with the need for renovations. Lyons made the decision to close the store for seven weeks to remodel, which included removing the wood paneling on the walls, ripping up the carpet, replacing the ceiling and floors, as well as making more room for storage in the back.
"We gutted the store," Lyons said. "We had to utilize every inch of space and storage in the store." During the renovations, he always kept the customer in mind and set a goal for the consumer to have a comfortable and relaxed shopping experience.
Today, the organized racks, clean aisles, bright lights and the warm greeting from a friendly face behind the counter support the goal he had from the very beginning.
"I absolutely love it," said Lyons, whose experience in the industry dated back to a job in college as a sales representative at a distributorship. "The customer experience is first and foremost. It's important to go the extra mile and they appreciate that." Lyons said he trains his entire staff of about seven employees with this philosophy.
To ensure this focus, Lyons is a "big believer" in special orders. "As long as it's available [in state], I'll order it." Beach Wine and Liquors also stocks ice, water, snacks, plastic cups, and sunscreen for added customer convenience.
Lyons knew he wanted to call the store Beach Wine and Liquors to pay homage to the area and the close proximity to Easton's Beach. "We really stick to our name," he said. "The staff wears polos with the [Beach Wine and Liquors] logo, or Hawaiian shirts. It's a lot of fun." The store embodies a summer vibe with reggae music typically playing year-round.
Beach Wine and Liquors stocks wine, beer and spirits to the tune of approximately 2,200 SKUs. "We do a pretty good mix of sales," he said. Business slows down a bit during the off-season, but he said Middletown is a great neighborhood to be in and he has developed a loyal customer base.
Stocking inventory was a "new science" that Lyons had to "get used to." He makes adjustments after each season to help him assess improvements for the following year, with an eye on next year's summer season.
"We're still figuring it out, but I think I got it as close to a science as I can … We're always picking and choosing what to sell and I carry what I like and what our customers like. If something doesn't sell, we try something else."