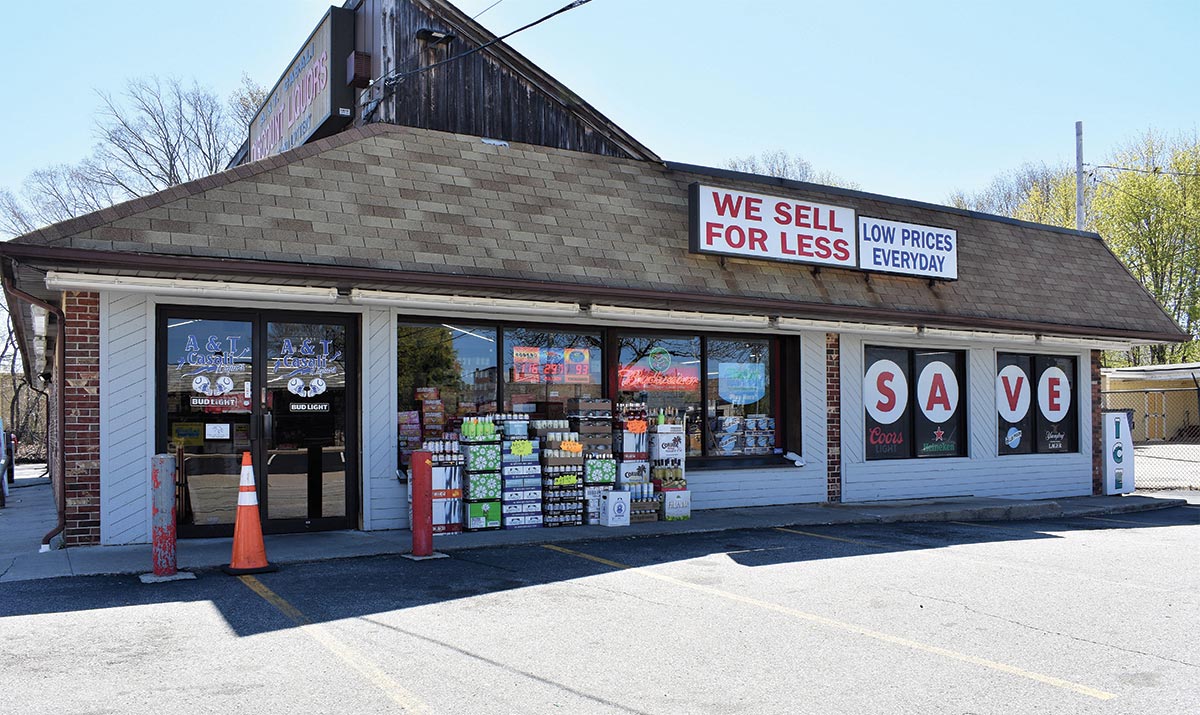 A&T Casali Liquors
1776B Cranston Street
Cranston, RI
Square footage: 3,500
Years in operation: 40 years
By Sara Capozzi
Celebrating 40 years of business in April, family-owned A&T Casali Liquors brings its decades of retail experience to customers in the greater Cranston area and beyond.
Owner Tom Casali opened the shop in 1981 under the tutelage of his father, Al, who had owned and operated his own store in Providence since the 1950s. While his father retired in 1979, he remained active to help Tom build up his new business in Cranston.
Although he earned a degree in culinary arts, Casali chose a career with the family business when he realized that was more his speed. "It's in the blood," Casali said. "All my brothers, we all worked in [our father's] liquor store since we were 12 years old, so it's all we knew really."
The venue is known for its long-standing commitment to good customer service, a philosophy that has been passed down through the generations. That translates to creating a friendly atmosphere from first greeting customers to carrying a bottle or bags out to a customer's car.
"My father taught me that way back, there's a lot of liquor stores, so when somebody comes in, they're doing you a favor," he said. "We're kind of old school. We're not one of these big supermarket stores. We're just old school and self-service, personal. We know a lot of people by name."
A&T Casali Liquors also has a reputation for offering low prices, specializing in closeouts, which draws shoppers from all over the state and Massachusetts. "We never let anybody walk out," Casali said. "We always match any price – which doesn't usually happen because we're usually the lowest anyway. We never let anybody have to go anywhere else if we can help it."
Seltzers and wine are the most popular items at the store, with wine sales making up 65% to 70% of the store's profits. Customer tastes regarding brands and varietals are "all over the map," he said, and his client base tends to veer toward two extremes: affordable selections or premium wines.
"There's no middle anymore," Casali said. "They want really good wine or they want the bargains. Even Champagne, they want the good Champagne. They'll buy a good prosecco or a good Champagne – price doesn't matter."
Casali has seen an uptick in the sales of premium spirit brands, especially vodkas and tequilas, since the pandemic began. "It seems like people are spending a lot more money than they were," he said. "They went from buying a $9.99 half-gallon of vodka to Tito's, Absolut, Grey Goose. They have extra money, so they're buying the good stuff." Shoppers have been seeking top-shelf tequilas as well, including Patrón, Don Julio and Milagro. According to Casali, high-end tequila expressions such as Don Julio 1942 and Clase Azul will sell out in a day.
Casali also noted an increase in demand for fine Cognacs such as Hennessey, noting less interest in brandy. The shop also sells more rare bourbons. In beer, he said he's witnessed the decline in popularity of the 30-pack formats of big brands, with beer lovers gravitating toward craft selections instead. "People want to try different things," Casali said. "You go back 15, 20 years ago, everything was 30-packs. But that's changing. People want better quality."
A&T Casali's family-run legacy will continue as sons Michael and Tommy, who work at the shop day to day, prepare for eventual ownership. Casali is planning an addition to the building in the near future, giving space to expand the store's wine selection and accommodate the ever-growing seltzer and craft beer categories.