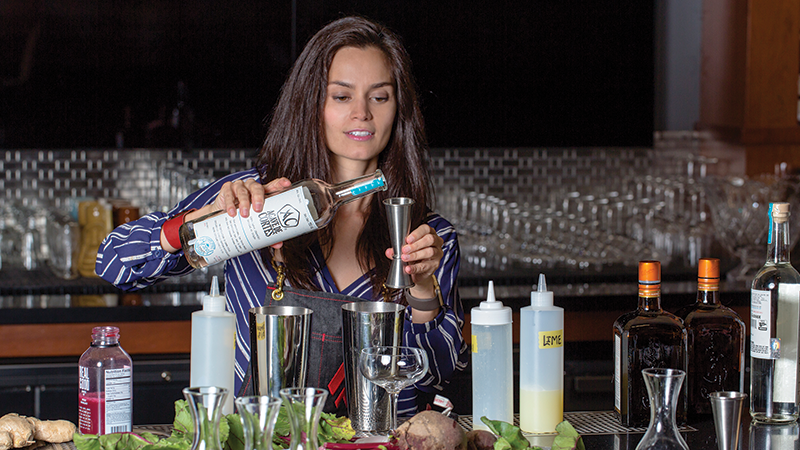 Back To School Is Cool Again
Training Remains Key For Entire Spectrum Of Bar Operations
By Jack Robertiello
---
Bartending has never been a more celebrated trade, but with the level of cocktail creativity also unprecedentedly high, most bars and restaurants need regular doses of bartender training.
Many chain operations still instruct their new hires on the drinks, standards and preferred methods required, but most stand-alone operations are left to their own devices. And even those chain operators can benefit from some fine-tuning on trends, skills and new products from time to time.
"Bartender training and cocktail development has never been more important in our industry," says Natalia Cardenas, Beverage Development Manager, Breakthru Beverage Illinois. "Consumers are more knowledgeable than ever and beverage managers are under greater pressure to deliver fresh, craft cocktails."
Bartenders looking to climb the professional ladder especially need continuing education.
"Right now, what's trending globally is quality, and people are engaging mixologists to create programs that include spirits education, so that bartenders are immersed in the stories behind every brand as well as in quality cocktails, techniques and all the other facets of what makes a great customer experience," says Brian Van Flandern, Executive Director of Beverage Education for Southern Glazer's Wine and Spirits, based in Las Vegas.
Big Backers
These two companies are among the leaders today in distributor-based bartender training. Southern Glazer's, through its Academy program, and Breakthru Beverage, with their Alchemy Room program, have largely set the standards and are expanding their training sessions nationally.
At Southern Glazer's, their original Academy of Spirits and Fine Service, launched in 2002 by Francesco Lafranconi, has recently undergone a high-tech renovation of the 1,700-square-foot room with stadium seating for 50, tasting stations and long-distance video learning capabilities and soon to include a barista program. Operators from across the country are eligible, and even international accounts—Van Flandern is about to start a program with Seabourn Cruise Line. The Las Vegas facility is also home for a three-tier, United States Bartenders Guild-certified program that tops off at Master Mixologist.
Cardenas emphasizes the need to create base level skills that work for all types of operations: "Our trainings educate both high-end bartenders and the average operation. While most of the accounts that visit the Alchemy room are restaurants and craft cocktail bars, we also consult with local nightclubs and chains. The typical operator is focusing on consistency in execution among its staff."
Better drinks, Higher profits
For Van Flandern, combining his knowledge of Michelin three-star standards with better ingredients and higher profitability is the current goal.
"A well-balanced cocktail with fresh ingredients and quality spirits means less alcohol can be used—that's critically important because guest experience improves at the same time as they can have two, three or more cocktails without worrying about over-serving. Liquor costs go down and check averages go up, as guests get a better experience."
Similarly, better spirits education allows staff to naturally upsell, something managers sometimes harp on but don't provide the proper tools for bartenders to execute.
In the Illinois Alchemy program, Cardenas offers operators three types of sessions—the most requested is collaborative training, typically attended by up to eight bartenders with recipe development ideas in need of some guidance. Also offered: self-development for bartenders looking for a space to work on recipes on their own; and  a full-development program for entire menu creation on their behalf.
At the core, these programs provide operators with a chance to retain their best employees. "Most operators are looking at ways to attract and retain top talent," says Cardena. "They understand that in order to do this, they have to offer more than a place to work. They need to offer continued trainings and the space for their staff to express themselves creatively. We help them achieve these goals by offering improvements to their operations in the form of category trainings, mixology classes and providing an open bar where they can create freely."