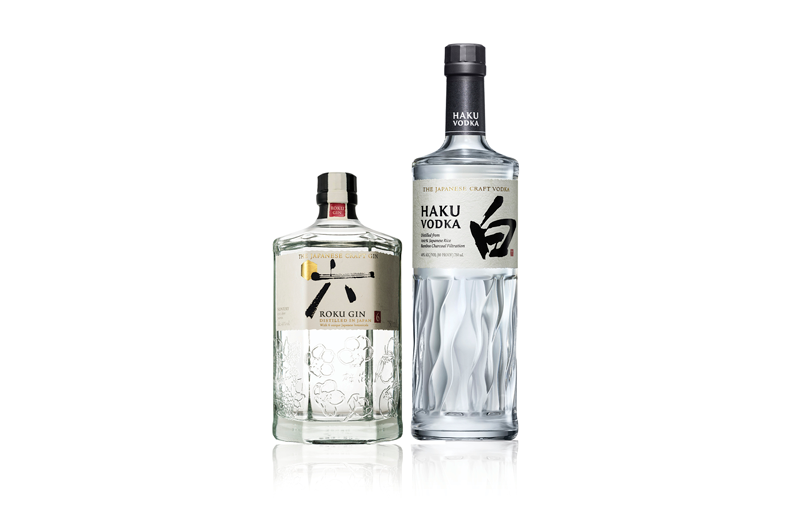 House of Suntory Adds Two Clear Spirits to their Whisky-Powered Portfolio
By Jack Robertiello
At a time when brown spirits, including the highly sought—after Japanese whiskies imported by Beam Suntory—are all the rage, that company has decided to zig a little where others are zagging, introducing both a vodka and a gin with Japanese provenance.
Called Roku Gin and Haku Vodka, the two products not only are poised to capitalize on the interest in Japanese spirits, but also the trend among consumers for spirits seen as craft and with a particular story to tell. "The launch of these two brands creates great opportunity for craft spirits enthusiasts to discover new tastes and experiences that further embody [founder] Shinjiro Torii's vision of a challenge and quest for excellence." says Claire Richards, Senior Director of the House of Suntory at Beam Suntory.
"Because the demand for our whiskies has never been stronger, the timing could not be better for us to leverage the credibility and luxury image of Suntory Whisky to launch these products in the U.S.," adds Johnnie Mundell Senior Brand Ambassador, House of Suntory.
Roku Gin
Launched in October at 43% ABV (86 proof) and SRP of $27.99, Roku Gin takes its name from the Japanese word for six, recognizing the six traditional Japanese botanicals infused, distilled and blended by the Japanese artisans of Suntory Spirits in Osaka, Japan.
The six botanicals—sakura flower, sakura leaf, yuzu peel, sencha tea, gyokuro tea and sansho pepper—are harvested in accordance with "shun," the tradition of enjoying each ingredient at its best by harvesting at its peak. Then, with the addition of eight traditional gin botanicals, the spirit is distilled in a selection of different pot stills.
The bottle's hexagonal shape represents the six Japanese botanicals, with the Japanese symbol for six printed on the label made of traditional washi paper.
Haku Vodka
Haku, launched exclusively in the U.S. at SRP of $27.99 at 40% ABV (80 proof), literally means "white." Made from 100% Japanese white rice and filtered through bamboo charcoal, its production begins much like saké with fermentation using koji, the rice mold revered in Japanese brewing and cooking. The koji rice mash is then distilled in pots to create a rice spirit, and then a second time in either a pot still or a column still. The final liquid is then blended and filtered through bamboo charcoal.
"For the House of Suntory, craftsmanship has always translated to sourcing the best ingredients, and elaborating on complex and innovative techniques to create unrivaled quality spirits," says Kazuyuki Torii, Suntory Specialist for Gin and Spirits and a descendant of the House founder.