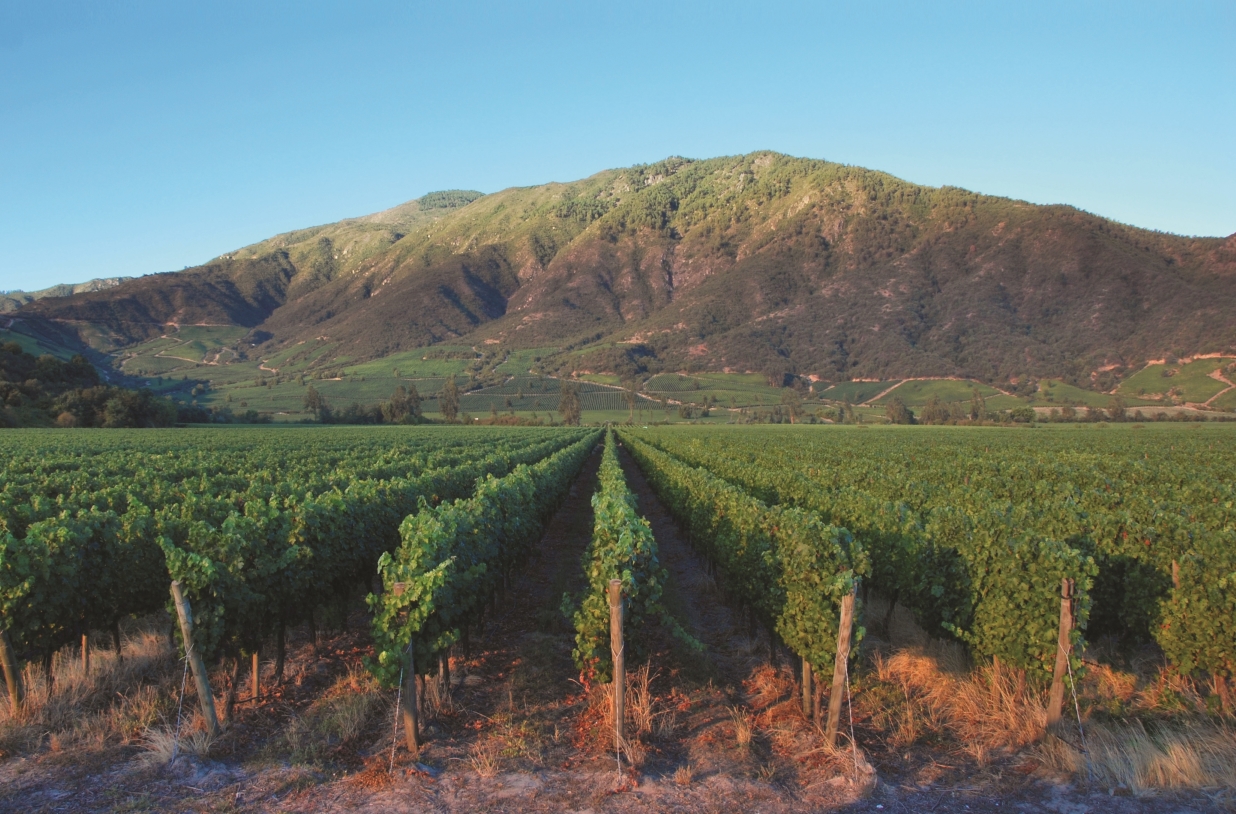 With consistency, QPR and still-untapped potential, Cabernet Sauvignon sets the pace for Chilean Reds.
By W. R. Tish
In the spirit of the answer being right under our proverbial nose, Cabernet Sauvignon has quietly established itself as Chile's most reliably well-made red wine. Without taking anything away from Chile's other important grapes—Sauvignon Blanc, Carmenere spring to mind—Cabernet is the flag bearer. Which is great for Americans, because it's consistently delicious, still delivering value and on track to continue getting better
Beverage Media invited Chilean expert and Master Sommelier Fred Dexheimer and three top NYC sommeliers to Beverage Media for a tasting of three Chilean varietal wines. While the Sauvignon Blanc and Pinot Noir were revelatory (see "Coastal Forecast," July 2016), the Cabernet round was more reinforcing—and a bit humbling even. "As somms in New York City, we are unfortunately always looking for what's new and different, and we sometimes want to leave behind the old and the tried," noted Paul Greico of Terroir wine bars after the tasting. "But I must say, in Chile, some of the coolest stuff happening is in the world of Cabernet."
Dexheimer pointed out that that while Cabernet is Chile's most-exported varietal red wine, and consistently garners the highest ratings, it is currently "less sexy" than other grapes in Chile (and beyond). Yet it has thrived in Chile, more than just keeping up with the global peers. The grape has benefited greatly in Chile from the coordination of winemakers and geologists, identifying ideal sites. Cabernet anchors many of the country's high-end icon reds, both among artisanal producers and big wineries with carefully managed "micro" programs.
And Cabernet improvements are being bred into the winemaking culture: "It's not just consultants flying in—it's winemakers flying out," explained Dexheimer. Chilean Cabernet is "balanced and well-priced," making it a high-margin glass pour in the $12-$16 range, and delivering a solid quality/price ratio for merchants, especially in the all-important $10-$20 SRP range.
Not surprisingly given SRPs ranging from $14.99 to $70, wines in our tasting varied in intensity and structure, but quality was evident across the board. Said Fred Dexheimer: "Consumers will all find something to love in this range, especially if they are not looking for fruit bombs."
In Their Words…
Chris Raftery, Corkbuzz Studio:
The Cabernets had what you want Cabernets to have from the New World, which is a blend of ripeness and fruit, while also kind of respecting its Old World roots. You have this minerality, you got some beautiful green notes and freshness. It's not all about over-ripeness and alcohol. These are wines that are balanced. They have a restrained use of oak, if any, and they taste good.
Luke Boland, La Sirena:
There were some that kind of drank very much to what my perception of Chilean wine would be—a bit riper fruits, a kind of nice, juicy characteristic that's still well-structured. Then it had some that had these really developed, sort of vegetative, interesting characteristics that really reminded me of some classic Bordeaux kind of styles. Nothing here was one-dimensional, and from glass to glass you could always tell a pretty significant style between where the wine came from and the winemaker influence as well.
Paul Greico, Terroir:
When you think about price and value and food expression and pure drinkability, and how are these things going to go with food, the range of Chilean Cabs that I just tasted hit it right on the nail head. I can't imagine there's many places on Planet Earth that can grow the Cabernet grape with this range of consistency like Chile.