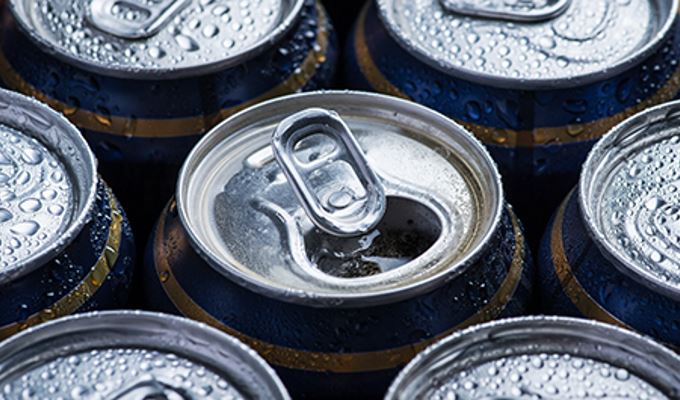 By Jack Kenny
The American beer industry relies heavily and increasingly on aluminum. It's a costly product to start with, and that cost is going to rise with the new 10% tariff on imported aluminum.
"Partly because the beer industry uses so many of them, aluminum cans are already the single largest cost in American beer production. Cans make up 11.4% of the cost of manufacturing beer in the U.S. To give an idea of how much that is, cereal grains – one of beer's other important ingredients – make up 9.7% of beer's total manufacturing cost. Make no mistake – aluminum is paramount to beer production. It is already expensive, and the proposed taxes will make it much more so."
That's the opinion of John Dunham, managing partner of John Dunham & Associates, a Brooklyn-based economic research firm specializing in tax and regulatory economics. He recently published a paper on the subject and summarized it on the Beer Institute's website.
The tariff, Dunham said, will directly cost beer producers about $246 million. "In addition, brewers will see other costs rise due to higher prices for beverage cans. For example, financial carrying charges will increase, so will insurance costs, metals brokerage charges and warehousing costs. All told, the industry will see increased costs of about $347.7 million following the imposition of a 10% tariff."
The higher prices are expected to have an impact on beer sales as well as domestic jobs. According to the Beer Institute, as many as 20,000 American jobs could be lost because of high tariffs on aluminum. This estimate covers the entire reach of the industry's multifarious segments, from farmers to on-premise workers. The losses in the beer industry alone could cost the country nearly $2.5 billion in economic activity and would ultimately cost the federal government more than $275 million in tax revenues.
The National Beer Wholesalers Association, the Beer Institute, the Brewers Association, the Can Manufacturers Institute and the American Beverage Association jointly stated their opposition to tariffs on aluminum and steel. They petitioned the U.S. government to be added to an exemption list. More than 100 members of Congress sent a letter to the White House expressing their concern over the tariff and its unintended consequences.
The tariff, along with a 25% levy on imported steel, took effect June 1.
An import duty of that size will affect every tier of the industry: steel suppliers, brewers, distributors, retailers, and the most critical group of all — consumers. At every level, the cost of doing business is passed down. Nobody will like this. The cost increase will apply to bottles as well as cans. If consumers express their dismay on-premise or off, and they will to a degree unknown as yet, the concerns (a polite word) will be triggered.
The impact will stretch from the largest brewer to the most minuscule. They are all speaking out. Pete Coors, chairman of MillerCoors, stated his opposition to the aluminum tariff in a public letter. Carlos Brito, CEO of AB-Inbev, which owns Anheuser-Busch, weighed in with a polite but firm negative opinion directed specifically at the president, who has the power to levy such charges.
The Brewers Association (BA), which represents craft brewers, said brewers that produce 10,000 barrels a year or less (more than 90% of breweries) are the largest growing segment of brewers who package their beer in cans. The smallest packaging brewers would be the ones most directly impacted by a price increase. Cans are the top packaging method for new breweries.
The BA also says that higher steel prices will affect existing breweries, breweries in planning and breweries looking to expand: "99% of craft breweries have draft production, and draft production is 40% of craft sales. Kegs are made out of steel and will likely be impacted by higher prices. Keg theft has been a continuing problem in the brewing industry; higher prices for steel could cause an increase in theft. Tanks and other equipment that are made from steel could see a price increase, directly impacting breweries in planning and breweries looking to grow. Keg and brewing equipment manufacturing has been a growing industry in the United States."
Keep in mind that the above is about the beer industry alone. Soft drinks, food products and automobiles also use aluminum.
Jack Kenny has been writing The Beer Column for The Connecticut Beverage Journal since 1995. Write to him: thebeercolumn@gmail.com