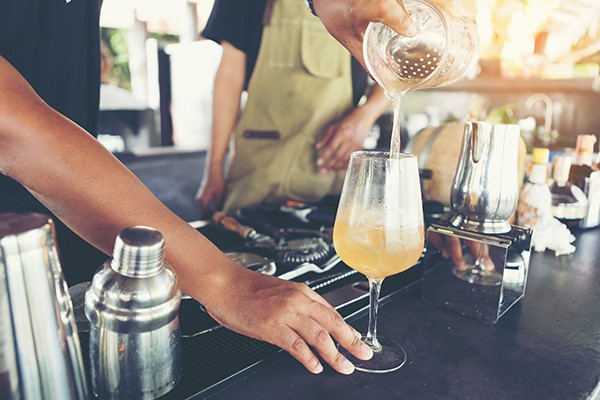 By Len Panaggio
It is hard to believe, but we are seven months into the year and at the midpoint of our summer business. As I write this column, we have just finished a few weeks of incredible heat and my conversations with salespeople have been all about beer consumption — how much was bought off-premise and how much was consumed on-premise.
As you know, the weather truly has a direct effect on our business. In addition to beer, rosé was widely consumed. For those who don't like beer on a hot summer day, rosé was the next beverage of choice. Hopefully, your beverage program includes placing at least one rosé by-the-glass on your list. Thanks to a tremendous marketing campaign heavy with social media influencers, Whispering Angel seems to have captured the lion's share of the market; its depletions are mind boggling! But as we live in New England and not Florida, the heat is only temporary and the seasons will change.
August brings with it shorter days and hints of fall with the occasional chill in the air at night. As the weather turns, our guests and customers will start consuming different beverages.
As we move through August, staffing issues really come to the forefront as our college staffers start returning to school. As I travel throughout the state and talk to managers and owners, the labor situation remains acute; in some cases, operators were forced to actually close a day (or two) due to the inability to staff properly. With the departure of the college population, and summer business still in place, it puts added stress on your remaining staff, forcing schedulers to give out more doubles and fewer days off.
This time of year requires those with the task of scheduling to become creative. The resort communities will be looking to balance Labor Day Weekend, followed by a drop in business during week days, with the weekends still booming (provided the weather cooperates). The city will see the return of college students and with corporate/personal vacation time over, a significant uptick in business as we approach September is on the way.
Coastal restaurants and stores need to assess their inventories. We all build them up during May to get to a level that can comfortably sustain 12 weeks of intense summer business, but once Labor Day comes, it's time to slow down purchasing; otherwise, it will take quite some time to shrink it. It is also an opportunity to evaluate certain products and try to eliminate them all together if they aren't moving.
We also have to watch for hurricanes. It's been a while since Sandy, but none of us should take for granted that something of that magnitude won't happen again; we have been warned all too often by the weather services. Do you have a plan? If not, why not? If so, does your plan include protecting your building, 4′ x 8′ ply score sheets ready to cover your windows? Do you have business interruption insurance?
The weather wreaks havoc with our businesses and it should never be taken lightly. The storms we have experienced over the last few years, whether in the summer or the winter, are much stronger than in previous times and we all should be prepared for the worst and hope for the best.
So, as we move through August, thoughts of product changes, both beverage and food, will take place. Red wines, hard cider, Oktoberfest beers all will be happening in a blink of an eye. And, staffing issues are critical and need your full attention. Are you ready for what August brings? Your guests will expect you to cover all the bases so that they can enjoy the winddown of summer and onset of fall.
Len Panaggio's career in food and wine spans more than three decades as an owner and as a beverage director at some of the top restaurants in Rhode Island. Currently a hospitality consultant, Len is a graduate of the University of Rhode Island and has attended the Culinary Institute of America Master Sommelier program and the Sterling School of Service and Hospitality.