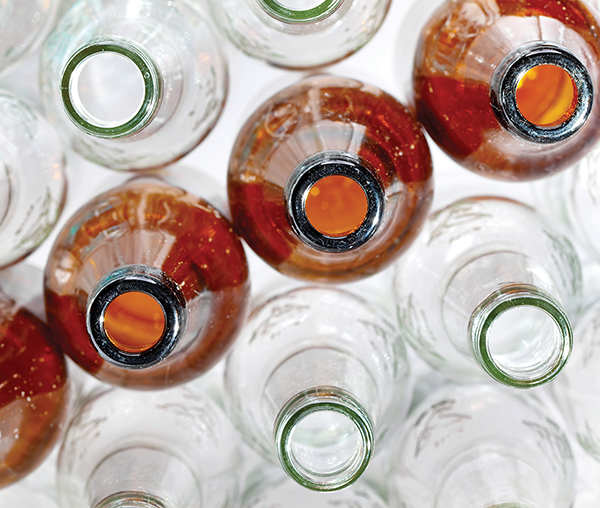 "It's a big challenge for brewers, but every effort helps."
By Jack Kenny
We probably don't usually think about this, but today we will. The impact of beer on the environment can be enormous. Beer production uses water and agricultural products in great quantities, and energy for heating, cooling, boiling and chilling. Hops and barley are mostly shipped long distance. Packaging is fraught with environmental impact. Transporting beer involves shipments to and from the brewer, distributor, retailer, and consumer, burning fuel and rubber.
Many brewers have taken steps to contribute to environmental well-being through technological improvements, and through employment of reduction, reuse and recycling. In 2004, Victory Brewing in Pennsylvania upgraded its brewhouse with a system that recovers much of the primary energy fueling it. The improvement captured a third of the heat used in beer production for plant heating, thus reducing carbon dioxide emissions. A few years ago, Victory installed energy efficient fermenters whose cooling and temperature monitoring are powered with photovoltaic electricity, in order to maintain low environmental impact manufacturing. Efforts such as these are increasing throughout the industry.
One thing can be said for all brewers: They give or sell their spent grains to local farmers, who use them for animal feed. That's a centuries-long tradition. This year the FDA tried to mess with the practice, saying that brewers would have to be considered food producers and process and package the grains. This set off a great howling from all U.S. brewers, which was joined by members of Congress. The FDA backed off. Smart move.
Consider the packaging. Glass beer containers have paper or film labels backed by adhesives and carrying ink and coatings. Beer holders – including those for six-packs and cases of 12, 15, 18, 20, 24, 30, and 36 cans or bottles – are made from paper and are covered with ink and glue. Trust me, the waste in the production of these items is staggering.
Then there's transportation. A glass beer bottle is made of thick glass that can withstand the pressure of a carbonated beverage. Fill a tractor trailer with these and watch the diesel fuel eat up the miles. That's why the big brewers have long had plants in many locations around the country, and why the larger craft brewers are building second plants in other parts of the U.S. That's why Two Roads in Stratford, which makes fine beers under its own name, does most of its work as a contract brewer for those far away.
Cans are cheaper, of course, when it comes to transportation weight. Most cans contain about 40 percent recycled aluminum, and recycled aluminum requires 95% less energy and produces 95% less greenhouse gas emissions than manufacturing new aluminum.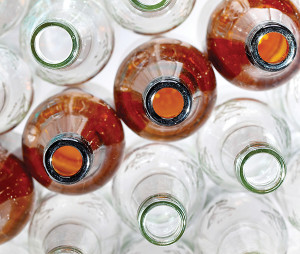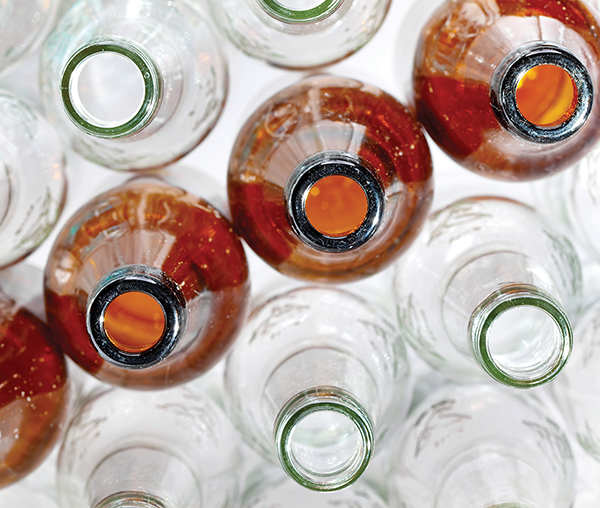 On average, U.S. brewers use seven barrels of water for every barrel of beer produced. This statistic presents a big challenge. "In many communities, breweries are the top consumers of municipal water. Roughly 70 percent of the water consumed by a brewery is then discharged as waste, adding up to millions of gallons a year," wrote Jack Kramer in a blog at WirtzCraftBeer.com. "With drought conditions affecting the western region of the U.S. for three years now, several communities are enacting strict conservation policies. As large consumers of water, these policies heighten awareness of this wasted water. Brewing beer also consumes a high amount of energy in both treating and moving water. In all, it's an uphill battle for a brewery to be environmentally friendly."
MillerCoors, a brewing behemoth, has an ongoing plan to reduce water consumption. Its 2015 goal was to reduce water use by 15 percent to achieve a water-to-beer ratio of 3.5:1. According to the company's water stewardship strategy, "We track our water use and beer production at each of our breweries, and we use those numbers to calculate an average for the company's overall water-to-beer ratio. In 2013 we achieved an average ratio of 3.48:1 across our eight major breweries, thus achieving our 2015 goal earlier than planned."
Filling and refilling 64-ounce growlers at retail with fresh kegged beer is a perfect way to reduce packaging and transit costs. Hello, Connecticut? Hello, Rhode Island? Connecticut permits the sale of growlers where beer is produced, but not at retail. Rhode Island got downright nasty when brewers sought the same opportunity. Maybe you guys can join the 21st Century soon.
Jack Kenny has been writing The Beer Column for The Connecticut Beverage Journal since 1995. thebeercolumn@gmail.com