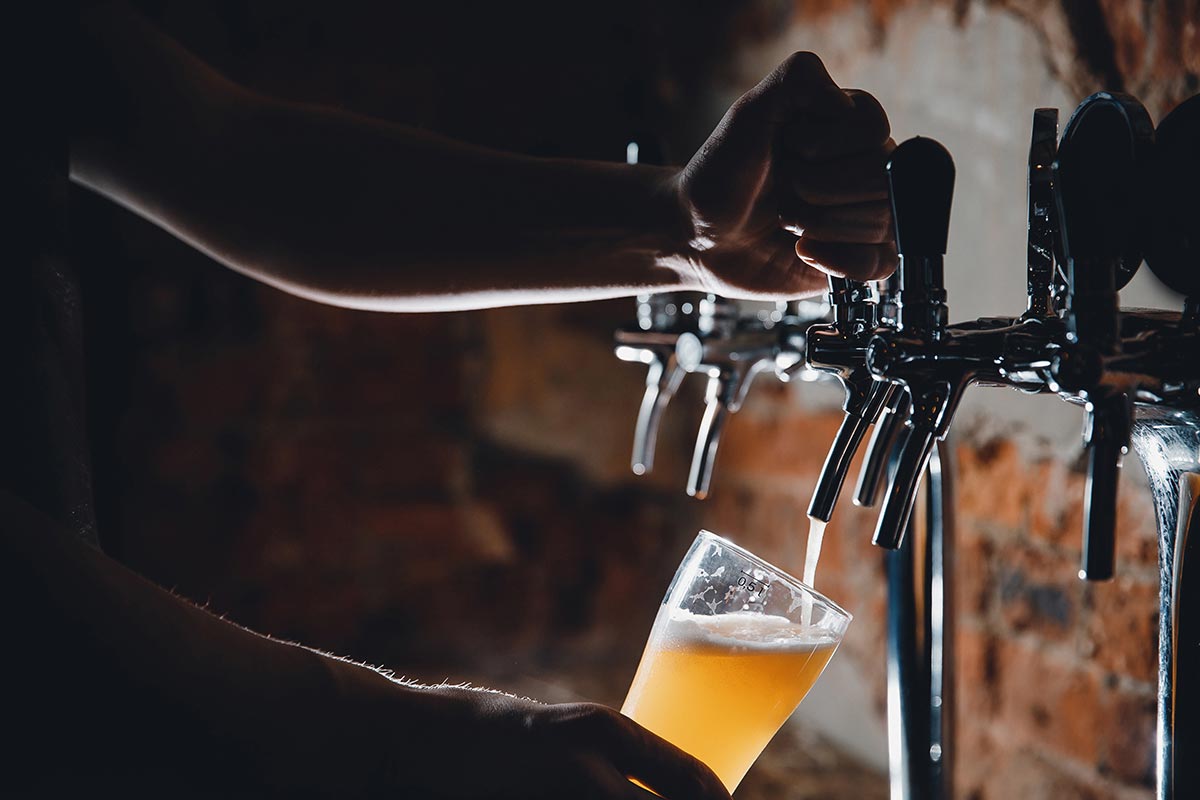 By Jack Kenny
I was taught many years ago never to write a sentence that starts with the letter "I," especially with the word "I." One reason is that it doesn't make for a strong graphical presence on the printed page, especially if it is the initial cap, which is printing jargon for the opening uppercase letter of a story. The more important reason is that I am not always the subject of every discussion, despite what my mind would have me believe. Not everything, dear ego, is about me.
This story, however, is about me. Beer and me. You, gentle reader, might have gathered fragments of my history as a beer aficionado over the 26 years of this column's life, but here today I pour myself upon the page. Walt Whitman, with whom I share a birthday, said it well: "I loafe and invite my soul."
In 1976, somebody handed me a bottle of Ballantine India Pale Ale. The aroma was startling, the taste exhilarating. It marked the moment I suspected that there was much more to this pleasant beverage than commercial light lager had to offer. All I knew about lager was how to spell it. I didn't know it from ale, though my first experience with it piqued a powerful interest. Somebody, I discovered, had put a pine forest into a beer.
Ballantine IPA was one of the only unusual beers on the market back then. The birth of the craft beer phenomenon was four years away. Connecticut was not Colorado or California, where the beer explosion began, so I was barely aware of it. (No internet back then, kids.) But in the early 1980s, a young man from New York named Matthew Reich brewed what he called New Amsterdam Amber Ale and I gave him a call.
As a reporter for a local newspaper in southwestern Connecticut, I had license to ask a lot of questions and tell Reich's story to my 25,000 readers. This was heady stuff. I had just tasted my first American craft beer, and I understood that the slumbering beer gods had been aroused. Little did I or anyone know just how inspiring and rewarding that awakening would be.
Homebrewing, Samuel Adams, Sierra Nevada, brewpubs, festivals – local and regional beer began to bloom. Startups and shutdowns, yes, but we witnessed the creation of a new cultural movement that within decades would become an economic blessing at industrial, commercial and social levels. With the advent of a marriage, a mortgage and parenthood, I couldn't always afford the new beer, but I kept notes.
In the early 1990s, I became editor of a magazine called Top Shelf – Barkeeping at Its Best, a trade publication for licensed on-premise owners and operators throughout the United States. We covered all hospitality operations but with a focus on beverages. My job was to write, edit and produce the publication, of course, but also to travel the country for the good stories and trends. The exposure to the beer business alone brought me a deeper knowledge of styles, history and commerce.
A beer anthropologist called me in 1992 with an invitation to an event in Fort Mitchell, Kentucky, just across the Ohio River from Cincinnati. Oldenberg, a newish craft brewery, would like to know if I was interested in covering a weekend event called Beer Camp. Guess how long it took me to say yes to that? The owner of Oldenberg also had a beer museum and a hotel next door, so no sleeping bag was required.
Twice a year for the next four years, Beer Camp opened with the traditional tapping of the fresh keg, the beer oath and the rendering at full throat all seven verses of the Beer Camp Song, composed, accompanied and conducted by yours truly.
Beer, beer, we love to drink beer,
We love to drink ale and stout.
Beer, beer, we're thirsty for beer,
Here's hoping we never run out.
The tasting event at the first Beer Camp featured a few dozen beers. Within two years, there were over 400 beers to sample, all donated by brewers eager to win the hearts and palates of 300 or more beer lovers from North America and beyond.
In 1995, I sat down with Gerry Slone, founder and publisher of the Connecticut and Rhode Island Beverage Journals, to talk about a regular column about beer for our on- and off-premise retailers. The first one appeared in these pages in August of that year under the clever and appealing name "The Beer Column." Not misleading though, I must say.
Since then, in 300-plus columns, I have watched along with you the remarkable expansion of the beer industry, at the craft level as well as among the large producers. I have endeavored to tell the stories of beer in our times – how we sell it, position it, pour it, taste it, pair it, smell it, understand it; how it is brewed and with what ingredients and why. I've sought to explain beer styles, those that are traditional, variants of traditions, cultural adaptations of styles and simply wacky beers that will always pop up and disappear.
I have sprinkled in some stories from beer's past. I've kept abreast of consumer trends with information that can help with strategy and tactics. In my personal experience over the past half a century, a retailer who can spend one or two minutes educating me about a new product, or an old one that I have yet to try, is a retailer who is going to get my business again. In the end, each of us passes this stuff along so that we all benefit.
This is the last Beer Column. My goal as a writer has always been to inform, to educate and to entertain. I trust that I have achieved it. Those who wrote about beer when I began were few in number, and today they are uncountable. It's satisfying to know that a business I have admired for so long will continue in the bright light of journalism.
I have had the pleasure over the past 26 years to work with many fine folks at Beverage Publications, Inc., and the inimitable Gerry Slone is at the top of the list. It has been an honor to report to the talented and perspicacious Dana Slone, editor and managing director, who has handled my fractured wit with grace and compassion.
And for you, good readers – brewers, distributors, package store folks, bar and restaurant people, beer lovers everywhere – my thanks. I've enjoyed it all.
It's here for the asking
So we might just as well,
'Cause there's no beer in heaven
And no beer in hell.
We're dying of thirst!
So please serve us first –
A big foaming tankard of beer!
Jack Kenny has been writing The Beer Column for The Connecticut Beverage Journal since 1995. We congratulate him on his retirement!