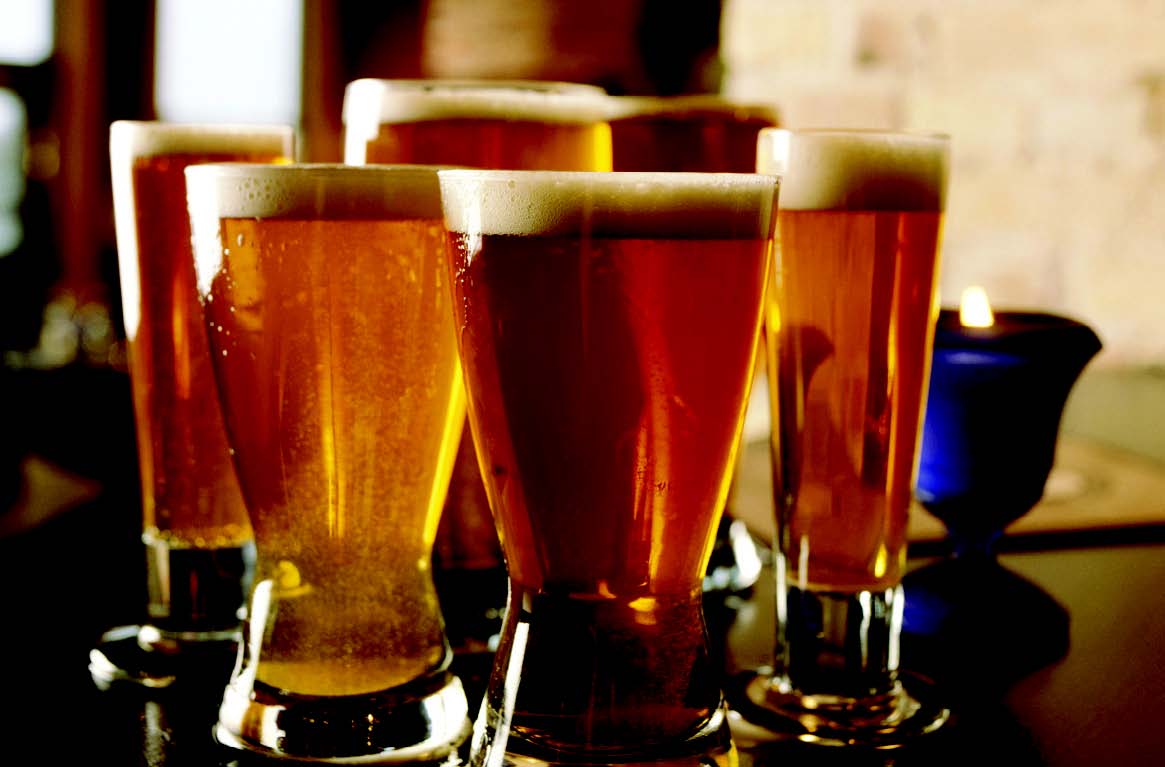 By Jack Kenny
What comes to mind when we think of beer styles that originated in the United States? Anyone? Coming up with an answer isn't too easy. The only two I think of are cream ale and California common, also called steam beer, which is now a trademark of Anchor Brewing. Since the big bang of craft beer in 1980, several U.S. styles have emerged; they are distinctive, certainly, but they are derived from styles born abroad, specifically from Europe.
Most regional American styles have traveled well beyond their neighborhoods of origin, thanks to demand, production and efficient transportation (with one exception).
San Diego style IPA, also called West Coast IPA, is available in our neck of the woods, as is the aforementioned California common. Some styles, such as session IPA and American amber, have no well-known geographic birthplace, and are ubiquitous within our borders.
The talk in these parts lately is about New England IPA, the cloudy ale with intense fruit and citrus character from the hops. Some of these beers are hard to get, as every retailer knows. Those who do manage to score a case or three have a steady stream of customers who ask one question: "Got any of the good stuff in the back?"
Described as hazy, creamy and juicy, NEIPA came to the region's attention a few years ago with the introduction of Heady Topper from The Alchemist in Vermont. The canned brew is available from its Stowe brewery and from a select few stores within a 25-mile radius. After one publication called it the best beer in the world, the curious and the frenzied beat a path to the small brewer's door, and still do.
Soon to follow was Sip of Sunshine from Lawson's Finest Liquids, Warren, Vermont. Lawson's is tiny, so the beer for interstate distribution is brewed by Two Roads in Stratford, Connecticut. Highly hopped and big on the citrus hops, Sip is another of those chimeras that are usually kept from sight and dispensed to favored customers.
The rest of New England, to varying degrees, now rides the NEIPA bus, as do many brewers throughout the country. Could it be a trend? Some thought that American IPA would slow down, but it hasn't, so the jury is out.
California Common is a product of the Gold Rush of 1849. The driven men who craved the gleaming metal also brought with them a thirst. Lager was the growing favorite back east, but enterprising brewers found that the California climate did not accommodate the conditions required for long lager fermentation, and refrigeration (ice) was hard to come by.
They improvised by fermenting at higher temperatures and finished the beer in long wooden vessels called coolships that kept the brew at lower temps and improved the flavor. Finished beer went into barrels with a bit of unfinished beer to provide conditioning and carbon dioxide. The process worked, and a style was born. Nobody knows exactly why it was called steam beer, though one of the guesses was that it gave off a head of condensation when cooling in the night air. Today, the style is produced by few brewers.
Steam Beer came about before Prohibition as a way for ale brewers to compete with the fast-growing market for adjunct lagers, also an American style. (Another indigenous style, adjunct lagers use rice or corn along with barley to smooth the flavor and lighten the body.) Brewing is the opposite of steam beer: it is a cold fermented ale. Genesee and Narragansett offer cream ales, but not many others.
Blonde Ale, as well as American Wheat, are golden beers with a distinctly grainy palate, and possibly a bit of sweetness. They offer a simplicity that is often overshadowed by bolder and more unusual beers, but at times they can offer a higher hop profile.
Session IPA is named after the low-alcohol (3.5% to 4%) mild draft beers of England that have been served in pubs for centuries. The U.S. versions are often in the 4.5% to 5% range. And the British don't make hoppy session beers. An IPA must use a high percentage of grain, but a session IPA reduces the grain to lower the alcohol, producing a brew that is big on bitterness and aromatics and low on malt foundation.
Jack Kenny has been writing The Beer Column for The Connecticut Beverage Journal since 1995. Write to him: thebeercolumn@gmail.com