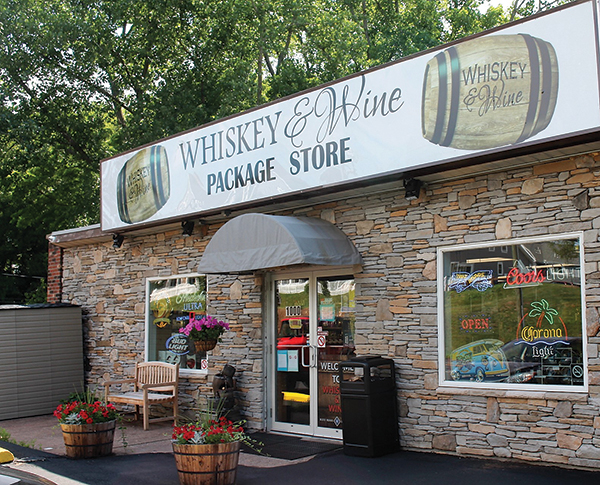 Whiskey & Wine
1000 Hartford Turnpike
Vernon, CT
Square footage: 1,400
Years in operation: 1
By Savannah Mul
In July, Laura Sedgwick was found behind the counter at Whiskey & Wine in Vernon scrolling through old before-and-after photos of her store. "What a huge accomplishment this turned out to be," she said. Photos of what once was A + B Sports, a fish, bait and tackle shop, show the transformation into what is now Whiskey & Wine.
"In my old life, I was a project manager," Sedgwick said. "Give me the vision and I'll make it happen." She explained after A + B Sports closed doors, the location was zoned and approved for a liquor license in the town. The new license brought new opportunity for Sedgwick as she began her first venture in the liquor industry.
In May of 2016, the renovations and construction began. Everything from installing a refrigeration system, air conditioning unit, shelves, new flooring, rewiring the electrical, fresh paint, and signage out front was needed to get ready for the grand opening in August of 2016.
Today the clean, bright and welcoming store features a walk-in beer cooler set at 34 degrees and a fridge behind the counter reserved for 50 ml offerings always set at -17 degrees, she said. Sedgwick calls it an "under service" when products are not chilled enough and wants her customers to be fully satisfied with the products they purchase from taste to temperature.
"I've been in customer service my whole life," she explained. "I learned, how you treat people and welcome them in is so important and it should be better everywhere."
Sedgwick said learning inventory and stocking the store was a challenge. "You need to keep the right levels at the right time." With help from her sales representatives, her own acquired knowledge and customer interactions, Sedgwick has honed in on how best to make optimal decisions and round out her offerings, she said.
Popular products include local craft beers, of which she said, "I have so many SKUs and I'm always open for more, [so] I rotate my craft and specialty beer section often." Customers also seem to favor international wines, and mirroring trends across the category, there are growing consumer interests for organic wines.
Sedgwick offers in-store tastings to promote products. "I always have something to taste," she said. Whiskey & Wine also features an event space below the store where she previously hosted Chamber of Commerce events with the town and plans to host more social and tasting events going forward.
"It's great, and I get to work with my dog every day," she laughed.