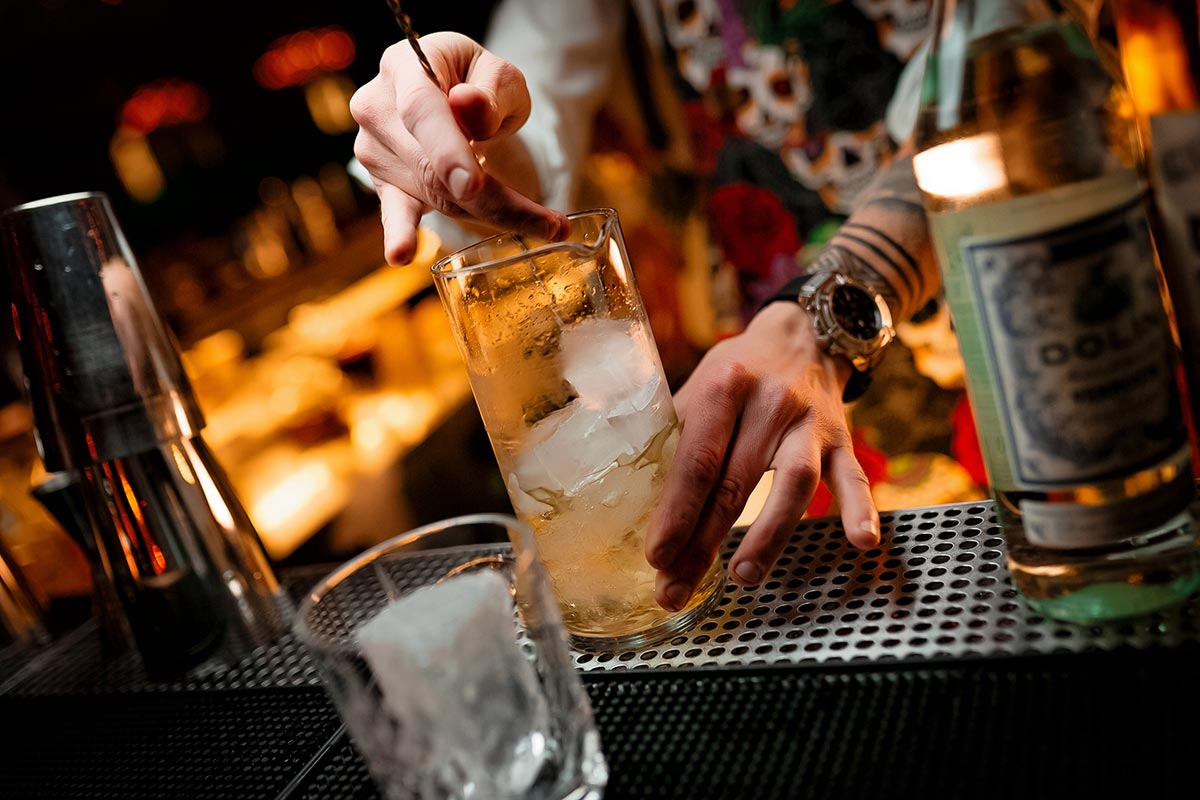 By Khalid Williams
2023 is the year of beverage redefinition. I thought I was going to write about how we identify as bartenders in this new landscape, but it occurs to me that almost everything in our industry is up for debate—and it's actually a healthy one!
Bartender. Bar. Spirit. Nonalcoholic (aka NA). During my research, each one of these terms had conflicting definitions and applications. None of them were incorrect. Some were more correct than others, for sure.
A bartender serves alcoholic beverages to guests. The phrase "adult beverages" has come into fashion (I've done a great job of wearing it out over the last couple of years). If I'm a bartender and I make nonalcoholic beverages, I'm still a bartender. Some of us now make exclusively nonalcoholic beverages in one of the 50 NA bars and shops that exist across the country. The beverages they serve are very much adult. I am consistently wowed by the alchemy and science around these high-end no-booze creations.
But I also have questions too: What if an 18-year-old couple wants to enjoy themselves? Am I now not making an adult beverage? When our first NA bar hits, will underage people be allowed in? Can an establishment thrive with no minors to serve?
Now, on to the spirits. These bottles look really cool, but what is actually inside of them? The answer, in most cases, is flavored water; although, it's not that simple, smarter minds than myself can explain the science. When a brand tells me that they distill each of their botanicals separately, I'm going to need someone to show me this process. Alas, staff training sessions on NA spirits aren't happening frequently in the Nutmeg State (who's going to prove me wrong?!). I'll be waiting patiently.
Our state proudly is the home of an award-winning beer brand that's completely booze-free. They go into detail about their brewing process and their values—and have beaten beers with alcohol in some of the most important beer competitions. Most smart bars and shops have dedicated placement to at least one of their products and some hip spots exclusively serve this craft product as their NA option. This is what I mean: The beer giants and their alcohol-removed (mostly removed) choices are losing shelf space. How long before we have to consider our spirits and wine real estate and what percentage to dedicate to booze-free choices?
As with all things, change is uncomfortable, but I find it usually rewards the open-minded. COVID-19 hangover has Americans really considering if they want to have that last bourbon or if they need to buy that handle. Recent legislation has given the final nod to other recreational substances being socially acceptable and our fastest-growing clientele, Gen Z, shows a move away from alcohol toward all types of cannabis. This is scary, but we can be encouraged that these young revolutionaries want something to relieve the cotton mouth and they want it to be curated and presented in an intentional way.
If we make fun of those who are asking for alcohol-free options that are thoughtfully executed, we will get left behind and give up large percentages of market share and profits. If we embrace the shift in the culture coming from all sides, something good will happen—socially and financially.
We will continue to serve alcoholic drinks, come what may. We are bartenders (and bottle shop owners, and reps, and servers) and that's what we do. My vision, and hope, is that with these changes, we won't "not" do stuff; we will do more stuff and do it with style, hospitality and panache. No matter what is in fashion, be it single malt, spirit-free or a short stack of pancakes, we will make our guests feel like they're special and give them that rare and highly sought oasis from the outside world that only comes from behind the bar.
Khalid Williams is a bar manager, spirits brand representative and program consultant specializing in marketing, engagement and data. His passion is for exploring the "why" behind consumer decisions. He loves Old-world wine, New-world rum and Connecticut beer. Follow him on Instagram @thebarrelage.