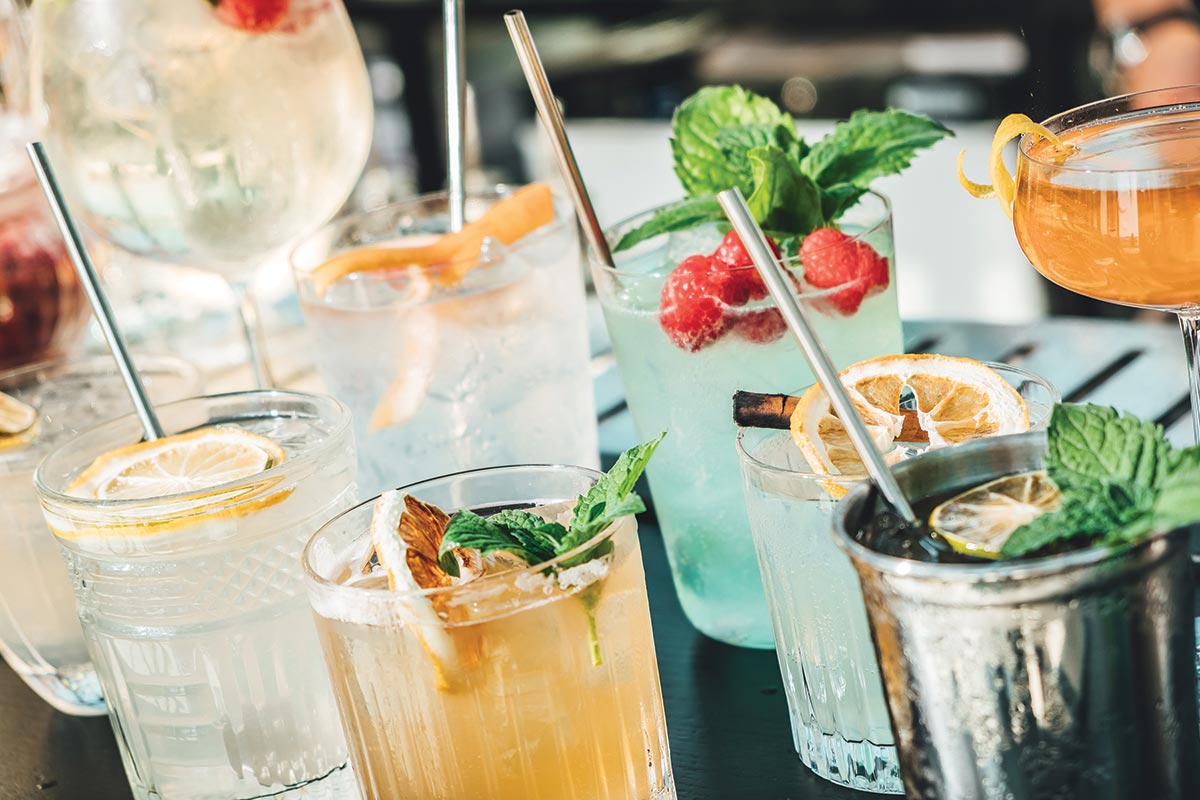 By Khalid Williams
In this modern era, there's a growing desire to enhance our offerings. Most bars now aim to serve well-crafted drinks, but advancing a bar's knowledge base and techniques can be challenging. There may not be an easy solution, but there are straightforward ones. Looking for one product category that can up the craft ante in your establishment?
Let's talk about gin. While it's a spirit we need in our repertoire, it's often overlooked when crafting crowd-pleasing drinks. But here's the deal: Introducing your guests to inventive gin cocktails could be the game changer that turns them into true cocktail connoisseurs.
In the states, opting for gin isn't the default—it's a deliberate choice. Sure, the G&T is a classic, but how many bars could really thrive if they stopped serving vodka sodas? When someone orders a gin-based drink without referring to a menu, you know they've explored its unique flavors before.
My fascination with gin as a bartender comes from its transformative qualities. Paired with citrus, herbs, aromatics or fortified wines, gin evolves into something extraordinary, unlike most spirits which retain their core essence in cocktails.
London Dry: The Reigning Monarch of Gins
Gin's "Christmas tree" notes might initially deter some, but they're the very reason gin shines in cocktails. Its juniper flavor harmonizes beautifully with citrus and simple syrup, creating a whole new taste sensation. While botanically driven gins are gaining popularity, I've found that showcasing top-notch examples of this classic style often sparks a long-lasting love affair with gin in my guests. A simple Gimlet with fresh lime juice is a fantastic introduction.
Prioritize Quality Tonic
Gin and tonic aficionados will flock to your bar if they know you offer a tonic that isn't from a gun. Elevate your gin and tonic with a high-end bottled tonic or, even better, a house-made one, to convey gin's starring role in your cocktail program. Your service bartender will appreciate this, too, because it's a quick and simple cocktail to execute (we need to think more about the service bar when making our menus!).
Stay on Trend With Botanical Gin
Always have an unconventional gin on offer—one that's light on juniper, or distilled with nontraditional grains or botanicals. For example, a honey-distilled gin from Vermont can add a unique touch to your bar. Consider a Botanical Bee's Knees, a honey-laced sour-style cocktail that's easy to make and perfect for any season. To be clear, all gin is "botanical," but the term is trendy, and trendy sells cocktails, and that's what we are here to do.
Let Gin Shine During Happy Hour
If gin isn't a crowd favorite at your bar, consider swapping the vodka cocktail on your happy hour menu. Instead, serve a Blood Orange Cosmo with gin or a Manchester Mule with ginger beer. You'll find that many patrons will give these a try due to their familiarity with the other ingredients. Often, gin wins over skeptics at first sip. I cannot stress enough the bond that forms between the public and your program when an "aha!" moment happens within your four walls.
Brunch Cocktails? Make It Spritzy and Snappy!
Anyone consuming a Bloody Mary is probably not afraid of a flavor kick. The Red Snapper version basically switches out the gin, and also gives new opportunities for fun garnishes and additions. So many savory flavors work here: garlic, fennel, chive, Sriracha. Doing a Red Snapper special will have a great impact and liven up a brunch cocktail menu that can tend to get monotonous.
Despite gin's growing popularity, it's still overshadowed by vodka. Fun fact to start the conversation: Gin is vodka, just infused with botanicals! By giving gin the spotlight it deserves, you'll not only enhance your bar's offerings but also enrich your guests' experiences. Advocating for gin is one of my favorite aspects of bartending, as it allows me to witness a complete shift in someone's view of spirits and cocktails with just one sip. Here are five gins that matter:
Highclere Castle
Full disclosure, this brand is one of my most valued clients and the proprietors are personal friends. They have crafted one of the most exquisite London dry gins available on the market. Distilled with 10 botanicals, this has the singular distinction of being infused with oats for an unmatched silky mouthfeel that makes it a dream for all manner of stirred and classic cocktails. There's a lovely and compelling story about the castle, but the true royalty is in the mouthfeel, aroma and taste.
Barr Hill
Three simple ingredients—grain, water and honey—make up this true modern gin miracle. It's pleasing to the palate and the honey bursts forth with flavor and the proper amount of pleasant sweetness. It's singular in its production and a pleasure to consume, be it in cocktails or in a simple G&T.
Roku
Made in Japan and available at a staggering value, this blend of 14 botanicals will give you instant credibility by being your house pour. It packs a huge juniper and botanical punch and a dramatic finish. Notes of green tea pepper and orange peel dominate.
Citadelle
This gin is literally a Cognac still's summer vacation. Made in that famous French region while brandy production pauses, a patented infusion method of 19 botanicals makes this one of the prettiest gins available. This makes a mean Cucumber Southside.
The Botanist
Made in, by and for the makers and lovers of peat-laden Scotch, this is another new classic that has defined itself. Islay Dry Gin was created by the mavens at Bruichladdich and is infused with 22 hand-foraged (!!!) botanicals. I most enjoy Negroni variations with this selection, and I find my guests drink it on the rocks at a higher-than-average rate.
Guiding our guests toward their next favorite drink is our duty, and gin makes that journey both easy and enjoyable.
Khalid Williams is a bar manager, spirits brand representative and program consultant specializing in marketing, engagement and data. His passion is for exploring the "why" behind consumer decisions. He loves Old-world wine, New-world rum and Connecticut beer. Follow him on Instagram @thebarrelage.