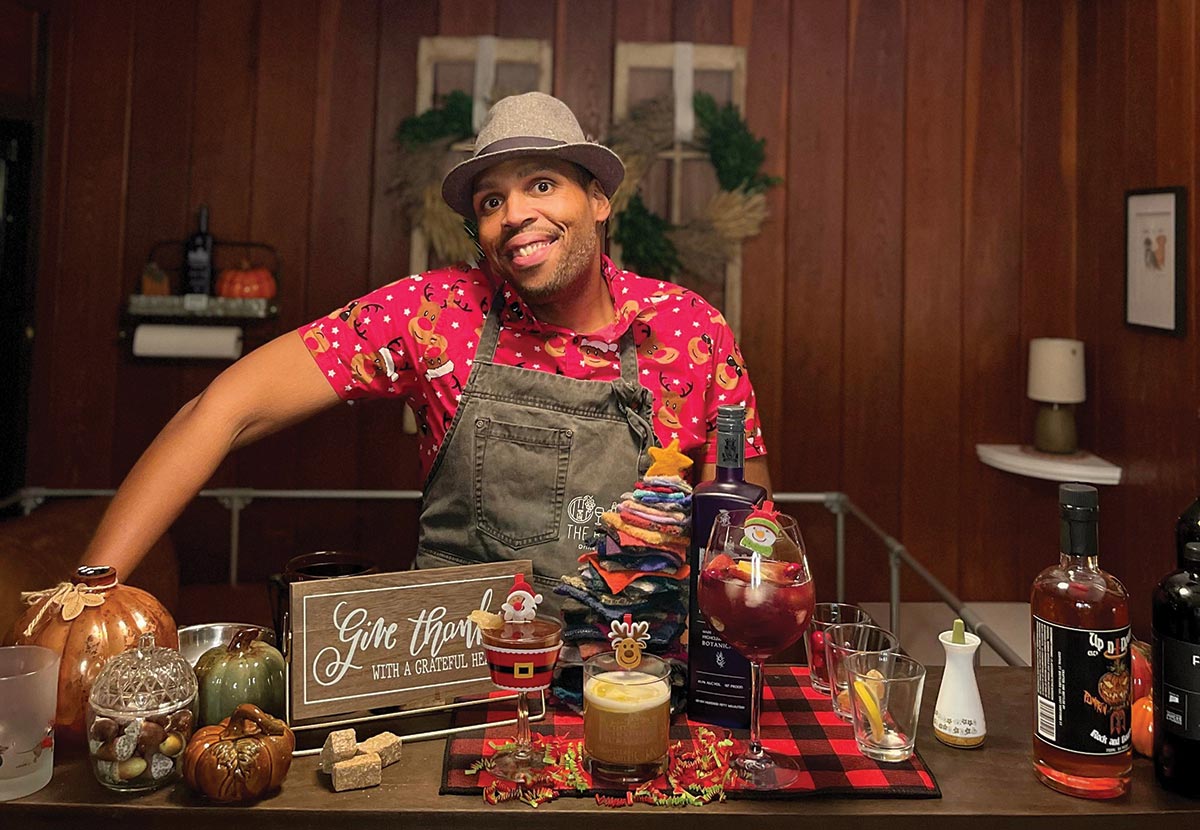 By Khalid Williams
"I need two volunteers. One of you will make this cocktail while thinking of someone you love. The other bartender will make the same cocktail, same ingredients and measurements while thinking of somebody that they hate."
I was skeptical about this exercise and didn't understand what the point was. Any professional bartender who tells you that they were enamored with each and every guest that they have ever crafted a beverage for would be … well, they'd be stretching the truth. Nevertheless, I made my "love" cocktail whilst sequestered from the rest of the group of bartenders I traveled with.
As the two identical cocktails were mixed with different mindset assignments, the chap with wild shocks of salt-and-pepper hair walked about the room, telling stories of his first NYC bartending job in the 1970s and taking stock of his class. There were six of us from different places in the Northeast, and we all fancied ourselves competent and accoladed bartenders who were here to learn from one of the most curious and storied personalities to ever get behind the stick.
We expected to be in a booze boot camp like no other, needing to pay rapt attention to high-level technical information. This was not to be. After receiving the list of different spirits we were able to play with, it was all about the soul behind the service and care. He spoke about how after getting demolished his first week bartending in America, falling deep into the weeds every shift, he started coming in and just sitting at a table by himself. He just sat there, quietly, and by the time he was on the clock, something clicked and he was on his way.
This legend of the trade was Gaz Regan, and his event in upstate New York changed my life. By this time, his "Letter to a Young Bartender" was already published, which dealt with mindfulness and hospitality as superior to technical acumen and flair. That's an easy talk to talk, but is it so easy to recognize and put into practice, like Gaz did? Now here we were at this brand-sponsored event; and as jaded bartenders, we expected brand immersion and other traditional trade tactics.
The cocktails were spirit-driven and I don't mean distillate. We spent three days making drinks, yes, but more importantly perhaps, also learning about ourselves and others. I am talking about the good feeling we get when someone truly asks how our day went and actually waits for an answer. The way it feels when the bartender (cliché time) "knows your name."
Gaz passed away in 2019. I still use each and every brand that was presented at his cocktail retreat, and I use them because they represent the associated empathy, mindfulness and kindness learned from him. That made an impression more than any sell sheet has ever made. Spoiler alert: we blind tasted the "love" and "hate" cocktails. As it has been with every "Cocktails in the Country" retreat where this exercise is done, the results were with us as they are in the world at large. Love won.
It's been three years since my time at CiC. I have to be honest: it took me a bit to truly adopt these principles at the core. It's very easy to come from a holistic place when we are having a good day and when things are going as planned.
Our bartending world is very competitive. I have seen the most success since I started by collaborating without fear of being usurped. Our bartending world can be extremely self-conscious. I have learned the most about myself and improved my hospitality since I embraced my own faults. Our bartending world dictates that we work cleanly. I have been known for my disorganization. Since I've admitted that, I have been able to work in a compartmentalized, clean and organized fashion.
To anybody who has hit a wall, who is feeling the January blues, who feels taken advantage of: double down on kindness. I did and because of the lessons from Gaz and the open and honest community around me, I was blessed enough to be selected as the Connecticut Restaurant Association's Bartender of the Year. Walk the walk of kindness with me. It leads directly to success.
Khalid Williams is a featured appearance bartender, spirits brand representative and program consultant specializing in marketing, engagement and data. His passion is for exploring the "why" behind consumer decisions and believes in the heart of hospitality and soul behind the service. He was awarded Bartender of the Year 2021 at the Connecticut Restaurant Association's CRAzies Gala, via public vote and is accepting bookings for themed guest shifts at bars all over the Northeast. Visit drinkthebarrelage.com to find out more.