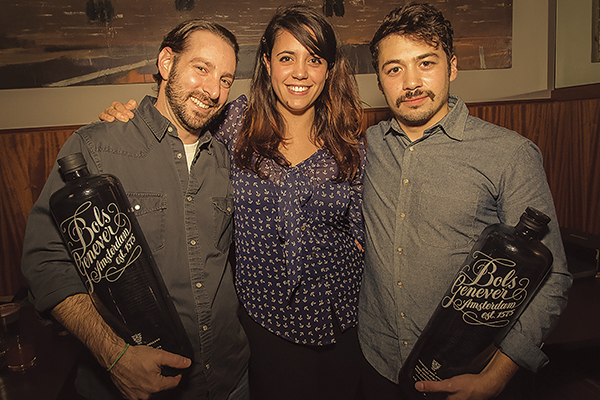 Rhode Island mixologist tackles new East Coast role
By Lauren Daley
Jennifer Ferreira, a member of United States Bartenders Guild Rhode Island is also the East Coast Brand Ambassador for Lucas Bols, Dutch producers of Bols Genever, Damrak Gin, Bols Liquours, Galliano, Vaccari, and Gold Strike. The oldest Dutch company still active and the oldest distillery brand in the world, Lucas Bols produces about 3 million cases of alcohol a year.
A native of Mattapoisett, Mass., Ferreira honed her craft in Providence, R.I. at Cook & Brown Public House, The Dorrance and The Eddy. She took part as a cocktail apprentice with the 2012 Tales of the Cocktail apprenticeship team and tended bar at The Bourgeois Pig in Brooklyn, as well.
Ferreira has been nominated for a number of awards including The James Beard Foundation's Outstanding Bar Program 2013 and The Beverage Network's "Top Ten Mixologist to Watch" in 2012, appearing on the November 2012 cover. She's still mixing drinks—but now she's also having adventures as a brand ambassador. We caught up with  Ferreira recently to chat.
Beverage Journal: In 2012, you were featured as part of last year's cover story, "Top Ten Mixologists to Watch."  A lot has changed since then. Tell us what you're doing now as the East Coast Brand Ambassador for Lucas Bols USA.
Ferreira: I get to travel around the country and still do what I love, which is making drinks and educating people on spirits.
Beverage Journal: What's a typical day in your life as a brand ambassador?
Ferreira: The thing I love about being a brand ambassador is there is no such thing as a typical day. The job is ever-changing. Every day is a different adventure and challenge. I find myself constantly in a new place with new talent and ideas and it's always amazing to see.
Beverage Journal: What do you love about showcasing your products?
Ferreira: The history that this brand has is incredible. The distillery has been making liqueurs and spirits since 1575. Telling all the stories that this brand has tied with it is amazing and then to have the quality of the products behind is just the best.
Beverage Journal: How did you go from mixologist to Lucas Bols Brand Ambassador?
Ferreira: The job with Lucas Bols was available and I hopped on it as soon as I could. Bols is a brand that I truly believe in. It's a small brand with a lot of history and that's something that I take a lot of pride in.
Beverage Journal: Do you still work as a mixologist?
Ferreira: Always. Making drinks will always be a huge part of my job. It's a big reason why I started working with the brand; it gives me the chance to focus my skills on one specific brand. I also can be found behind the bar once in a while at The Eddy in downtown Providence.
Beverage Journal: What makes you a good bartender?
Ferreira: I love what I do and I'm passionate about it.
Beverage Journal: What's one thing you would change about the hospitality industry in the U.S. today?
Ferreira: I think having fun. When did we stop having fun? Don't take everything so seriously. Life and work will be a lot easier.
Beverage Journal: How do you go about crafting a new recipe for a cocktail?
Ferreira:  It just kind of happens. Usually talking with friends and colleagues gets my mind really going.
Beverage Journal: What's your current favorite cocktail?
Ferreira: It is, and will always be, The Martinez, with Bols Genever of course.
Beverage Journal: What advice do you have for new up-and-comers in the industry?
Ferreira: Talk to everyone and listen to everyone. Work in as many bars as you can. Never stop learning. Love what you do.