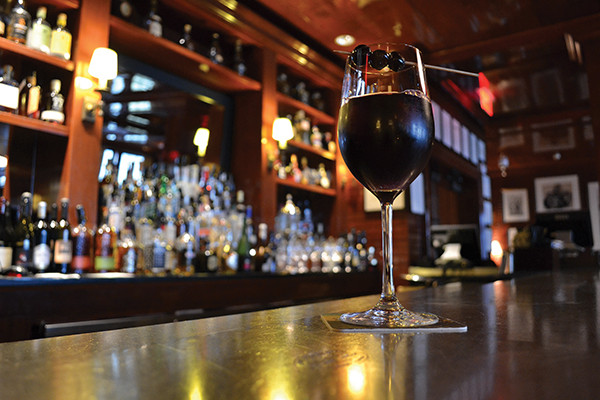 A TRANSITIONAL CONSUMER AND BAR PROGRAM
By Jonathan Feiler
The consumer became quite wine savvy in 2013. With the downturn in the economy and the business of wine becoming more transparent, the casual consumer is seeing the prices of their favorite "go-to" wines continue to rise. The prices of these wines will continue to rise into 2014 and the consumer will either continue to buy or leave these wines behind. I have seen that most are leaving them behind and are willing to seek out wines from less traveled areas that provide better value.
The word value will have a new meaning in 2014. It will no longer be a moniker for cheap, but one of high quality with an affordable price. These wines are coming from regions such as Southern France, Greece and Italy, to name a few.
Southern France is peppered with amazing wine regions, such as Corbieres (Core-B-Yair) in the Languedoc. This unique red wine is predominately made with the Carigan (kah-Ree-nyah) grape and can range from light bodied with soft red berry flavors to moderately intense with flavors of blackberry and tobacco. These wines are perfect for connoisseurs who favor Pinot Noir or Cabernet Sauvignon, and it retails between $8.00 and $20.00! I recommend looking for Domaine De Fontsainte and Domaine Ligneres as great examples of Corbieres.
Greece remains a region of great mystery for wine drinkers. However, with great mystery comes exceptional value. One of my favorite grapes from Greece is Assyrtiko (a-cir-ti-ko) from Santorini. It is a great departure from Sauvignon Blanc with its flavors of citrus, apples and stone fruit. Domaine Sigalas is the gold standard in the region; however, Gaía makes a great example as well. These wines retail between $12.00 and $25.00 and will open up a new world for any adventurous wine drinker.
Italy has long been a place where value can be found with more than two dozen wine-growing regions to choose from. One of the best places to find value wines in Italy is Campania in Southern Italy, known for its value-driven whites and reds. The workhorse red for the region is made from the grape Aglianico (A-Yan-Iko), which produces a full-bodied red with flavors of dark red berries, violets and tobacco, resembling Merlot or Cabernet Sauvignon. The flag carrier for Aglianico is Fuedi di San Gregorio, which produces a wine called "Rubrato," an outstanding example of the varietal that retails for about $15.00.
This thirst for knowledge and expansion of wine vocabulary will continue into 2014. The consumer will begin to see wine as an everyday pleasure and will seek out wines that not only bring great taste, but also a cerebral experience.
As the consumer turns to wine as their adult beverage of choice, mixologists, sommeliers and restaurateurs are looking for ways to make wine more accessible to their guests. Wine is being included into some of their favorite drinks as either a base for the cocktail or as an integral ingredient.
At the Ocean House in Watch Hill, Rhode Island we have been using wine as a replacement for certain spirit in classic cocktails – for example, we replace rum for saké in our "Bluff Mojito," and are continuously inventing new wine cocktails. Our newest cocktail, called "The Noble Red" uses Cabernet Franc from the Loire Valley as its base. We use the natural flavors of the wine to play against the additional ingredients of Glenmorangie 10 year scotch, Creole Shrub and house-made grenadine to create a rich, fortified wine.
I believe as 2014 starts to unfold we will continue to see many more restaurants looking toward wine as a way to shake up their bar program. I am always looking for new wines for my guests to enjoy and to open their minds and palates. 2014 will be full of new exciting wines and news ways to enjoy them.
 Jonathan Feiler is the Director of Wine Education & Head Sommelier at Ocean House in Watch Hill, overseeing the wine and beverage program for the entire resort. Feiler has overseen wine programs at the Sinatra Restaurant at the Encore Las Vegas, a Wine Spectator Best of Award winner of Excellence for its wine list as well as serving as sommelier at Bartolotta Ristorante di Mare in Las Vegas, Commanders Palace and Café Adelaide in New Orleans and Maison Robert in Massachusetts.