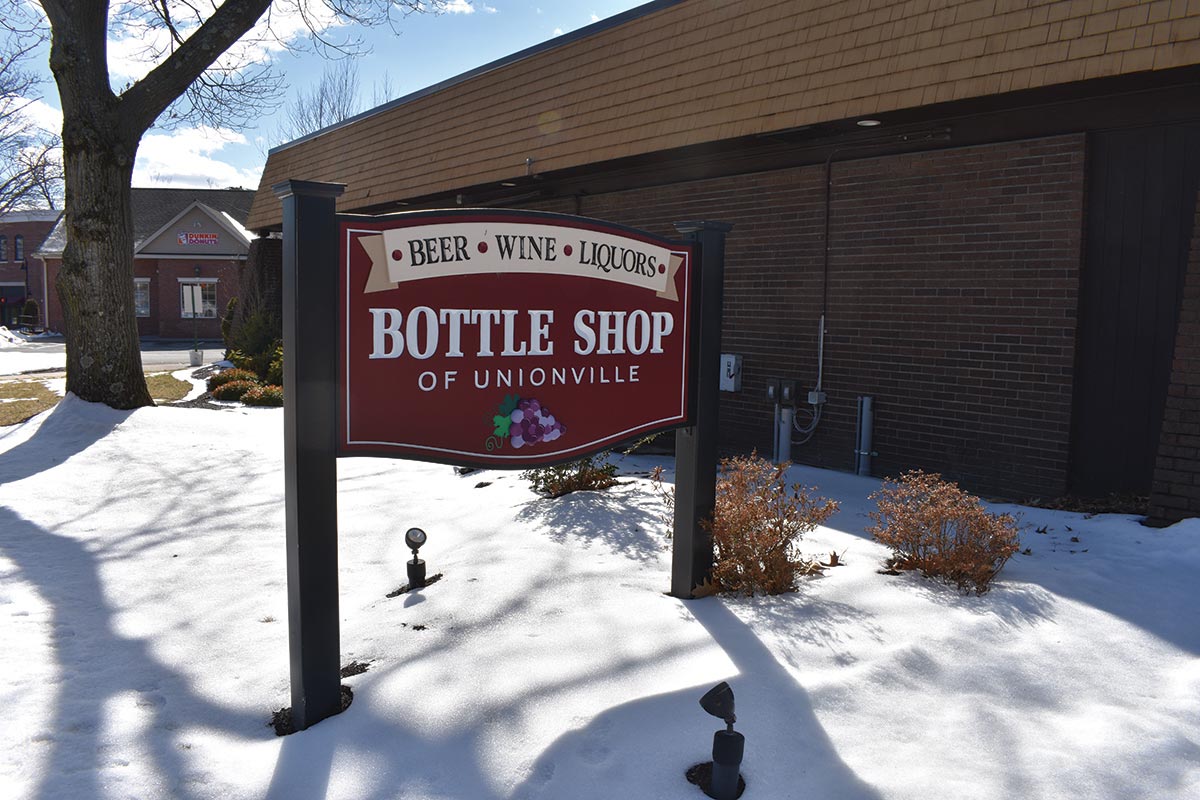 Bottle Shop of Unionville
20 S Main Street
Unionville, CT
Square footage: 3,300
Years in operation: 11
By Sara Capozzi
Bruce and Pam Urso, husband and wife team and owners of Bottle Shop of Unionville, met through work at this very shop in the early aughts. Bruce was working in beer sales for Hartford Distributors, and Pam was working part-time at the store for the previous owners, her mother and stepfather.
The couple married and went on to raise a family in Unionville, all while working in the family-run business. Then in 2011, her parents were ready to retire from the package store. When timing was right for the Ursos, they became the next couple to own the business. With their extended retailing roots reaching beyond the Bottle Shop's influence – including family-owned grocery and drug stores between them additionally – running a venture together seamlessly was second nature.
Eleven years later, the couple still works together every day. "We have a groove," Pam said. "He does his thing, I do my thing, but then there are times we do our thing together. We just know and it works for us."
The Ursos already owned the building at 20 South Main Street, so after a neighboring business closed, they unified and renovated the connecting spaces, increasing their floor space from 1,300 to 3,300 square feet, ultimately carrying ten times the amount of inventory of their previous space. Bruce said that is vital in today's industry environment, where the selection of available products continues to increase and customer tastes are ever-changing.
Popular items at Bottle Shop include domestic and international wines, ready-to-drink cocktails, seltzers and craft beer. The Ursos have also noticed a trend that, they say, has intensified since the start of the pandemic: the demand for more health-conscious selections, including low-calorie beers and seltzers and low-sugar wines.
With selection and location factors in the store's continued success, Bruce also credits Bottle Shop's team, including Wine Manager Gary Hovhanessian and Beer Manager Steve Drouin.
Hovhanessian's efforts attract customers from farther afield towns, too, said Bruce, with his unmatched wine selection, offering labels not found elsewhere, recommendations and a monthly wine club, with which subscribers receive two bottles of handpicked wine selections.
The store carries an extensive craft beer selection curated by Drouin. "We try to promote the Connecticut brewers as much as we can," Bruce said. "A lot of the local breweries are making great beer right now. We're known as a great beer store in the area because we have a great selection."
With ever-growing whiskey aficionados as a shopping base, bourbon and scotches sell well, too. Bottle Shop purchases and labels its own barrels that are popular picks; a latest private barrel selection is Woodford Reserve Double Oaked. The team also provides in-store tastings, delivery and curbside services, and specialty orders.
"It's a great business," Bruce said. "We love it. We all grew up in retail, so it comes naturally for us … we converse with a lot of our customers … we're like a family type of business. We know their families; we know their kids." The couple's children work part-time in the store, carrying on the family's legacy. "People like that TLC," Pam continued. "That little personal touch makes them come back."